This article originally appeared on VAVEL USA.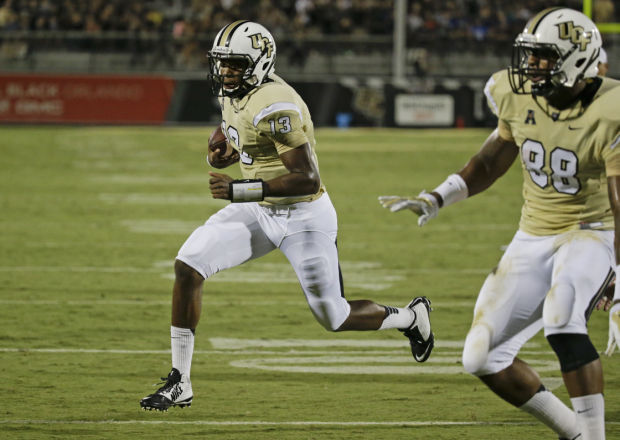 (Photo credit to John Raoux / AP Photo)
Central Florida went from being up 10-3 at halftime to to trailing 24-10 in the first six minutes of the third quarter. However, the Knights would rally in overtime to defeat BYU 31-24 on Thursday evening.
Justin Holman's four yard touchdown pass to William Stanback was enough as the defense held firm on BYU's possession to seal the win.
The final score was not indicative of how the first half went. Central Florida started off with a touchdown from Justin Holman, who made a diving run on fourth and one from the BYU 5 yard line to get the score. Shawn Moffitt hit a 42 yard field goal to extend the lead to 10-0, but that was all they mustered in terms of the scoreboard in the first 30 minutes.
BYU struggled immensely in the first quarter with three straight three and outs to start the game. The BYU offense showed signs of life in the second quarter, but were quickly derailed by a turnover.
That turnover came when BYU started on the Central Florida 39 yard line. After Christian Stewart hit Paul Lasike for a 19 yard gain, Stewart then threw into the end zone, but it was over his receiver's head and intercepted by Jacoby Glenn for a touchback.
BYU would get their first points of the game with a 10 play drive that ended in Trevor Samson hitting a 32 yard field goal. That made it 10-3 and the BYU kept that score intact as the Knights threatened to put more points on the board. Holman was sacked by Sione Takitaki on second and 7 at the BYU 28 and the ball was recovered by Takitaki.
BYU opened the second half on fire. Their first drive tied the game at 10 when Stewart connected with Colby Pearson for a 4 yard touchdown and then got a great bounce on a punt on the next drive. BYU's punt hit a UCF player blocking and was immediately recovered by Algernon Brown. Two plays later, Stewart hit Devin Mahina for a 15 yard touchdown and BYU led 17-10.
It got even better for BYU. Holman was picked off by Skye PoVey and a penalty set the Cougars up at the 14 yard line. The next play saw Stewart hit Mahina again, this time for 14 yards out make it 24-10.
Needing a response, Central Florida quickly answered. Rannell Hall returned the kickoff 58 yards to the BYU 37 yard line to spark the offense. 8 plays later, William Stanback ran in from 2 yards out to make it 24-17.
BYU had an excellent chance at extending their lead to double digits, but Algernon Brown fumbled at the UCF 13 yard line to take points off the board.
Central Florida would finally get the tying score two drives later. On second and 10 from the BYU 37, Holman threw up a bomb to Josh Reese knowing that BYU was offside. Reese caught the ball for the score and the game was tied at 24.
Both teams still had plenty of opportunities to take the lead. Central Florida missed a 46 yard field goal wide left and then Holman was intercepted by Kai Nacua inside the BYU 20 yard line to end another potential scoring chance. BYU marched to the Central Florida 37 yard line, but the drive stalled out and punted.
Central Florida had two last chances to end the game. With 12 seconds left, UCF tried to kick a field goal from 43 yards out but the snap was poor and ended up losing 7 yards. The next play was a 50 yard attempt that was partially blocked by Mitch Mathews that sent the game into overtime.
In that overtime, Central Florida got to the 8 yard line after a run by Holman and a facemask by BYU. Three plays later, Holman hit Stanback for the eventual game-winning touchdown. BYU managed to reach the 6 yard line, but the fourth down pass to Jordan Leslie was incomplete and the game was over.
Christian Stewart played well in his first start since Taysom Hill's injury. Stewart went 22 of 37 for 153 yards with 3 touchdowns and an interception. He also ran 13 times for 52 yards.
Algernon Brown ran 16 times for 80 yards while Paul Lasike added 51 yards on 12 carries. Devin Mahina led the Cougars in receiving with 4 catches for 46 yards and 2 touchdowns.
Justin Holman went 30 of 51 for 326 yards with 2 touchdowns and 2 interceptions. He ran 10 times for 26 yards and a touchdown, but he also lost a fumble. Overall, it was an up and down game for him, but he showed a lot of resiliency in leading UCF back for the win. Holman also showed an incredibly strong arm throughout the game. William Stanback had 22 carries for 44 yards and a touchdown. Stanback also had the game-winning touchdown catch, one of his two catches on the evening.
Josh Reese led the Knights in receiving with 5 catches for 87 yards and a touchdown. Breshad Perriman caught 6 passes for 83 yards while Rannell Hall had 8 catches for 71 yards.
BYU (4-2) has now lost back-to-back games and will look to right the ship next week. They face Nevada next Saturday at home.
Central Florida (3-2, 1-0) is trending in the opposite direction with their third straight victory. They face Tulane next Saturday at home as they return to conference play.