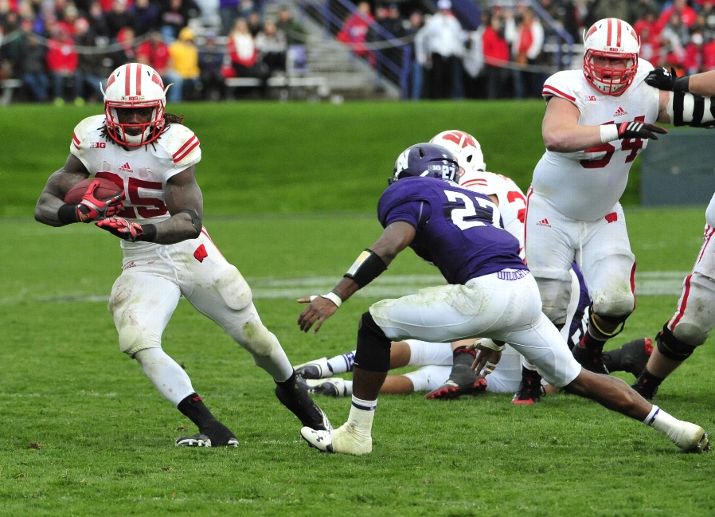 (Photo Credit to David Banks / Getty Images)
Melvin Gordon's career-high 259 yards rushing were not enough for the Badgers overcome Northwestern on Saturday. Godwin Igwebuike had THREE interceptions in the Wildcats win in a game that featured both Joel Stave and Tanner McEvoy at quarterback for Wisconsin.
The Badgers' first drive started well with Melvin Gordon breaking loose for a 58 yard run to the Northwestern 36 yard line. However, it ended with McEvoy throwing off his back foot to Alex Erickson. Igwebuike was there for his first interception and a touchback to end the drive.
The Badgers defense was stingy in the red zone after a long drive by the Wildcats. Jack Mitchell's 22 yard field goal make it 3-0. However, two drives later, Northwestern Trevor Siemian hit Dan Vitale for a 5 yard touchdown and a 10-0 lead.
Wisconsin threw three straight incompletions after that. There would be no scoring for the rest of the half and the Wildcats led 10-0 at the break.
Wisconsin started the second half strong, just as they have all year long. Melvin Gordon broke 61 yard run on the second play to the Northwestern 14 yard line. After Gordon converted a fourth and one at the 5 yard line, he ran in on the next play from 2 yards out to cut the deficit to 10-7.
The Badgers' reverted to their interception throwing ways on the next drive. Stave's arm was hit on the throw and it was picked off by Jimmy Hall. The Wildcats capitalized on the next play with Miles Shuler running in from 16 yards out on the reverse to make it 17-7.
Wisconsin had a chance to cut the lead to 7 but Rafael Gaglianone's 50 yard field goal was wide left. Northwestern went right down the field but was stopped in the final 5 yards again. Jack Mitchell tacked on his second 22 yard field goal of the game to take a 20-7 lead.
Wisconsin had a great opportunity to close the gap at the Northwestern 3 yard line. Joel Stave dropped back and then scrambled towards the sideline. He pass was thrown right in the path of Igwebuike for an interception in the end zone to end another scoring chance.
Stave found Kenzel Doe on the next drive to make it 20-14 Wildcats. Stave threw his third interception with less than 30 seconds remaining to Igwebuike, which allowed Northwestern to run the clock out.
It was another dreadful passing performance by the Badgers, though the cloudy and rainy weather had a big impact on the passing. Joel Stave went 8 for 19 for 1 touchdown and 3 interceptions. Tanner McEvoy went 4 of 10 for 24 yards and an interception in a largely ineffective performance.
Melvin Gordon's 259 yards and 1 touchdown performance went to waste for the Badgers. He did all that on 27 carries for a 9.6 yard-per-carry average.
Alex Erickson caught 4 passes for 45 yards. Kenzel Doe had 4 catches for 34 yards and a touchdown in his best game of the season.
The Badgers will need to find consistency in their passing game if they are to threaten in the Big Ten West division. The Badgers have thrown for 50, 289, 112, 160, and 138 yards in their first five games, including Saturday.
Gordon is up to 871 yards on 105 carries this year. His presence alone has made the Badgers far more competitive.
On Northwestern's side of the ball, Trevor Siemian went 15 of 29 for 182 yards and a touchdown. Justin Jackson ran 33 times for 162 yards in his best performance of the year. Kyle Prater caught 5 balls for 55 yards to lead the Wildcats.
It is hard to ignore the Wildcats' improved performances over the last two weeks. They defeated Penn State 29-6 in a dominant effort and have certainly put themselves in position to make a bowl game after finishing 5-7 in 2013.
Wisconsin (3-2, 0-1) returns home next week and will take on Illinois (3-3, 0-2). Northwestern (3-2, 2-0) goes on the road to face Minnesota (4-1, 1-0) who had a bye this week.