This article originally appeared on VAVEL USA.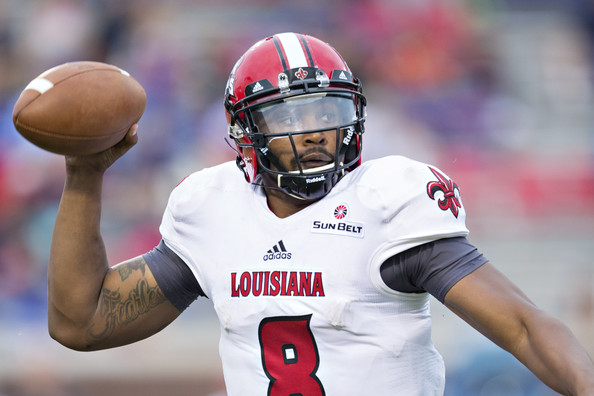 Terrance Broadway had 326 yards of total offense against Texas State (Wesley Hitt / Getty Images) 
Terrance Broadway had 326 yards of total offense to lead Louisiana-Lafayette to a 34-10 demolition of Texas State on Tuesday night. ULL outgained Texas State 516 yards to 270.
The game began perfectly for ULL as Broadway hit his running back Elijah McGuire on a wheel route on just the second play of the game. That went for 62 yards and a touchdown to make it 7-0 after 44 seconds elapsed.
On ULL's third drive, Hunter Stover missed a 46 yard field goal to the left to keep it at 7-0. Texas State had a tough time getting their offense in gear during the first quarter, but was given a gift when Daniel Cadona's punt traveled only 16 yards and went out of bounds at the ULL 26 yard line. The Bobcats had to settle for a 20 yard field goal from Will Johnson.
ULL extended their lead on a bizarre looking play. Tyler Jones was sacked and fumbled on the play by Trae Johnson before Christian Ringo came away with the ball and ran it back for a touchdown. The bizarre part was that Johnson was celebrating the sack while the ball was still loose on the ground. Nevertheless, ULL led 14-3 and continued their dominating defensive play for the remainder of the game.
ULL made it 21-3 with Alonzo Harris pounding the ball in from a yard out after McGuire ran for 36 yards on the previous play. That would be the score at halftime as Texas State sputtered on offense.
The second half featured more of the same with Texas State struggling on offense and ULL dominating on defense and moving with ease on offense. ULL's first drive resulted in another touchdown with McGuire running in for a 13 yard score to extend the lead to 28-3.
ULL had a chance to make it 35-3, but Broadway was picked off David Mims at the three yard line to end that specific scoring threat.
The fourth quarter saw 19 and 32 yard field goals from Hunter Stover to make the lead as high as 34-3. Brice Gunter's 33 yard pass from Tyler Jones was a minor consolation for the Bobcats who had little success in the game.
Terrance Broadway went 14 of 21 for 225 yards with a touchdown and an interception. He also ran for 101 yards on 19 carries. Alonzo Harris had 79 yards and a touchdown on 18 carries while Elijah McGuire had 8 carries for 64 yards and a touchdown as well.
McGuire led ULL in receiving with 4 catches for 85 yards and 1 touchdown. Al Riles caught 3 passes for 81 yards for ULL as the second leading receiver.
Tyler Jones went 14 of 23 for 176 yards with a touchdown and an interception for the Bobcats. Robert Lowe managed only 36 yards on 8 carries while Terrence Franks had 30 yards on 7 carries. The Bobcats had 35 carries for 94 yards as a team (2.7 average).
The leading receiver Brice Gunter with 2 catches for 50 yards and the lone Texas State touchdown. Ben Ijah had 3 catches for 34 yards while Lawrence White caught 2 passes for 31 yards.
Louisiana-Lafayette (3-3, 2-0) have another Tuesday game next week against Arkansas State (4-2, 2-0). Texas State (3-3, 1-1) have 10 days off before traveling to face UL-Monroe on October 25.