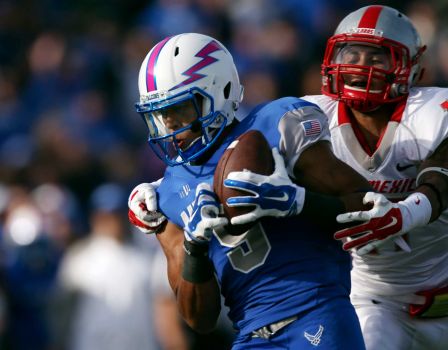 Jalen Robinette's wonderful 50 yard touchdown catch late in the third quarter proved to be the difference while D.J. Johnson ran for three touchdowns in Air Force's 35-31 over New Mexico on Saturday.
New Mexico's triple option attack got the scoring started with Jhurell Pressley dashing into the end zone from 42 yards out to take a 7-0 lead. Air Force would not be outdone with an 18 play drive that culminated with a 3 yard touchdown run from D.J. Johnson to tie the game at 7.
New Mexico's next drive ended on an incomplete pass at Air Force's 30 yard line on fourth and 6. The next drive for the Lobos ended in disaster with Cole Gautsche fumbling at his own 21 yard line. Kale Pearson ran in on the next play on a quarterback keeper to give the Falcons a 14-7 lead early in the second quarter.
Air Force's next drive ended at New Mexico's 42 yard line after Pearson was sacked by Tevin Newman. Two plays later, Pressley ran into the end zone again, this time from 50 yards out to tie the game at 14 apiece.
The Falcons put together another drive into New Mexico territory following Pressley's second touchdown. However, Pearson was sacked again, this time by Tre'Von Roy. Pearson fumbled the ball with David Guthrie picking up the loose ball and running it back into the end zone for a Lobos lead of 21-14.
The response by the Falcons was phenomenal though Pearson only kept the ball in his hands once. Shayne Davern and D.J. Johnson combined for 41 yards rushing with Johnson finishing the drive off with a 6 yard touchdown run. Pearson also hit Robinette for a 34 yard pass to get down to the six yard line. That tied the game at 21-21, which is how the first half score ended.
It was a slow start to the second half, but the Lobos second drive got things going again. Teriyon Gipson ran for a 28 yard touchdown and a 28-21 New Mexico lead. The Falcons responded once more with Johnson running in for his third touchdown and a tie game at 28.
The Falcons' next drive broke the deadlock with Pearson's 50 yard strike to Robinette. Robinette caught the ball over his head, stopped to elude a tackler, ducked the tackle of a trailing defender, and then ran over a defender to dive into the end zone and give the Falcons the 35-28 lead.
An early fourth quarter field goal from Zack Rogers made it 35-31 in favor of Air Force, but the Lobos would not get any closer. The Lobos failed to get any closer than their own 40 yard line, which occurred on the final play with a hook and ladder play. The Falcons nearly scored on the play, but Gavin McHenry was tackled at the one yard line.
Cole Gautsche went 2 of 7 for 27 yards passing, but the biggest contributions come in the running game with this triple option offense. He carried the ball 13 times for 46 yards. Lamar Jordan saw a bit of action with 6 yards on 2 of 3 passing. He only ran 3 times for 10 yards.
Jhurell Pressley ran 11 times for 148 yards and 2 touchdowns. Teriyon Gipson contributed 87 yards and a touchdown on 16 rushes. Tyler Duncan had 2 catches for 43 yards to lead the Lobos.
Kale Pearson went 5 of 9 for 159 yards and a touchdown through the air for Air Force. He also ran 20 times for 66 yards and a touchdown.
The leading rusher for the Falcons was Shayne Davern with 85 yards on 16 carries. Jacobi Owens had 16 carries for 64 yards and D.J. Johnson had 51 yards rushing and 3 touchdowns on 15 carries.
The leading receiver for the Falcons, and the game, was Jalen Robinette with 4 catches for 96 yards and a touchdown. Garrett Brown also caught 1 pass for 63 yards in addition to his two rushes for 12 yards on the ground.
New Mexico (2-5, 0-3) has a bye next week before going on the road again to face UNLV (2-5, 1-2).
Air Force (5-2, 2-2) is now one win away from bowl eligibility. They have a bye next week before facing Army on November 1 with a chance to win the Commander-in-Chief's Trophy. That game will be in West Point, New York, as the Falcons seek to get the trophy back for the first time since 2011.