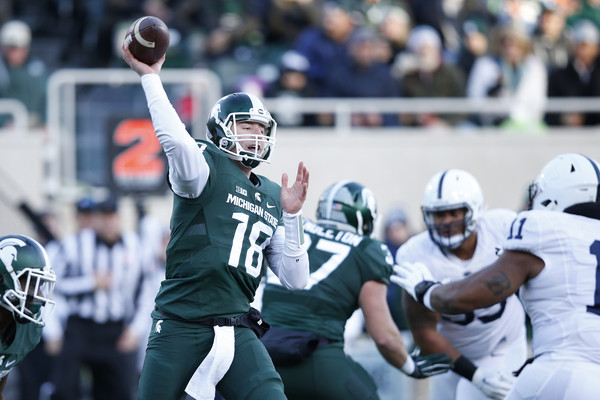 2015 Week 13 Big Ten Roundup
The second to last week in the Big Ten regular season saw all fourteen teams playing in conference clashes with the Big Ten East Division winner still to be decided. It was easy for Michigan State – win against Penn State and they would be playing in Indianapolis on December 5. For Michigan and Ohio State, they needed to win against each other and hope for a Michigan State loss.
#4 Iowa Hawkeyes at Nebraska Cornhuskers
Result: Iowa Win 28-20 (Friday, November 27)
Iowa went on the road and took care of business against Nebraska to move into the Big Ten Championship Game undefeated.
C.J. Beathard was far from impressive throwing the ball going 9 of 16 for 97 yards and a touchdown. However, Jordan Canzeri picked up the slack with 140 yards rushing and 2 touchdowns on 17 carries. George Kittle had 2 catches for 35 yards and the lone receiving touchdown. Iowa put up just 250 yards of offense and did not convert a single one of their 9 third down attempts.
Iowa's defense was the story as they forced four turnovers, all interceptions. Parker Hesse's pick was excellent as he stepped in front of the pass at the four yard line, tipped the ball to himself, and easily scored the touchdown. Greg Mabin, Josey Jewell, and Cole Fisher all intercepted passes as well.
Tommy Armstrong did not have a good game for Nebraska throwing for 296 yards and those 4 picks on 25 of 45 passing. He did rush for 46 yards on 9 carries while Imani Cross had 19 carries for 55 yards and 2 scores. Cethan Carter led the Huskers with 4 catches for 76 yards while Brandon Reilly had 3 grabs for 50 yards. Jordan Westerkamp was held to only 2 catches for 41 yards. The Huskers were able to put up 433 yards of offense, but the turnovers hurt them. The Huskers did go 7 of 16 on third down.
Iowa (12-0, 8-0) will play Michigan State on Saturday to decided the Big 10 Champion. The winner is practically guaranteed a spot in the College Football Playoffs.
Nebraska (5-7, 3-5) is not guaranteed a bowl spot, but could end up going to one anyway due to a lack of 6 win teams.
#8 Ohio State Buckeyes at #10 Michigan Wolverines
Result: Ohio State Win 42-13
A week after a horrendous offense performance for Ohio State, they responded by crushing the Wolverines with a massive rushing performance.
JT Barrett went 9 of 15 for 113 yards and a touchdown through the air, but this game was all about the ground attack for the Buckeyes. Ezekiel Elliott ran for 214 yards and 2 touchdowns on 30 carries a week after he inexplicably had only 12 carries for 33 yards. Barrett also had his fun running the ball with 19 carries for 139 yards and 3 scores. Michael Thomas was the top receiver with 2 catches for 50 yards. Ohio State put up 482 yards on one of the top defense in college while going 7 of 13 on third down.
Jake Rudock had a decent game going 19 of 32 for 263 yards and a touchdown. He had no problem finding Jehu Chesson 8 times for 111 yards and a touchdown. Amara Darboh had 68 yards on 4 catches while Jake Butt had 5 grabs for 54 yards. The running game was virtually non-existent with 25 rushes for 57 yards as a team for the entire game. Michigan had 364 yards of offense and was a solid 9 of 18 on third downs.
Ohio State (11-1, 7-1) will not be playing in the Big 10 Championship, but will probably end up in a New Year's 6 Bowl. Michigan (9-3, 6-2) finished a very good first year under Jim Harbaugh and will probably end up in a January bowl game.
Indiana Hoosiers at Purdue Boilermakers
Result: Indiana Win 54-36
Indiana had an offensive explosion against Purdue to get them into a bowl game. There was not a lot of defense played in this contest on either side.
Nate Sudfeld went 18 of 29 for 350 yards and 4 touchdowns while also had another touchdown rushing. No Jordan Howard for Indiana? No problem as Devine Redding had 144 yards and a touchdown on 22 carries and the Hoosiers ran for 309 yards as a team. Ricky Brookins had 64 yards rushing while Andrew Wilson also had 52 yards and a score on 15 carries.
Mitchell Paige had 5 catches for 92 yards and a touchdown, Simmie Cobbs had 5 catches for 84 yards and a touchdown, and Andre Brooker had only one catch, but it was a 72 yard touchdown. Indiana put up 659 yards of offense and went 5 of 15 on third down. The defense also forced four turnovers, which the offense turned into only 3 points.
Purdue did not play poorly on offense, but they did have 4 turnovers. Austin Appleby had 332 yards, two touchdowns, and 2 interceptions on 36 of 57 passing. Appleby also ran for two scores while Markell Jones had 16 carries for 96 yards and a touchdown. Four Purdue receivers had at least 5 catches and 50 yards (Danny Anthrop, DeAngelo Yancey, Domonique Young, and Cameron Posey), but the two touchdown catches came from Jordan Jurasevich and Cole Herdman. Purdue put up 486 yards of offense and went 6 of 16 on third down.
Indiana (6-6, 2-6) has finally reached bowl eligibility for the first time since 2007 when they played in the Insight Bowl. Purdue (2-10, 1-7) finished with a worse record than 2014 when they went 3-9. Under Darrell Hazell, the team is 6-30, but opted to keep him for 2016 season.
Maryland Terrapins at Rutgers Scarlet Knights
Result: Maryland Win 46-41
Despite having no bowl implications, this game was one of the more entertaining ones of the week as Maryland came back from a 31-10 deficit to win 46-41 on a touchdown in the final five minutes of the contest.
Caleb Rowe went 16 of 32 for 239 yards passing with no touchdowns or interceptions. The run game was great for Maryland as Brandon Ross ran for 173 yards and 3 touchdowns on 28 carries. Rowe had 7 carries for 98 yards, Ty Johnson was incredibly efficient with 2 carries for 87 yards and 2 touchdowns, and Kenneth Goins had one carry for 42 yards and a touchdown.
Jahrvis Davenport led the team in receiving with 7 catches for 89 yards, DeAndre Lane had 4 grabs for 63 yards, and D.J. Moore caught 4 passes for 49 yards. Maryland had 656 yards of offense and went 5 of 15 on third down.
Rutgers had a good day on offense as well, but lost a 21 point lead. Chris Laviano went 21 of 33 for 344 yards with 4 touchdowns and a pick. Paul James had 17 carries for 71 yards and a touchdown, Josh Hicks had 61 yards on 10 carries, and Robert Martin had 16 carries for 42 yards. Leonte Carroo ended his season the way he started: with a big game. Carroo had 7 catches for 183 yards and a touchdown while Janarion Grant caught 4 passes for 56 yards and a score. Rutgers had 530 yards of offense and went 3 off 11 on third down.
Maryland (3-9, 1-7) and Rutgers (4-8, 1-7) will both be home for the bowl season and will also be looking for new head coaches for 2016.
Penn State Nittany Lions at #5 Michigan State Spartans
Result: Michigan State Win 55-16
With a spot in the Big Ten Championship Game on the line, Michigan State did not just take care of Penn State, they destroyed them.
Christian Hackenberg went 22 of 39 for 257 yards with 2 touchdowns and 2 interceptions while Saquon Barkley ran 17 times for 103 yards. Chris Godwin had a good day catching 11 passes for 109 yards and 2 touchdowns while DaeSean Hamilton had 8 catches for 78 yards and Saeed Blacknall had one catch for 77 yards. Penn State had 418 yards of offense and went 5 of 15 on third down. Penn State went an excellent 4 of 5 on fourth downs as well.
Connor Cook came back from injury for the Spartans to go 19 of 26 for 248 yards and 3 touchdowns. The Spartans as a team had a solid rushing attack with 38 carries for 188 yards and 3 touchdowns. The touchdowns came from Gerald Holmes, LJ Scott, and center Jack Allen. Aaron Burbridge had 6 catches for 75 yards and his touchdown was spectacular as he took a hit and spun twice to reach the end zone. The Spartans had little trouble on third down going 8 of 11 and had 436 yards of offense.
Penn State (7-5, 4-4) had a terrible ending to the season losing their final three games. Michigan State (11-1, 7-1) has a date with Iowa on Saturday in the Big Ten Championship Game. The winner will all but be guaranteed a spot in the College Football Playoffs.
#16 Northwestern Wildcats at Illinois Fighting Illini
Result: Northwestern Win 24-14
Northwestern got out to a comfortable 21-7 halftime lead and held on from there to prevent in-state rival Illinois from reaching 6-6 on the year.
Clayton Thorson went 12 of 25 for 146 yards with a touchdown pass and an interception. Justin Jackson had his eighth 100 yard rushing game going for 172 yards and a touchdown on 37 attempts. Warren Long had 25 yards and a score on 5 carries as well. Austin Carr had 3 catches for 61 yards, Miles Shuler hauled in 2 passes for 39 yards, and Dan Vitale had 3 catches for 32 yards and the lone receiving touchdown. Northwestern finished with 350 yards of offense and went 6 of 19 on third down.
Wes Lunt went 20 of 41 for 241 yards with no touchdowns and an interception, but ran for a score. Ke'Shawn Vaughn had 12 carries for 62 yards while Josh Ferguson had 14 carries for 40 yards and caught 7 passes for 100 yards. Desmond Cain had 4 grabs for 52 yards, Malik Turner had 3 caches for 46 yards, and Geronimo Allison had 5 grabs for 42 yards. Illinois had 319 yards and went 6 of 18 on third down.
Northwestern (10-2, 6-2) has reached double digit wins for the first time since 2012 when they went 10-3. In that year, Northwestern also won their bowl game. Illinois (5-7, 2-6) is not bowl eligible, but like Nebraska, may still be part of a bowl due to the lack of 6 win teams in the FBS.
Wisconsin Badgers at Minnesota Golden Gophers
Result: Wisconsin Win 31-21
A rivalry game between Wisconsin and Minnesota saw the Badgers' rushing game get back on track.
Joel Stave's first pass of the game was returned for a touchdown and the Badgers opted to keep the ball on the ground after that. Stave went 9 of 17 for 79 yards, no touchdowns, and the aforementioned pick. Dare Ogunbowale had his best game of the season with 33 carries for 155 yards and a touchdown. He looked much better this week with more decisive cuts, power running, and shiftiness. Taiwan Deal also had a good game with 90 yards and 2 touchdowns on 22 carries. Alex Erickson was the leading receiver with 6 catches for 66 yards.
The Badgers defense was excellent forcing 5 turnovers against Minnesota. Tanner McEvoy had 2 interceptions, Joe Schobert forced a fumble and recovered a separate one, and Darius Hillary had 2 fumble recoveries. Corey Clement did not travel with the team due to an incident on Wednesday.
Mitch Leidner went 16 of 37 for 223 yards with a touchdown and three picks while being held to only 10 yards rushing on 6 carries. Rodney Smith had 7 rushes for 35 yards and a touchdown while Shannon Brooks was limited to 8 yards on 5 carries. Brooks was the top receiver with 3 catches for 53 yards while Nick Hart had 3 receptions for 45 yards. The Badgers did a good job limiting KJ Maye to 5 catches for 45 yards and Drew Wolitarsky had 2 catches for 44 yards and a touchdown. Minnesota finished with 276 yards, were 3 of 12 on third down, and missed both fourth down conversions.
Wisconsin (9-3, 6-2) finished third in the West Division, but still have a chance at 10 wins in the bowl game. Minnesota (5-7, 2-6) endured a tough season with the loss of their head coach midway through the season, but could still end up in a bowl game if there are not enough 6 win teams.