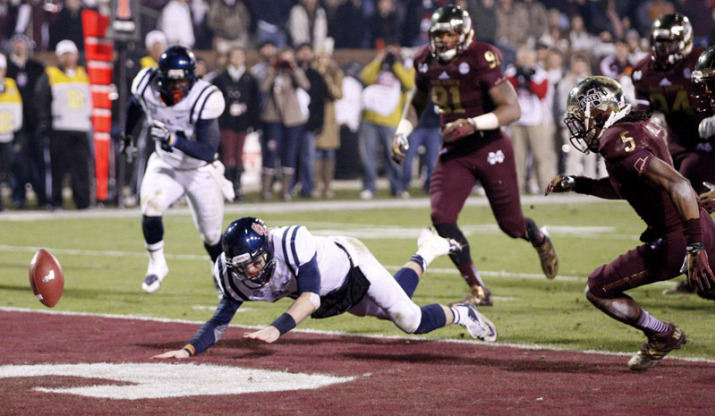 (Photo Credit to Lauren Wood / DJournal.com)
Saturday was a long time coming for Mississippi State and Ole Miss.
For years the two programs from the state of Mississippi were down, or at the very best, underachieving. That all changed on Saturday, October 4 when #12 Mississippi State defeated #6 Texas A&M and #11 Ole Miss beat #3 Alabama.
The Bulldogs were very good in the 90's under Jackie Sherrill, but fell on hard times in his last years and the subsequent tenure under Sylvester Croom. Croom had only one bowl game appearance in 5 years before Dan Mullen took over 2009. However, Mullen has not had that breakout season, though he has 4 bowl appearances (3-1 record) in his first 5 season. That will surely be a fifth bowl appearance in 2014 barring a historic collapse.
The Rebels were an average team in the 90's and early 2000's under Tommy Tuberville and David Cutcliffe, respectively. Cutcliffe went 10-3 in 2003 with a Cotton Bowl victory over Oklahoma State, but followed that up with a 4-7 campaign in 2004 and was fired. Cutcliffe has done well for himself by resurrecting a long dormant Duke program.
After Cutcliffe was fired, Ed Orgeron was brought in, but failed to do better than 4 wins in only three years. He was replaced by Houston Nutt who immediately brought the Rebels back-to-back Cotton Bowl wins following the 2008 and 2009 seasons. Nutt went 4-8 in 2010 and 2-10 in 2011.
Enter Hugh Freeze in 2012 who improved the Rebels to 7-6 and then to 8-5 in 2013 with some wonderful recruiting classes.
Both teams are now 5-0 in 2014, but this should not be a surprise with both men building their program in methodical ways. Freeze has done so with wonderful recruiting classes and solid coaching. Mullen took longer to get to this point, but the Bulldogs' are not as quick to pull the trigger and it takes time to revive a program, especially in a conference as tough as the SEC.
As great as these wins were for both programs, the real test is to see how they respond especially with their moves up the rankings. The Bulldogs and Rebels are BOTH at #3 in the AP Poll.  And they will each have another big next weekend. #3 Mississippi State takes on #2 Auburn (5-0, 2-0) at home while #3 Ole Miss travels to #14 Texas A&M (5-1, 2-1).
Both teams have a similar schedule to end the year.
The Bulldogs schedule is Auburn, at Kentucky, Arkansas, UT-Martin, at Alabama, Vanderbilt, and at Ole Miss.
The Rebels remaining schedule is at Texas A&M, Tennessee, at LSU, Auburn, Presbyterian, at Arkansas, Mississippi State.
The nod probably goes to the Bulldogs because they draw Vanderbilt and UT-Martin while the Rebels have Tennessee and Presbyterian in their two easiest games. It should be said that no team has an "easy" schedule per se because the SEC is is a buzz saw, especially the SEC West.
Of course, how could the Egg Bowl be ignored for all the tantalizing possibilities it presents now? It could be a door into the SEC Championship, which only the Bulldogs have appeared in. It could even be a door into the College Football Playoff if they win the SEC West and the SEC Title. That all is conjecture and both teams have 6 more games before they even reach the Egg Bowl. But is sure is fun to think about what could be at stake.
One thing that will be interesting to see is how these two coaches and programs do in 2015 and beyond. We have seen the Rebels have two good seasons in the past and then sink to the bottom of the SEC West. The Bulldogs have done the same. Still, there is no reason to think that these programs will not continue their success, barring any catastrophic event or sequence of events.