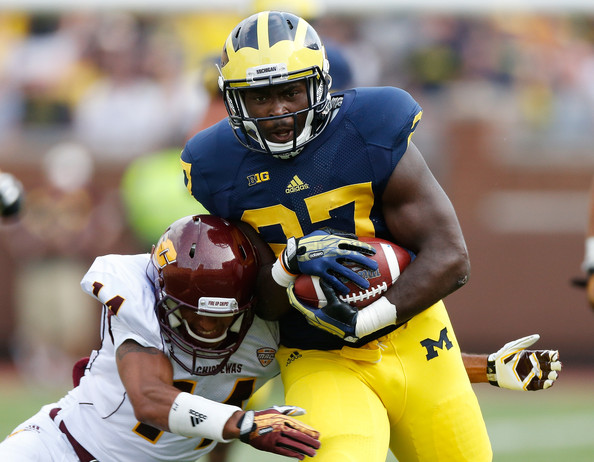 (Photo Credit To Gregory Shamus / Getty Images North America)
A bad season for Michigan just got worse. Starting running back Derrick Green has been ruled out for the remainder of the 2014 season with a broken clavicle.
Head coach Brady Hoke confirmed the news on Monday. Green suffered the injury on Saturday in the fourth quarter against Rutgers. Green ran for 74 yards on 12 carries.
Green had an up and down season prior to the injury. He ran for a total of 471 yards and 3 touchdowns. His best games were against Appalachian State where he ran for 170 yards and a touchdown and against Miami (OH) when he ran for 137 yards and 2 touchdowns.
Replacing Green will be a combination of De'Veon Smith, Justice Hayes, and Drake Johnson. Smith has 282 yards and 4 touchdowns in 2014. Hayes has 101 yards on 19 carries while Johnson has 28 yards on 3 carries. Those 28 yards came against Appalachian State and he has not recorded any stats since.
Michigan is embroiled in an awful season with their record at 2-4 overall and 0-2 in the Big Ten. They have lost three games in a row to Utah, Minnesota, and Rutgers. Brady Hoke's seat is already uncomfortably warm and it is hard to see him surviving this season even if they win out and go 9-4 with a bowl victory. That scenario is improbable given the way the Wolverines have performed in this season.
Michigan faces Penn State (4-1, 1-1) on Saturday in the Big House.