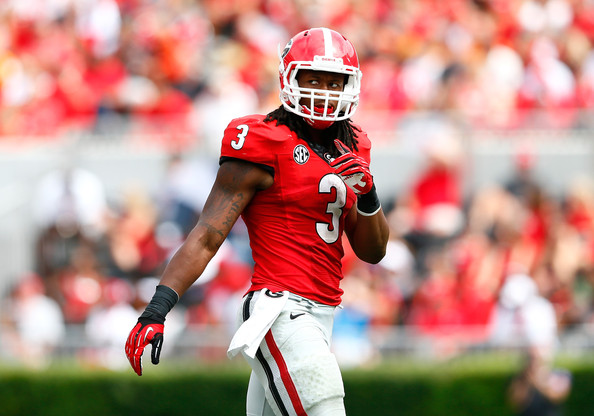 (Photo credit to Kevin C. Cox / Getty Images North America)
Heisman hopeful Todd Gurley was suspended by Georgia on Wednesday while he is investigated for potentially taking money in exchange for autographs.
The University of Georgia released a statement on Wednesday that said Gurley would be suspended indefinitely.
"I'm obviously very disappointed," head coach Mark Richt said in a statement. "The important thing for our team is turn all our attention toward preparation for Missouri."
Gurley hand ran for 773 yards and 8 touchdowns on 94 attempts. Gurley also has 11 catches for 53 yards and a kickoff return for a touchdown against Clemson.
The loss of Gurley hurts the Bulldogs immensely. He accounted for 35.9% of the Georgia's total offense and was the reason the Bulldogs to a 4-1 record to open the season.
Replacing Gurley will be nearly impossible and it does not help that Georgia already had two tailbacks out for the game against Missouri on Saturday. Freshman Sony Michel will be out for at least three more weeks with a broken shoulder-blade and junior Keith Marshall is out for this week against with a bruised ankle and knee. Marshall may be back next week for the game against Arkansas.
Freshman Nick Chubb will get the start in Gurley's absence. He has 31 carries for 224 yards and 2 touchdowns. He has looked explosive at times with a 7.2 yards-per-carry average and how shown good strength to shake off tacklers. Sophomore Brendan Douglas will also get some carries. However, Douglas has played in only one game, against Troy, when he ran for 47 yards on 8 carries.
Georgia may lean a bit more on quarterback Hutson Mason who has done admirably this year. He is 69 of 101 for 687 yards with 7 touchdowns and 3 interceptions. He has a completion percentage of 68.3.
#13 Georgia (4-1, 2-1) travels to #23 Missouri (4-1, 1-0) on Saturday in a pivotal matchup of SEC East foes.