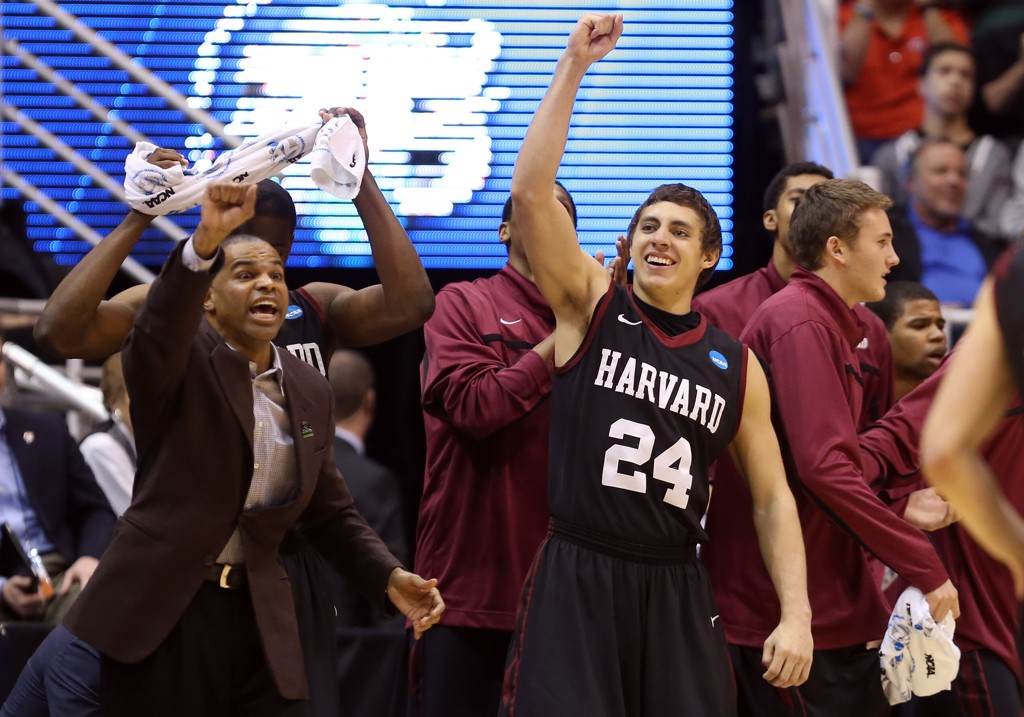 There is no doubt that Harvard's success in the Ivy League and the NCAA Tournament has helped the entire conference. However, those teams now want to dethrone the champ and make their own name in March Madness. This preview begins with the top dog and the Harvard Crimson.
Harvard's defense of their Ivy League crown begins with Wesley Saunders. Saunders was named the Ivy League Player of the Year and for good reason. He averaged 14.2 points, 4.6 rebounds, 3.8 assists, and 1.7 steals per game last season. His partnership with Siyani Chambers, who averaged 11.1 points, 2.4 rebounds, 4.6 assists, and 1.3 steals per game, makes this a tough backcourt. However, there is not a lot of depth behind them if one, or both, of them get into any kind of foul trouble.
Another player to watch on Harvard is Cameroon born Steve Moundou-Missi. He averaged 10.5 points, 6 rebounds, 0.6 assists, 0.8 steals, and 1.3 blocks per game in 2013-14. He has been named the captain for Harvard due to his growth as a player over the past three seasons.
The schedule for the Crimson is not too imposing. Their toughest non-conference foes are Massachusetts (home), Virginia (road), Arizona State (road), and Boston College (road).
Harvard's top challenger is Yale. Yale was the only team to beat Harvard in the Ivy last year and they did it in Lavietes Pavilion on the road. The Bulldogs will be led by forward Justin Sears. Sears averaged 16.9 points, 6.9 rebounds, 1.4 assists, 1.2 steals, and 1.9 blocks last year to lead Yale to a 9-5 Ivy League record and second place finish. It will not hurt Yale to have senior guards Javier Duren and Armani Cotton to challenge Harvard. Duren averaged 13.6 points, 3.9 rebounds, 3.1 assists, and 1.5 steals while Cotton had 8.5 points, 5.4 rebounds, 1 assist, and 0.9 steals per game.
Yale has a few tests out of conference including Southern Illinois (neutral site), Providence (road), Connecticut (road), Florida (road), and Vanderbilt (road). Those games should be sufficient enough to test them to face a team like Harvard.
Another team who could challenge Harvard's supremacy is Columbia. The Lions finished 8-6 in the Ivy League last season, which was good enough for a joint third-place finish. The Lions return their entire team from last year including the top three scorers in Alex Rosenberg, Maodo Lo, and Grant Mullins. Rosenberg finished with averages of 16 points, 3.7 rebounds, 1.3 assists, and 0.7 steals. Lo came on strong last year with 14.7 points, 3.8 rebounds, 2.1 assists, and 1.2 steals. Mullins added in 11.7 points, 2.9 rebounds, 2.4 assists, and 0.7 steals. With the entire roster coming back intact, this team looms very dangerous with the depth and experience they have.
The schedule for Columbia is far from daunting. Their toughest games are both on the road and will surely result in losses. They travel to Rupp Arena to face Kentucky on 12/10 and then face UConn on 12/22.
Another team who is listed as a contender is the Brown Bears. However, they lost their top scorer from 2013-14 in guard Sean McGonagill, who averaged 17.4 points, 4.3 rebounds, 3.8 assists, and 1.3 steals per game. Taking That loss means the Bears will rely on their frontcourt with Cedric Kuakumensah and Rafael Maia. Those two, who both stand at 6-9, will need to be enforcers on the inside to block and alter shots at the rim. Kuakumensah averaged 3.2 blocks a game last season and will need to replicate that form again if Brown are to seriously contend in the Ivy League.
Brown has a couple of noteworthy non-conference games against Northwestern (home) and Illinois (road). The two biggest games for Brown occur in the span of a week. The Bears will face Yale on 1/17/15 and 1/24/15 in two games that will determine whether or not they belong in the upper echelon of the Ivy League in 2014-15.
One team that is flying well under the radar is Dartmouth. They had a disappointing 2013-14 campaign when they finished 5-9 in the Ivy League and 12-16 overall. Their season was derailed with the ACL injury to Gabas Maldunas. He was well on his way to being the leading scorer for the Big Green and in 15 games he averaged 11.2 points, 8.5 rebounds, 2.2 assists, 0.6 steals, and 2 blocks per game. He is not expected back until December, but his return will undoubtedly give them a boost.
Without Maldunas, Alex Mitola and Connor Boehm stepped up to fill the void, but it was not enough. Mitola was the leading scorer with 11.8 points, but also added in 2.5 rebounds, 2.7 assists, and 0.6 steals per game. Boehm averaged 10.9 points, 5.6 rebounds, 1 assist, and 0.5 steals per game.
There are not any big name opponents for Dartmouth, but they do have some games they can use to measure up against the middle of the Ivy League. They face New Hampshire (home), Northern Illinois (home), and Penn State (road).
Another team looking to bounce back from a poor season is the Penn Quakers. They went 5-9 in the Ivy and 8-20 overall after being selected to finish second in the 2013-14 season. Penn returns their first and fourth leading scorers. Tony Hicks led the way with 14.9 points, 2.6 rebounds, 2.9 assists, and 0.6 steals per game. The fourth leading scorer was Darien Nelson-Henry with 10.6 points, 5.3 rebounds, 0.9 assists, 0.4 steals, and 0.9 blocks per game. Those two will be joined by Patrick Lucas-Perry, who played in only 5 games last year due to injuries.
Penn has several games that could point them in one direction or other. Those games are against Temple (road), Vanderbilt (road), La Salle (road), Villanova (home), and Saint Joseph's (home).
Princeton is not to be lost in the shuffle, but they lost a humongous piece of their offense in T.J. Bray. Bray averaged 18 points, 4.8 rebounds, 5.1 assists, and 1.3 steals per game. One player who is a candidate to step up is Hans Brase. Brase averaged 11.2 points, 5.7 rebounds, 2.2 assists, 0.7 steals, and 0.6 blocks a game.
For Princeton, they have several intriguing games. They face George Mason (road), UTEP (neutral site), California (road), and Wake Forest (road).
Finally, we come to the Cornell Big Red. They went 1-13 in the Ivy League and 2-26 overall in 2013-14. The only two wins for them came against Oberlin College and Dartmouth. The leading member of that squad was Nolan Cressler. who averaged 16.8 points, 4.2 rebounds, 1.6 assists, and 0.5 steals per game. However, Cressler has transferred to Vanderbilt leaving Cornell in an even bigger hurt.
The top returning scorer for Cornell is Devin Cherry. Cherry averaged 12.3 points, 4.3 rebounds, 3.5 assists, and 0.8 steals per game. Guard Robert Hatter is a player to watch for the Big Red. He appeared in the first 20 games in 2013-14 as a freshman and averaged 9 points, 1.6 rebounds, and 2.1 assists per game. Injuries knocked him out of the remaining 8 games, but he should respond well with 20 games he played last year.
Perhaps the biggest return for Cornell is senior forward Shonn Miller. He missed all of 2013-14 will a shoulder injury, but in 2012-13 he put up averages of 11.5 points, 6.8 rebounds, 0.9 assists, 1.9 steals, and 1.9 blocks per game. His return will help the Big Red, but how much is another matter.
Predicted Order of Finish
The 2014-15 season for the Ivy League should be an intriguing one. Harvard is the favorite to win, but they are not the overwhelming favorite by any means. Both Columbia and Yale will provide formidable challenges in an attempt to prevent the Crimson from winning a fifth straight Ivy League title. Battling for the fourth spot will come down to Penn, Princeton, Brown, and Dartmouth and all have a solid chance at claiming it. Cornell still appears to be at least one or two seasons from moving out of the Ivy League cellar.
Here is the predicted order of finish for the 2014-15 Ivy League Season:
1. Harvard
2. Columbia
3. Yale
4. Dartmouth
5. Penn
6. Brown
7. Princeton
8. Cornell
Barring the improbable occurrence of two one-loss Ivy League teams, only the regular season winner will earn the Ivy League's automatic berth to the NCAA Tournament. As usual, the Ivy League winner is not to be trifled with when March Madness rolls around.