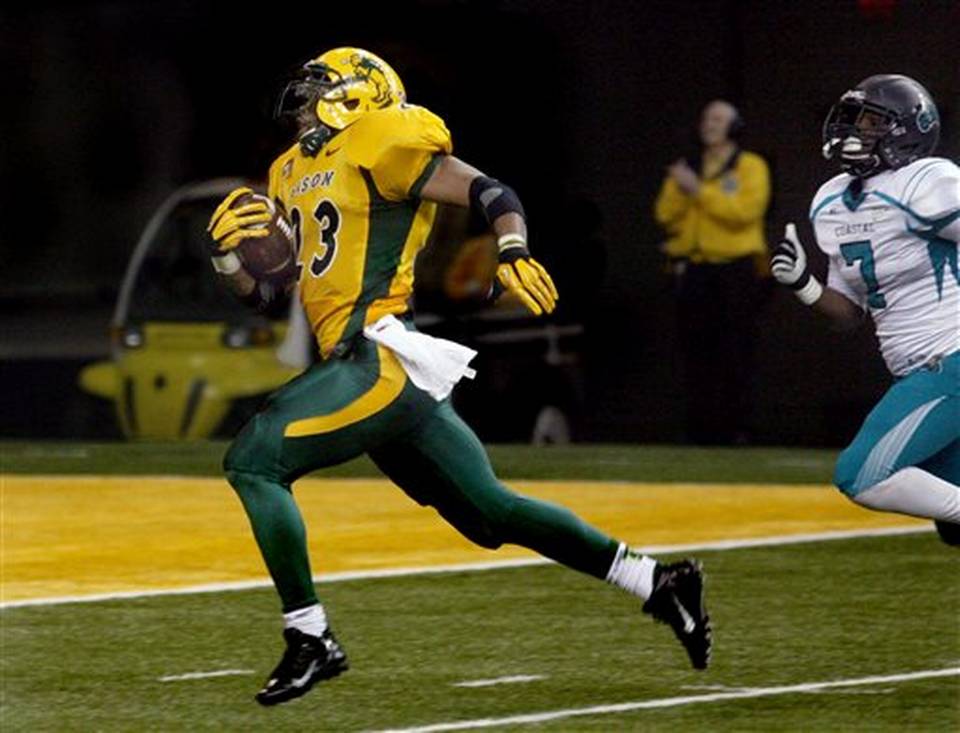 2014 FCS Playoffs Quarterfinals Wrap Up
Four games were played this week and we are now left with 4 teams. It was another exciting week with all the games competitive to the end and producing plenty of drama. The 2014 FCS Playoffs Quarterfinals wrap up is below. Feel free to compare the results to the predictions made here.
#8 Chattanooga Mocs (10-3) at #1 New Hampshire Wildcats (11-1)
This game was played Friday night and it was a tight battle. New Hampshire's second half surge allowed them to win 35-30 over Chattanooga.
It took a few drives to get the scoring started, but the Wildcats did with Sean Goldrich's pass to Nico Steriti going for 39 yards. The Mocs had the perfect answer when quarterback Jacob Huesman ran in from 19 yards out to tie the game at 7. The first quarter ended with the Mocs threatening to put more points on the board.
The fourth play of the quarter was a missed 37 yard field goal from Henrique Riberio that kept the game knotted at 7. The Mocs' next drive put them up 14-7 with Derrick Craine running in from 33 yards out untouched. The Wildcats answered right back with Goldrich connecting with R.J. Harris for a 49 yard touchdown. The Wildcats faked the extra point and converted the two point attempt to lead 15-14. With less than 30 seconds left in the first half, Chattanooga came up with a touchdown from Huesman on a 1 yard touchdown run. They opted for the extra point and led 21-15 at the break.
The second half was a bit slow to start with the Wildcats striking first again. Goldrich ran in from 5 yards out to give the Wildcats the lead again at 22-21. The Mocs responded with a long drive that burned the final 8:28 of the third quarter and 9 seconds of the fourth quarter. The drive ended with Riberio hitting a 27 yard field goal and giving the lead back to the Mocs at 24-22.
The Wildcats made an emphatic response on their next two drives. First, Steriti ran in from 6 yards out to make it 28-24 after a failed two-point attempt. Then came the back-breaker. On a double reverse, Goldrich ended up getting the ball back and found a wide open R.J. Harris. Harris caught the ball and with a caravan of teammates was able to go down the sideline for a 61 yard touchdown. The Wildcats led 35-24 with 11 minutes left. The Mocs had a chance to cut into the lead on the next drive, but Huesman was picked off by Nick Cefalo at the New Hampshire 16 yard line.
The Mocs did get a a touchdown with 1:32 left in the game when Huesman hit Craine for an 8 yard touchdown, but missed the two point conversion. The Wildcats recovered the onside kick to preserve the 35-30 victory.
Jacob Huesman went 28 of 37 for 335 yards with a touchdown and an interception. He also ran 14 times for 93 yards and 2 touchdowns. Keon Williams had 76 yards on 21 carries while Derrick Craine had 7 carries for 53 yards and a touchdown. Faysai Shafaat had 6 catches for 90 yards while Tommy Hudson had 7 catches for 82 yards.
Sean Goldrich went 12 of 24 for 228 yards and 3 touchdowns. Nico Steriti ran 16 times for 58 yards and a touchdown while also catching 2 passes for 34 yards and a touchdown. Goldrich carried the ball 5 times for 24 yards and a touchdown. R.J. Harris had a monster game with 7 receptions for 172 yards and 2 touchdowns.
#5 Illinois State Redbirds (11-1) at #4 Eastern Washington Eagles (11-2)
Illinois State built a big lead before Eastern Washington made a furious rally in the fourth quarter. However, it fell short with Illinois State winning 59-46 in an exciting game.
The Redbirds took a 10-0 lead after a field goal and a 7 yard touchdown run from Marshaun Coprich. The latter came after a Vernon Adams interception. The Eagles were able to close the gap to 10-7 by the end of the first quarter when Quincy Forte ran for a 9 yard touchdown.
The second play of the second quarter was Brady Tibbits pounding the ball in from 3 yards out to restore the lead back to 10 points at 17-7. The Eagles were able to only muster a field goal in response before the Redbirds made it 24-10 game on Tre Roberson's 7 yard touchdown pass to Cameron Meredith. The next drive by Eastern Washington was perfect. They scored a touchdown on Jabari Wilson's 1 yard run and left only 36 seconds on the clock. At the break, Illinois State led 24-17.
The third quarter proved to be a turning point in the game. ISU started with a 21 yard touchdown run from Copich before EWU settled for another field goal and trailed 31-20. The next three drives all went in favor of ISU. First, Copich ran for a 2 yard touchdown to make it 38-20, but then came an interception thrown by Adams to give ISU the ball at the 23 yard line. 6 plays later, Roberson ran for a 5 yard touchdown and a 45-20 lead at the end of the third quarter.
The fourth quarter was packed with action starting with Adams 2 yard touchdown lead to make it 45-27. ISU came right back to make it 52-27 when Roberson hit Lechein Neblett from 31 yards out. EWU and Adams scored two touchdowns in short order. First was Adams to Cooper Kupp from 30 yards out and then came the same combination, but from 35 yards out. That made it 52-39 after a missed extra point and failed two point attempt on the Eagles.
The Redbirds ended any hope of an Eastern Washington comeback when Copich ran for a 74 yard touchdown to make it 59-39. The Eagles scored a late touchdown when Vernon Adams hit Shaq Hill for a 47 yard touchdown.
Tre Roberson went 19 of 24 for 206 yards with 2 touchdowns while also running for 62 yards and a touchdown.. Marshaun Copich had a monster game on the ground with 258 yards and 4 touchdowns on 30 carries. Cameron Meredith caught 9 passes for 73 yards and a touchdown. Lechein Neblett caught 3 passes for 43 yards and a score.
Vernon Adams went 25 of 44 for 425 yards with 3 touchdowns and 2 picks. Quincy Forte ran for 88 yards and a score on 13 carries. Cooper Kupp had 10 catches for 185 yards and 2 touchdowns.
Sam Houston State Bearkats (10-4) at #6 Villanova Wildcats (12-2)
A late touchdown from Sam Houston State propelled them back into the FCS semifinals with a 34-31 win over Villanova. Villanova's normal quarterback, John Robertson, was declared out with a concussion shortly before the game.
Villanova's first drive ended in a blocked punt that set up the Bearkats inside the red zone. They would take advantage with Jared Johnson completing a 2 yard touchdown pass to LaDarius Brown. Villanova responded with a touchdown of their own when Chris Polony completed a 54 yard touchdown pass to Poppy Livers, but a missed extra point made it 7-6 in favor of the Bearkats. The Wildcats would take the lead on the next drive after starting from their own 1 yard line. Polony ran for a 36 yard touchdown to make it 13-7.
The first quarter ended with Sam Houston State getting into with Johnson completing a 51 yard pass to Brown to the Villanova 29 yard line. Johnson capped the drive with a 4 yard touchdown pass to Gerald Thomas to recapture the lead at 14-13. The two teams exchanged field goals to end the first half. Sam Houston State clung to a 17-16 lead at the break.
The Bearkats got off to a great start in the second half. On the first play from scrimmage Johnson hit Brown for a 66 yard touchdown pass to make it 24-16. Villanova tied the game two drives later when Kevin Monangai ran for a 58 yard touchdown and Polony connected with Kevin Gulyas on the two point attempt. The third quarter ended tied up at 24.
The Bearkats took the lead again with a 30 yard field goal from Luc Swimberghe. The Wildcats took the lead on their next drive with Polony running in from a yard out to make it 31-27. Sam Houston State wasted no time in getting the lead back with Jalen Overstreet pounding the ball in from a yard out to lead 34-31. The Wildcats were forced to settle for a field goal attempt, but a delay of game would prove costly. Chris Gough's 51 yard attempt was no good and the Bearkats held on for the 34-31 win.
Jared Johnson had a very efficient game going 22 of 27 for 303 yards with 3 touchdowns. He also had 32 yards rushing on 12 carries. Keshawn Hill had 75 yards on 20 carries. LaDarius Brown had an excellent game with 6 catches for 174 yards and 2 touchdowns while Yedidah Louis had 7 catches for 64 yards.
Chris Polony had a very good game in replace of John Robertson. He went 13 of 24 for 228 yards with a touchdown pass while also running 13 times for 87 yards and 2 touchdowns. Kevin Monangal had 27 carries for 166 yards and a touchdown. Poppy Livers caught 4 passes for 96 yards and a touchdown.
This game was delayed with 1:40 left in the fourth quarter due to a medical emergency in the stands. It has been reported that EWU's Jake Rodgers' father was being attended to.
#7 Coastal Carolina Chanticleers (12-1) at #2 North Dakota State (12-1)
For the second week in a row, North Dakota State was pushed to the brink in the playoffs. And for the second week in a row North Dakota State survived. The Bison defeated Coastal Carolina for the second straight year in the quarterfinals, this time it was by a score of 39-32. John Crockett ran wild with 26 carries for 227 yards and 2 touchdowns.
Crockett started his big day on the first drive with a 70 yard touchdown run on the fourth play of the game. The Chanticleers were unable to match with a touchdown, but settled for a 32 yard field goal from Alex Catron. The Bison's next drive also resulted in a touchdown with an easy throw and catch. Carson Wentz hit Kevin Vaadeland for a 20 yard strike with the latter strolling easily into the end zone to make it 14-3. Coastal Carolina need a response to keep this a game and got just that with a 4 yard touchdown run from Alex Ross to make it 14-10 in favor of NDSU at the end of the first quarter.
The Bison extend their lead to 17-10 with Adam Keller's 27 yard field goal almost midway through the second quarter. That field goal capped a 13 play drive that took 6:38 off the clock. The ensuing kickoff was taken by Devin Brown and returned 98 yards for a game-tying touchdown. The Bison responded immediately on their next drive. Wentz hit Luke Albers for a 21 yard touchdown despite two defenders on him. Coastal Carolina ended the first half with a 25 yard field goal to make it a 24-20 lead for NDSU.
The Bison extended the lead on their first drive of the third quarter. Wentz punched the ball in from 2 yards out to make it 31-20 and Coastal Carolina was in danger of letting the game slip away again. However, they were able to get a touchdown when Ross had a 4 yard touchdown run, but failed to convert the two point attempt and trailed 31-26. The final three plays of the third quarter saw the Chanticleers go from their own 5 yard line to North Dakota State's 2 yard line. First was Ross' 48 yard pass to John Israel followed by a 32 yard run by De'Angelo Henderson. The final play of the quarter was Ross hitting Osharmar Abercrombie for a 13 yard pitch and catch.
The first play of the fourth quarter was Henderson finishing the drive with a 2 yard touchdown run. Once again, the two point attempt was no good and Coastal Carolina held their first lead of the game at 32-31. The Bison were not able to respond until two drives later, but they did with none other than John Crockett. He ran 45 yards to the end zone and Wentz's run on the two point conversion made it 39-32. The Chanticleers still had two more chances to tie the game. Their penultimate drive ended with a punt at the North Dakota State 45 yard line that went for a touchback. The Bison missed a 49 yard field goal that would have put them up 10 points, but the defense stepped up. A sack on second down but Coastal Carolina in a third and 19 hole while they picked off Ross' pass on fourth down to seal the win.
Alex Ross went 11 of 24 for 197 yards with no touchdowns and a pick. He did have 2 touchdowns on the ground. De'Angelo Henderson ran 24 times for 143 yards and a touchdown. Bruce Mapp led Coastal Carolina in receiving with 4 catches for 81 yards. John Israel had 2 catches for 72 yards.
Carson Wentz completed 11 of 17 passes for 173 yards and 2 touchdowns. He also ran for 45 yards and a touchdown on 9 carries. John Crockett carried the ball 26 times for 227 yards with 2 touchdowns. Carey Woods was the top receiver with 4 catches for 48 yards. No other receiver had more than 2 catches.
Semifinal Games
There will be two games next week with one taking place on Friday evening and the other on Saturday afternoon. The games are as follows:
Sam Houston State Bearkats (11-4) at #2 North Dakota State Bison (13-1) – 8 PM ET on ESPN2 Friday evening.
#5 Illinois State Redbirds (12-1) at #1 New Hampshire Wildcats (12-1) – 2 PM ET on ESPNU Saturday afternoon.
Check back later this week to see the predictions for both of those games.