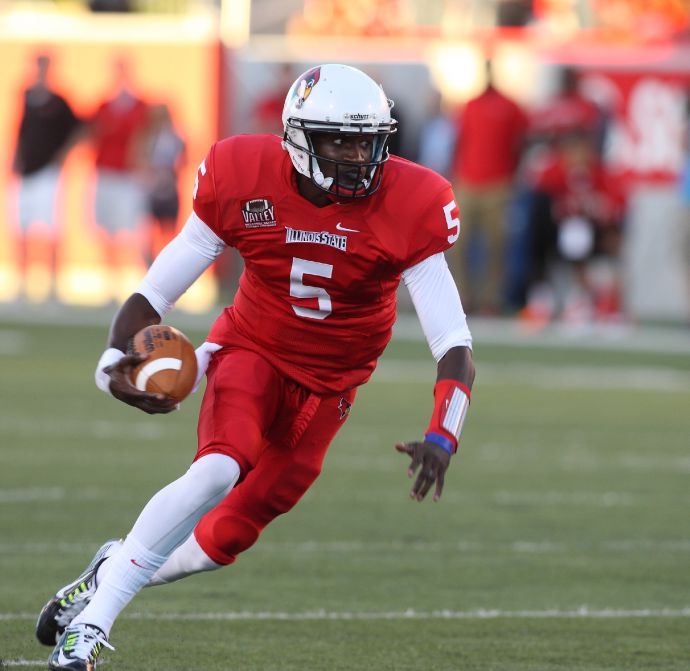 2014 FCS Playoffs Semifinals Predictions
We have one final weekend to determine who will be playing in the 2014 FCS National Championship. Two games will take place on Friday and Saturday to determine those participants. It starts with Sam Houston State visiting North Dakota State on Friday night before Illinois State travels to New Hampshire on Saturday afternoon.
Yours truly went 5-3 in the first round predictions before rebounding with an 8-0 record in the second round. The Quarterfinals provided a solid 3-1 record to make it 16-4 in the first three rounds. Let's hope it moves up to 18-4 with the 2014 FCS Playoffs Semifinals Predictions below.
Sam Houston State Bearkats (11-4) at #2 North Dakota State Bison (13-1) – 8 PM ET on ESPN2
Two familiar foes face off on Friday night in the FargoDome. In both 2011 and 2012, North Dakota State ended Sam Houston State's season in the FCS Championship game. What has been most impressive for the Bearkats this postseason is they have won the last two games on the road, but the defense has been very good in the second half.
Meanwhile, North Dakota State is just being North Dakota State by winning games at home. However, they have needed to rally in both playoff games to win. The Bison are favored by more than 2 touchdowns here, but the Bearkats' defense has been solid in the playoffs.
North Dakota State just does not lose at home, but this game is going to be closer than most think. Sam Houston State's 8 game win streak is not a fluke, but the Bison continue to get it done at home. North Dakota State manages to win 30-27 to reach their fourth straight FCS Championship.
#5 Illinois State Redbirds (12-1) at #1 New Hampshire Wildcats (12-1) – 2 PM ET on ESPNU Saturday
This game, just like the other semifinal, should be a good matchup. Illinois State is averaging 50 points per game in the playoffs while New Hampshire is putting up 39.5 points per game. The Redbirds' win last week on the road at #4 Eastern Washington was impressive, but now they have to go to the dungeon and beat top seeded New Hampshire. That is a tall order, but quarterback Tre Robeson and running back Marshaun Coprich are more than capable of doing so.
Roberson has 2,786 yards passing with 27 touchdowns and 9 interceptions on the season. He also has 773 yards and 9 touchdowns on the ground. Coprich has been a machine with 2,089 yards rushing and 26 touchdowns while he averages 161 yards per game on the ground.
Sean Goldrich is hoping that he, and the UNH defense, can keep the Redbirds offense off the field. After missing 5 games in the middle of the season due to injury, Goldrich has played decently. He will need to avoid turnovers if New Hampshire is to make the FCS National Championship.
Perhaps it is surprising to see that Illinois State is favored by 6.5 points on the road at the top ranked team (line courtesy of 5Dimes). However, the Redbirds have been explosive on offense and last week's 59-46 win over EWU was no fluke. The Wildcats' defense will keep them in the game, but Illinois State comes out on top 42-34.
2014 FCS National Championship
Based on the predictions above, it will be the #2 North Dakota State Bison facing the #5 Illinois State Redbirds on January 10 to determine the winner of the 2014 FCS National Championship.
Be sure to check back on Saturday for recaps of both semifinal games.