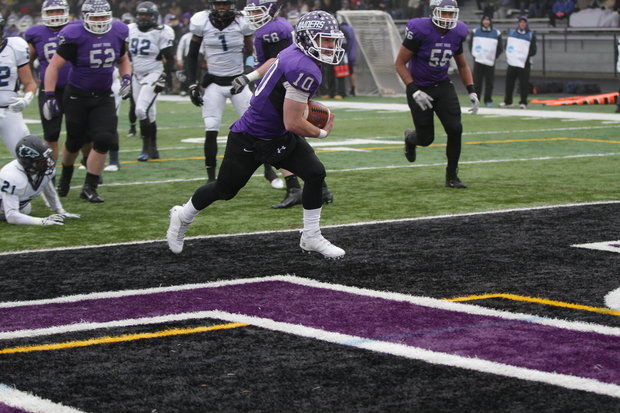 2014 Stagg Bowl Preview And Prediction
We have reached the pinnacle of the 2014 Division 3 football season with the final two teams battling it out to determine National Champion. The Wisconsin-Whitewater Warhawks and the Mount Union Purple Raiders will be facing off once again in this year's edition of the Stagg Bowl. Even once a year followers of Division 3 football probably feel like they have seen this before. And they have. 2014 will mark the 9th time in the last 10 years that these two teams have met in the Stagg Bowl. The only year in the last decade it did not happen? Mount Union beat St. Thomas (MN) 28-10 in 2012.
The last time a team not named Wisconsin-Whitewater or Mount Union won the Stagg Bowl was in 2004 when Linfield defeated Mary Hardin-Baylor 28-21. The 2014 Stagg Bowl preview and prediction is below with the prediction at the bottom of the post.
Game time for the 2014 Stagg Bowl is on Friday, December 19 at 7 PM Eastern Time on ESPNU.
Wisconsin-Whitewater Warhawks (14-0) Road To The Stagg Bowl
First Round – 55-2 win over Macalester
Second Round – 38-14 win over Wabash
Quarterfinals – 37-33 win over Wartburg
Semifinals – 20-14 win over Linfield
The Warhawks have won by an average score of 38 to 16 in their four playoff games.
Mount Union Purple Raiders (14-0) Road To The Stagg Bowl
First Round – 63-3 win over Adrian
Second Round – 67-0 win over Washington & Jefferson
Quarterfinals – 36-28 win over John Carroll
Semifinals – 70-21 win over Wesley
The Purple Raiders have won their four play games by an average score of 59 to 13.
2014 Stagg Bowl Preview
Mount Union is favored by 10 points with the Over/Under at 66.5 points.
It is hard denying how impressive Mount Union has been in their four playoff games. Three games with 63 points or more while their one close game against John Carroll was under control in the second half until midway through the fourth quarter. Meanwhile, Whitewater won easily in their first two playoff games before being sternly tested in the last two games.
The Warhawks are led on offense by quarterback Matt Behrendt. He has 3,305 yards with 38 touchdowns and only 6 interceptions on the season. He is completing a very good 67.2% of his passes. Behrendt has been helped immensely by his two top wideouts Justin Howard and Jake Kumerow. Howard has 76 catches for 1,089 and 11 touchdowns while Kumerow has 58 catches for 986 yards and 13 touchdowns. Both will be instrumental if they are to beat Mount Union. Dennis Moore is the top running back with 1,033 yards, but has only 5 touchdowns on the season. Jordan Ratliffe has 834 yards and 9 touchdowns on the ground for the Warhawks.
Whitewater is also excellent on defense. Their highest point total given up for the year is 33 to Wartburg in the quarterfinals. In 14 games, they have yielded only 149 points (10.6 points per game) including 8 games of 7 points or fewer.
Mount Union is led by their two-time Gagliardi Trophy winner Kevin Burke. He leads an offense that averages 60.3 points and 595 yards per game. Burke has thrown for 4,089 yards with 49 touchdowns and just 5 interceptions. He also has 520 yards and 10 touchdowns on the ground. Bradley Mitchell has 1,144 yards and 19 touchdowns as the top running back with only 2 lost fumbles. Burke will have a bevy of receiving options between Taurice Scott, Roman Namdar, Luc Meacham, and Sherman Wilkinson
Scott has 75 catches for 1,047 yards and 11 touchdowns while Namdar has 63 catches for 1,152 yards and 17 touchdowns. Meacham and Wilkinson are viable options with the former having 44 catches for 652 yards and 8 touchdowns and Wilkinson grabbing 41 passes for 690 yards and 8 touchdowns. Even Tim Kennedy is a viable option when he is not returning punts. He has 19 catches for 346 yards and 5 touchdowns.
The Mount Union defense is just as good as Wisconsin-Whitewater, as they give up only 9.3 points per game. They allow just 240 yards a game.
Prediction: Wisconsin-Whitewater has won the last four matchups of these teams in the Stagg Bowl. However, yours truly will not be calling for it to be 5. Mount Union's offense will be too much with the Purple Raiders capturing their 12 Division 3 National Championship, 31-20.