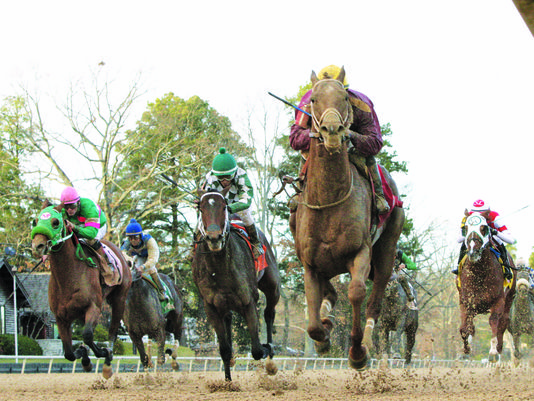 Far Right Roars Up The Rail For Smarty Jones Win
A last to first run gave Far Right the victory in Monday's ungraded Smart Jones Stakes, but not without a little help from the favorite. Mr. Z veered out badly in the stretch and that ended up costing him the victory.
The race began with longshot American Sailor going to the lead and Mr. Z right off his flank by a head. Behind those two was Runaway Bling, Bayerd, Lucky Player, and Private Prospect. The trailing trio were Paid Admission, Hebbronville, and Far Right.
The only change after a half mile was Far Right had moved into 8th place, but he found himself in a bit of trouble entering the far turn. There, he had to check as he attempted to make a move.
Entering the stretch, Mr. Z looked on his way to victory with a 2 1/2 length lead. American Sailor was still in second with Bayerd in third and Far Right was all the up to fourth. With a furlong and a half to run, Mr. Z started to veer to the right while Far Right came up the rail to power his way to the victory by 1 3/4 lengths. Mr. Z went so far to the right (no pun intended) it ended up costing him second place, as Bayerd got up to finish second.
Behind the top three horses were Private Prospect, American Sailor, Hebbronville, Paid Admission, Lucky Player, and Runaway Bling. The final running time for the one mile was 1:38.43.
Far Right is trained by Ron Moquett and was ridden by Mike Smith. Far Right is by Notional out of the Vindication mare Zindi.
Far Right earned 10 points for the win bringing his total up to 12 points. Bayerd earned 4 points (his first of the Derby Trail), Mr. Z earned 2 points for a total of 12 points, and Private Prospect earned 1 point. The points are crucial for each horse to be guaranteed a spot in the Kentucky Derby.
The next race in the Road To The Kentucky Derby is the Holy Bull on Saturday, January 24 at Gulfstream Park.