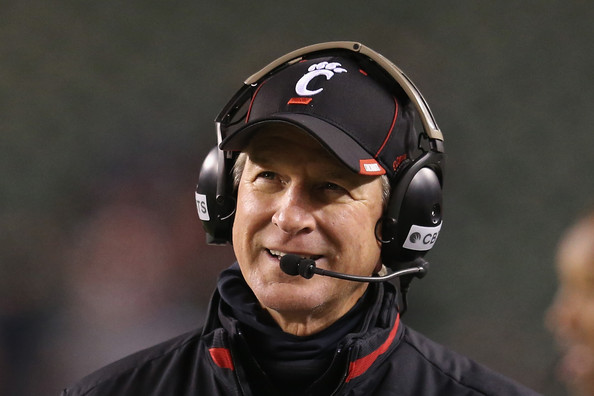 2015 College Football Preview: AAC East
Part seven of the Sports Enthusiasts' College Football Preview delves into The American with a specific look at the East Division. Below is a schedule of the 2015 College Football Preview.
Mountain West, Mountain Division – July 7
Mountain West, West Division – July 10
The American East Division – July 21
The American West Division – July 24
Sun Belt – July 28
FBS Independents – July 28
Big 12 – July 31
ACC Coastal Division – August 4
ACC Atlantic Division – August 7
Big 10 West Division – August 11
Big 10 East Division – August 14
Pac-12 North Division – August 18
Pac-12 South Division – August 21
SEC East Division – August 25
SEC West Division – August 28
Let's take a closer look at the AAC's East Division.
1. Temple Owls
It has been a wild ride for the Temple football program. They have gone from the Big East in 2004 to Independent status in 2005 to the MAC from 2007 through 2011. They then went back to the Big East for the 2012 season before the name change to The American beginning in 2013. Matt Rhule is in his third season and led Temple to a 2-10 record in 2013 before improving them to 6-6 last year.
2015 will easily be Rhule's most experienced team. He has nine starters back on offense and the biggest loss was top wide receiver Jalen Fitzpatrick. Fitzpatrick had 53 catches for 730 yards and 6 touchdowns in 2014. Quarterback PJ Walker returns after putting up 2,317 yards with 13 touchdowns and 15 interceptions last year. Walker was more inconsistent last year than in 2013 and he will need to develop some receivers to have a better season. Running back Jahad Thomas ran for 384 yards as the top rusher in 2014, which will need to be improved upon drastically. He could be replaced by freshman TJ Simmons or sophomore Zaire Williams. With all five starters back on the offensive line, there should be no reason the offense cannot produce the highest output under Rhule.
In 2014, the defense made the biggest strides under Rhule. They gave up 17.5 points and 347 yards per game last year after giving up 29.8 points and 474 yards in 2013. 2015 could be even better with 10 starters back. There is not much to say about the defense other than their only loss was at strong safety, but the replacement, Will Hayes, started seven games in 2014 at three different positions. Linebacker Tyler Matakevich was easily the team's leading tackler after recording 117 stops, 1.5 sacks, 9 tackles for loss, 3 pass breakups, and an interception. The defense will be excellent again in 2015.
Temple opens the season with a home game against Penn State (Rhule's alma mater) before back-to-back road games against Cincinnati and Massachusetts. They face Charlotte on the road after a bye week and also have Notre Dame coming to town on Halloween to complete their non-conference schedule. They have to play Memphis from the West, but get them at home and also get SMU (road) and Tulane (home) from the West Division. As for the East opponents, they will face Cincinnati and East Carolina on the road while facing Central Florida at home. It is weird to say this, but Temple looks like the team to beat in the East with their defense.
2. Central Florida Knights
George O'Leary has been magnificent at Central Florida including leading the Knights to the 2013 Fiesta Bowl victory over Baylor. 2014 was a step back for UCF, but 2015 could go either way.
The offense returns five starters, but the big losses were at wide receiver where the top four from 2014 are gone. The biggest loss is Breshad Perriman after his 50 catches for 1,044 yards and 9 touchdowns. UCF does return quarterback Justin Holman and he threw for 2,952 yards with 23 touchdowns and 14 interceptions. Also returning are running backs William Stanback (697 yards and 10 touchdowns) and Dontravious Wilson (347 yards and 3 touchdowns). Three linemen also return and the offense could do well this year if a few receivers are developed.
The defense has only four starters back in 2015 after giving up 19.2 points and 299 yards per game last year. The strength this year will be on the defensive line with three starters returning after giving up only 104 yards rushing and 3.2 yards per carry in 2014. Thomas Niles will be one of the ends after recording 49 tackles, 7.5 sacks, and 5.5 tackles for loss last year. They will need to be solid because the back seven return only one starter in linebacker Chequan Burkett. He recorded 40 tackles, 1.5 sacks, and 3.5 tackles for loss last year. The secondary losses 148 career starts as well as all four starters, which is going to hurt the Knights. It will be tough to produce the same overall numbers in 2015 as they did in 2014.
Central Florida opens with Florida International (home), Stanford (road), Furman (home), and South Carolina (road) to start the season before beginning AAC play. From the West, they will play Tulane and Tulsa on the road while getting Houston at home. In division play, they will have Temple and Cincinnati at home and play East Carolina at home. O'Leary has stout defenses even when there are not a lot of starters returning (i.e. 2011 with 4 starters returning UCF allowed 18.3 points and 303 yards per game). That makes UCF dangerous to contend for the division title.
3. Cincinnati Bearcats
Tommy Tuberville left Texas Tech after the 2012 season to come to Cincinnati. 2015 will be his third year and he has led the Bearcats to a record of 9-4 in each of this first two seasons. 2015 is also a season of change for The American Conference, as they are now divided into two divisions. How will Tuberville do in the inaugural season of the East?
On offense, there are eight starter back this year led by quarterback Gunner Kiel. Kiel threw for 3,254 yards, 31 touchdowns, and 13 interceptions despite some injury issues and he will have seven of his top eight receivers back from 2014. The top threats are Shaq Washington, who had 66 catches for 761 yards and 4 touchdowns and MeKale McKay, who had 44 catches for 725 yards and 8 touchdowns. Mike Boone returns at running after running for 650 yards with 9 touchdowns as a freshman despite being the #2 guy. The offense will be explosive again in 2015.
The defensive side of the ball sees only five starters return with the bulk of the losses coming in the front seven. Only Silverberry Mouhon returns on the line after recording 45 tackles, 4 sacks, and 1 tackle for loss. It is a similar story with the linebackers as only Leviticus Payne is back and he recorded 57 tackles, 2 sacks, 3.5 tackles for loss, 7 pass breakups, and 1 interception last year. The secondary is undoubtedly the strength going into the season with three starters back led by Zach Edwards. Edwards was second on the team in tackles with 121 and also recorded 3.5 tackles for loss, 6 pass breakups, and 2 interceptions. The defense have up 27.2 points and 439 yards per game in 2014 and it looks like that might happen again this year.
It will be an interesting start to the season for Cincinnati with two conference games in the first four weeks. They open with Alabama A&M and Temple at home before a road trip to Miami (OH). They have a quick turnaround of five days to face Memphis on the road and then get Miami (FL) at home on October 1. They have another road trip to BYU two weeks later after a bye. They also have to face Houston on the road out of the West. It will be another winning season for Tuberville, but the games against Central Florida (home), Temple, and East Carolina (road) as well as if the offense can outscore the opponents will decide where they finish.
4. East Carolina Pirates
A simple look at the 8-5 record for East Carolina in 2014 would suggest it was a slightly above average season for them. However, it was much bigger than the record indicates with wins over then #17 Virginia Tech on the road 28-21 and at home to North Carolina 70-41 in back-to-back weeks. Ruffin McNeill enters his sixth year in charge of his alma mater after compiling a 37-27 record. Let's see what is in store for the Pirates.
The offense brings back six starters, but the losses are big at quarterback, running back, and wide receiver. Shane Carden threw for over 4,700 yards in 2014 and his main targets were Justin Hardy (121 catches for 1,494 yards and 10 touchdowns) and Cam Worthy (55 catches for 1,106 yards and 4 touchdowns). Kurt Benkert will take over at QB, but he has only throw 10 passes in his collegiate career. While the losses of the top two receivers will hurt, Isaiah Jones put up some good numbers in 2014 with 81 catches for 830 yards and 5 touchdowns. Running back is probably the easiest of the skill positions to replace for ECU with Chris Hairston running for 528 yards and 2 touchdowns on only 79 carries last year. The offensive line does return four starters, which should provide good running lanes and ample time to the QB. However, the offense will not be as potent this season as it was in 2014.
The defense will have five starters back from a unit that allowed 25.8 points and 367 yards per game last year. That was done with only three returning starters for the 2014 season. Defensive line returns only one starter from last year, but Terrell Stanley is back after starting 12 games in 2013 and then missing all of 2014. Linebacker has two starters returning led by Zeek Bigger. Bigger had an astounding 140 tackles, 3.5 tackles for loss, 4 pass breakups, and 2 interceptions. The secondary will have two starters back including 2014 1st Team ACC cornerback Josh Hawkins. Hawkins had 44 tackles, 1.5 tackles for loss, 11 pass breakups, and 5 interceptions. The defense should produce similar numbers as they did in 2014.
East Carolina has FCS Towson to start the season before a road trip to Florida and another road trip to Navy to start conference play. They face Virginia Tech at home before back-to-back road games again with SMU and BYU on the schedule. The other team from the West, in addition to Navy and SMU, is Tulsa on October 17 at home. ECU faces fellow East contenders Temple and Cincinnati at home while getting Central Florida on the road. The final two weekends consist of UCF and Cincinnati. East Carolina will need to get their offense going right away if they are to challenge for the East, but look very good to reach another bowl game in 2014.
5. South Florida Bulls
2015 will be year three of Willie Taggart's reign at South Florida. He has gone a combined 6-18 in his first two seasons, but the offense and defense have both improved in those two seasons.
In 2015, the offense has only four starters back and that will make it a bit harder to continue improving the offense. 2014's starting quarterback Mike White is gone after transferring from the program and that leaves a battle between sophomore Quinton Flowers and former Penn State player Steven Bench. White threw for only 1,639 yards with 8 touchdowns and 7 interceptions last year so the new QB should be able to top those stats. Marlon Mack will be the workhorse running back after running for 1,041 yards and 9 touchdowns as a true freshman. Mack also was named to the 1st Team AAC last year. The top wide receiver is gone, but Rodney Adams is back after catching 23 passes for 323 yards and 2 touchdowns. Despite the low amount of returning starters the offense should produce more than the 17.2 points and 305 yards per game it did in 2014.
The defense is in a better situation with seven starters back including all of the top five tackles from a year ago. There is only one returning defensive lineman in Eric Lee, but both linebackers return in this 4-2-5 system. One of those linebackers, Nigel Harris, was second on the team with 77 tackles, 2 sacks, and 8.5 tackles for loss. Three of the back five starters return from a unit that gave up 220 yards passing in 2014. Jamie Byrd was the top tackler in 2014 with 95 tackles, 2.5 tackles for loss, 3 pass breakups, and 2 interceptions and he will be expected to help out in large volume again. The defense gave up 27 points and 403 yards per game last year and should improve on that this year.
South Florida opens with Florida A&M at home before back-to-back road trips to ACC teams Florida State and Maryland. They end their non-conference schedule against a third ACC team in Syracuse on October 10. From the West, USF will face contenders in Memphis (home) and Navy (road) as well as SMU (home). The game at Connecticut on October 17 is likely to decide who finishes last in The American's East division. USF is probably a year away from contending for a bowl game appearance.
6. Connecticut Huskies
Bob Diaco took over at Connecticut in 2014 after Paul Pasqualoni was let go just after the start of the 2013 season. He went 2-10 in 2014 with only 12 returning starters on his team and UConn has not been to a bowl game since 2010 when they faced Oklahoma in the Fiesta Bowl (they lost 48-20).
Six starters are back for Diaco from an offense that scored 15.5 points and gained 276 yards per game last year. Quarterback Chandler Whitmer has departed while Tim Boyle threw for 335 yards with 1 touchdown and 3 interceptions last season. Boyle will most likely play second fiddle again this year as North Carolina State transfer Bryant Shirreffs is likely to win the starting job. The running game only averaged 107 yards per game in 2014 and that should improve with four of the top five backs returning. Wide receiver sees the top two guys depart while Noel Thomas (26 catches for 305 yards and 4 touchdowns) is one of the top targets. The offense should be better in 2015.
The defense gave up 29.8 points and 379 yards per game in 2014 with six starters back. In 2015, there will be eight returning starters with two on the defensive line and the top four tacklers are back as well on the line. Linebacker looks like an excellent unit for UConn with former Florida transfer Graham Stewart (94 tackles, 2 sacks, 8.5 tackles for loss), Marquise Vann (105 tackles, 0.5 sacks, 6.5 tackles for loss), and Florida State transfer EJ Levenberry all expected to start. Byron Jones is gone from the secondary, but three starters return to help make this a solid unit. The defense looks like it will improve in 2015 as well.
UConn opens the 2015 season with home games against Villanova and Army. The travel to face Missouri before a home game against Navy and another road game against BYU. From the West, they will have the aforementioned Navy, but also Tulane (road) and Houston (home). As stated before, the game against South Florida on October 17 will most likely decide the AAC East's bottom team. Diaco does have this team headed in the right direction.
Overview
The American Athletic Conference's East division looks incredibly competitive. Any one of four – Temple, Cincinnati, Central Florida, or East Carolina – can win the division. South Florida and Connecticut will be battling to stay out of the cellar. Below is a recap of the predicted order of finish.
1. Temple
2. Central Florida
3. Cincinnati
4. East Carolina
5. South Florida
6. Connecticut
Check back on Friday, July 24 for The American's West Division preview as well as the predicted winner of the conference championship game.