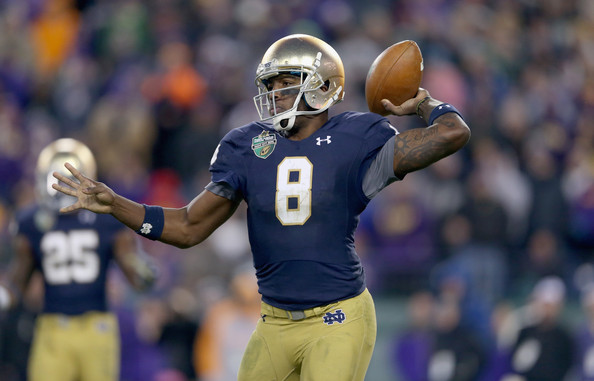 2015 College Football Preview: FBS Independents
We have reached the ninth and final single digit in this 2015 College Football Preview with the FBS Independents. Also part of this release is the Sun Belt Preview, which can be found here. Below is a schedule of all the previews from those already published to those in the future.
Mountain West, Mountain Division – July 7
Mountain West, West Division – July 10
The American East Division – July 21
The American West Division – July 24
FBS Independents – July 28
Big 12 – July 31
ACC Coastal Division – August 4
ACC Atlantic Division – August 7
Big 10 West Division – August 11
Big 10 East Division – August 14
Pac-12 North Division – August 18
Pac-12 South Division – August 21
SEC East Division – August 25
SEC West Division – August 28
Let's take a look at the three teams that comprise the FBS Independents.
1. Notre Dame Fighting Irish
Brian Kelly led Notre Dame to through their fantastic 2012 season, which culminated in a crushing 42-14 loss in the National Championship. Outside of that 12-1 season, Kelly has not won more than nine games, nor lost less than four. The pressure may be on Kelly to get the Irish back into the national spotlight.
The offense returns seven starters, but one of them is not quarterback Everett Golson. Malik Zaire will be at the helm after a very nice starting performance in the Music City Bowl against LSU, finishing the season with 266 yards and a touchdown in only seven appearances. He will have both Tarean Folston (889 yards and 6 touchdowns) and Greg Bryant (289 yards and 3 touchdowns) in the backfield again this season. More importantly for Zaire is that he will have the top four receivers from 2014 back led by Will Fuller. Fuller had 76 catches for 1,094 yards and 15 touchdowns while easily becoming the most productive receiver last season. The Irish put up 32.8 points and 445 yards of offense per game in 2014 and if Zaire protects the ball better than Golson, they will do even better this year.
The defense had its worst season in 2014 under Kelly. With four starters back, the gave up 29.2 points and 404 yards per game. The defense in 2015 will have 10 starters back and the one replacement is KeiVarae Russell, who was a starter in 2012 and 2013. The defensive line starters all had at least 39 tackles and a sack in 2014. The linebackers are led by Jaylon Smith. Smith had 112 tackles, 3.5 sacks, and 5.5 tackles for loss on his way to 2nd Team All-American accolades. The secondary has three starters back as well as the aforementioned Russell. The defense will be much better in 2015 and makes the Irish a serious threat to reach the College Football Playoffs.
Notre Dame has several tough games in 2015. They open with a home game against Texas, but also face Georgia Tech (home) and Clemson (road) in the first five weeks. USC will travel to South Bend on October 17 as well, but the final five games of the Irish schedule look manageable. It looks very possible that Notre Dame will be back near the top of the national rankings again this year.
2. BYU Cougars
BYU went from the Mountain West in 2010 to independent status in 2011. It looked like the right move as they went 10-3 in 2011, but have subsequently had three straight 8-5 seasons. 2014 started off great for BYU until the injury to star quarterback Taysom Hill. What will 2015 have in store for the Cougars?
The offense has eight starters back including quarterback Taysom Hill. Hill was have an excellent year in 2014, but his injury forced Christian Stewart into action. Stewart did well in place of Hill by throwing for 2,621 yards with 25 touchdowns and 9 interceptions. The running game was not as strong with Jamaal Williams leading the team with 518 yards and 4 touchdowns while also having injury issues throughout the seasons. Mitch Mathews is also back after grabbing 73 passes for 922 yards and 9 touchdowns. Despite the injuries, BYU still managed to put up 37.1 points and 460 yards of offense in 2014. Now that Hill is back for 2015, the BYU offense could go even higher.
The defense has only five returning starters and three of those reside on the defensive line. The line allowed only 122 rushing yards per game and only 3.3 yards per carry. The lone returning linebacker is Manoa Pikula and he finished 2014 with 49 tackles, 2 tackles for loss, and an interception. In the secondary, only Michael Davis is back after having 43 tackles and 6 pass breakups last season. The back eight have a lot of inexperience so the Cougars may be playing in quite a few shootouts this year.
BYU has a tough schedule in 2015 as they open with three road games in the first four weeks. They face Nebraska (road), Boise State (home), UCLA (road), and Michigan (road). The middle portion of their schedule is a bit easier with games versus Connecticut, East Carolina, Cincinnati, and Wagner with all of those at home. After a bye week, they will face San Jose State (road), Missouri (Kansas City), Fresno State (home), and Utah State (road). It will be tough for BYU to reach double digits in the win column for 2015 even with Taysom Hill back.
3. Army West Point Black Knights
Jeff Monken took over Army in the offseason prior to 2014 and managed a 4-8 record with 14 starters back. This offseason, Army rebranded itself as Army West Point, but we will still refer to them as just Army. Will the second year of Monken and a new name help Army back to a bowl game?
The offense returns only five starters. Quarterback will be a battle between the oft-injured AJ Schurr and Matthew Kaufmann. Schurr is likely to get the job if he is healthy considering he had 320 yards rushing and 3 touchdowns in addition to his 242 yards passing with a touchdown and interception. The running game has been hit hard by the loss of Larry Dixon (1,102 yards and 9 touchdowns) with Aaron Kemper (158 yards and a touchdown) and Matt Giachinta (152 yards and a touchdown) the top returning rushers behind Schurr. Edgar Poe had 10 catches for 199 yards and a touchdown in 2014, but the passing game is not the focal point of this offense. There are three starters back on the line as well as others who have seen time at multiple positions. The offense put up 24.9 points and 359 yards of offense in 2014 and could produce similar numbers this year as well.
The defense also has only five starters returning. The defensive line has been raided by losses with no starters returning after they surrendered 193 rushing yards per game last year. Linebacker is strong with two starters returning led by Jeremy Timpf. He had 117 tackles, 1 sack, 13.5 tackles for loss, and three interceptions. He will be joined by Andrew King (63 tackles, 5 sacks, 3 tackles for loss). The secondary has three starters back including former wide receiver Xavier Moss. Josh Jenkins will be one of the cornerback spots (64 tackles, 4 tackles for loss, 8 pass breakups, and 4 interception) with Chris Carnegie at the other corner position (54 tackles, 1 tackle for loss, 7 pass breakups, 3 interceptions).
Army will face Fordham (home), Connecticut (road), Wake Forest (home), and Eastern Michigan (road) to start the season. It gets tougher from there with Penn State (road), Duke (home), Bucknell (home), and Rice (road) in the next four games. Games against Air Force (road), Tulane (home), and Rutgers (home) all lead into the Army-Navy game on December 12 in Philadelphia. Army has lost 13 straight to Navy and even if that is the only game they win in 2015, they will a successful season. It does, however, look like it will be a 4 to 5 win season for Army.
Overview
The FBS Independents are easy to sort out for 2015. Notre Dame is clearly the best team while BYU will have another solid season. Army is probably still a year away from being a bowl contender. Below is the predicted order of finish.
1. Notre Dame
2. BYU
3. Army
Be sure to check out the Sun Belt preview and check back on Friday for the Big 12 preview.