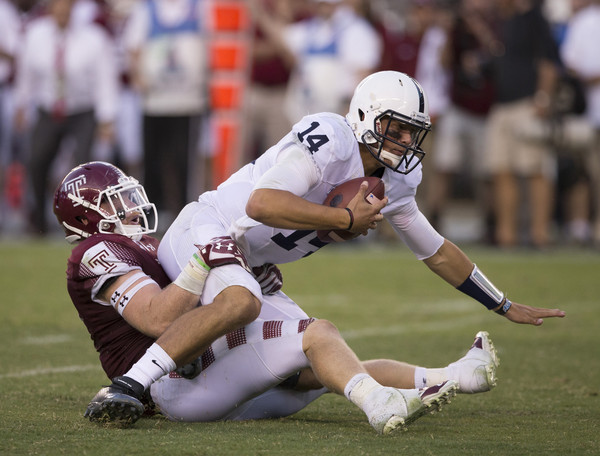 2015 Big Ten Week 1 Roundup
Below are some thoughts from each game that a Big Ten team participated in from the opening week of College Football. One thing to keep in mind is that was only week one, which means there is plenty of room for improvement for both winners and losers in the game.
Michigan Wolverines at Utah Utes
Result: Utah Win 24-17 (Thursday, September 3)
The most visible thing about Michigan's opening week loss and Jim Harbaugh's debut to Utah was the three interceptions by quarterback Jake Rudock. His most egregious was the pick 6 he threw midway through the fourth quarter that gave Utah a 24-10 lead.
Outside of the interceptions, Rudock played solidly. He missed some wide open throws, but his touchdown pass to Jake Butt late in the third quarter (into triple coverage) showed he has the ability to make good. Speaking of Butt, he had a good game by making 8 receptions for 93 yards. Also playing well was Amara Darboh, who had 8 catches for 101 yards and a touchdown.
Another concern for Michigan was the running game and offensive line. The Wolverines gained just 76 yards on 29 carries as a team for only a 2.6 yards per carry average. The offensive line also has issues getting a good push, especially in short yardage situation.
Overall, it was not the worst start for Michigan. There were positives and they have three consecutive home games versus Oregon State, UNLV, and BYU.
#2 TCU Horned Frogs at Minnesota Golden Gophers
Result: TCU Win 23-17 (Thursday, September 3)
There is a lot to take out of this game for Minnesota. They played a top ranked offense from 2014 and held them to 23 points and forced two turnovers.
The Gophers were able to get a solid game from Rodney Smith, who ran for 88 yards and a touchdown on 16 carries. That was good considering their opponent and they lost David Cobb from last year's squad. Mitch Leidner played well with 197 yards and 1 touchdown through the air, but he also lost a fumble midway through the first quarter that led to a TCU touchdown. One final note is that Rodrick Williams had a fumble as he was about to score that cost the Gophers points.
Then there was the Gophers' defense that played a bend, but do not break style. They gave up 449 yards to TCU's offense and were able to get an interception off Trevone Boykin that stopped a scoring threat. They also forced a fumble inside their own red zone to save more points. It was a really good performance for Minnesota given how many yards they allowed.
Minnesota will be on the road next week to play Colorado State.
#5 Michigan State Spartans at Western Michigan Broncos
Result: Michigan State Win 37-24 (Friday, September 4)
Michigan State had a tricky game to open the season against a talented Western Michigan squad. Connor Cook looked good throwing for 256 yards and 2 touchdowns, but completed only 15 of 31 passes. The running game for the Spartans looked really good between freshman LJ Scott (13 carries for 77 yards), Madre London (13 carries for 59 yards and 2 touchdowns), and Gerald Holmes (9 carries for 54 yards and a touchdown). Aaron Burbridge had an excellent showing at wide receiver catching 4 passes for 117 yards.
There will probably be some worry about Michigan State giving up 24 points to Western Michigan, but the duo of quarterback Zach Terrell and running back Jarvion Franklin are good. The Spartans were solid in the running game holding Franklin to just 23 yards on 8 carries before he left midway through the third quarter with a head injury. Overall, the Spartans allowed only 18 yards on 23 carries. The Spartans did give up over 100 yards to the receiving couple of Corey Davis (10 catches for 154 yards and a touchdown) and Daniel Braverman (13 catches for 109 yards). However, the Spartans played well on the road and shut down the running game forcing the Broncos to play catch up.
Michigan State has a massive game next weekend against Oregon at home.
#21 Stanford Cardinal at Northwestern Wildcats
Result: Northwestern Win 16-6 (Saturday, September 5)
The high point for the Big Ten was right around 2 PM Central Time on Saturday with Northwestern's 16-6 victory over Stanford. It was a dominating performance from the Wildcats in a statement game for a team that is coming off back-to-back 5-7 seasons.
The Wildcats decided to let freshman Clayton Thorson handle the quarterback duties and he played mistake-free in his first start. He threw for 105 yards on 12 of 24 passing, but was impressive with a 42 yard dash for the lone touchdown of the game. He finished with 8 carries for 68 yards and that touchdown. Also helping Thorson out was running back Justin Jackson, who had 28 carries for 134 yards.
On both sides of the ball, Northwestern was the more physical and dominant team. The Wildcats rushed for 225 yards as a team compared to just 85 for Stanford. The defense for Northwestern had a rough first drive giving up 64 yards and a field goal, but were clearly best after that. The defense was led by Anthony Walker's impressive performance. He finished with 10 tackles, 3 tackles for loss, a fumble recovery, and 2 pass breakups.
Northwestern already looks like a handful after one game, but it is useful to remember that is has been only one game. The Wildcats have Eastern Illinois at home next weekend.
Illinois State Redbirds at Iowa Hawkeyes
Result: Iowa Win 31-14 (Saturday, September 5)
Most games against FCS competition do not yield much in the way of impressions, but this is different. Illinois State made the FCS National Championship in 2014, but lost narrowly to North Dakota State 29-27. They have a high powered offense, but were held to just 14 points and 231 yards.
C.J. Beathard looked good for Iowa going 15 of 24 for 211 yards and 1 touchdown. His top two targets were Jordan Canzeri (4 catches for 80 yards) and Matt VandeBerg (6 catches for 59 yards and a touchdown). The nice surprise was LeShun Daniels' 123 rushing yards on 26 carries.
The defense was very good for Iowa until the final quarter. They gave up 152 yards in the fourth quarter as well as the 14 points that Illinois State scored. However, they were able shut down Tre Roberson, who had just 49 yards on 5 of 12 passing before leaving with cramps. Marshaun Coprich had only 32 on 13 carries.
Yes, it was only the FCS Illinois State Redbirds, but this was a good start. Iowa has an in-state rivalry game next week on the road at Iowa State.
Richmond Spiders at Maryland Terrapins
Result: Maryland Win 50-21 (Saturday, September 5)
Maryland took a while to get going against Richmond, but eventually all phases of the games got in gear. Quarterback Perry Hills had an okay game going 12 of 21 for 138 yards with 2 touchdowns and 1 interception.
The running game was excellent for the Terps by gaining 341 yards on 45 carries and scored 3 touchdowns. Brandon Ross led the team 150 yards and a touchdown, Ty Johnson had 83 yards and 1 touchdown, and Wes Brown ran for 74 yards and a touchdown.
The star on Saturday for Maryland was return man William Likely. He had 2 kickoff returns for 63 yards, but did his damage on punt returns. He had 8 returns for 233 yards including a 67 yard return for a touchdown.
The defense is a bit of a concern having given up a lot of yards in the first half, but they settled down nicely in the final 30 minutes. The Terps will be playing Bowling Green next week at home.
Norfolk State Spartans at Rutgers Scarlet Knights
Result: Rutgers Win 63-13 (Saturday, September 5)
Of all the games this weekend, this was the hardest to decipher if anything significant happened. Rutgers demolished a sub par Norfolk State team, but they looked good doing it. Both quarterbacks were excellent with Chris Laviano going a perfect 4 for 4 with 138 yards and 3 touchdowns. Hayden Rettig threw for 110 yards and a touchdown on 9 of 11 passing. Neither passer hurt their chances of winning the job against Norfolk State.
Josh Hicks ran the ball well with 118 yards and 2 touchdowns on 18 carries while Paul James had 15 carries for 82 yards. Leonte Carroo had a field day by catching 3 passes for 129 yards and 3 touchdowns.
The defense was pretty solid after giving up 75 yards and a touchdown to start the game. For the game, Rutgers allowed only 196 yards and actually held Norfolk State to -3 yards rushing.
It was a good performance given the Scarlet Knights dismissed 5 players from the team. Rutgers will be at home next week with Washington State coming to town.
Kent State Golden Flashes at Illinois Fighting Illini
Result: Illinois Win 52-3 (Saturday, September 5)
Another Big Ten team that was in turmoil to start the season was Illinois. They were originally scheduled to play on Friday night, but constant lightning forced the game to Saturday afternoon. That proved to be no issues as the Illini crushed Kent State.
Wes Lunt was efficient by throwing for 162 yards and 4 touchdowns on 11 of 19 passing. The offense scored touchdowns on both of the first 2 drives courtesy of Lunt's arm. Josh Ferguson ran for 76 yards and a touchdown to lead the Illini while Ke'Shawn Vaughn ran for 43 yards and a score. 10 different receivers caught a pass with the most catches by one player being 2 (four different receivers had two catches). Geronimo Allison led the team in receiver with 57 yards and a touchdown on 2 catches.
The defense was determined for Illinois as they forced 4 turnovers and allowed only 245 yards. Mason Monheim, Eaton Spence, and Taylor Barton were the trio that picked off passes. V'Angelo Bentley looked dangerous in the return game with 3 punt returns for 85 yards with a long of 48.
The Illini showed no effects of losing Tim Beckman as their head coach and Bill Cubit had them ready. They will take on Western Illinois at home next week.
Penn State Nittany Lions at Temple Owls
Result: Temple Win 27-10 (Saturday, September 5)
This game marked a negative turning point for the Big Ten for the opening weekend. Penn State was out of sorts against Temple as they suffered a bad defeat.
By now, most people know how this went. The offensive line was horrendous by giving up 10 sacks. Christian Hackenberg had no time to throw and it showed by his stat line of 11 completions on 25 attempts for 103 yards and an interception. That interception was a terrible throw by Hackenberg that nearly resulted in a pick 6. The Owls did score a touchdown as a result.
Akeel Lynch was decent for Penn State by gaining 78 yards and a touchdown on 10 carries. Brandon Polk was electric on his two carries with a total of 50 yards including a 33 yarder. The Nittany Lions finished the game with 77 yards rushing and only 180 yards of total offense.
Penn State's defense was not terrible early on was they forced 4 punts and a fumble to start the game. They did give up a 93 yard drive that ended in a touchdown for Temple in the second quarter. The second half was much worse as they were constantly on the field.
Penn State has a chance to fix their issues next week at home with Buffalo going to Happy Valley.
BYU Cougars at Nebraska Cornhuskers
Result: BYU Win 33-28 (Saturday, September 5)
The Penn State game was bad for the Big Ten, but the ending to this game was brutal. A Hail Mary by BYU's Tanner Mangum fell into the waiting arms of Mitch Mathews for the 33-28 win and a crushing blow to Nebraska in Mike Riley's Nebraska debut.
Nebraska's offense was pretty good especially Tommy Armstrong. He threw for 319 yards with 3 touchdowns and an interception on 24 of 41 passing. The Cornhuskers ran for 126 yards as a team, but Terrell Newby was the high mark at 43 yards and a touchdown on 10 carries. Jordan Westerkamp was all over the field with 7 catches for 107 yards and a touchdown. Brandon Reilly also had 5 catches for 70 yards.
The real issue for Nebraska, as it has been for many years now, was the defense. They allowed 511 yards to BYU and that includes a stretch when the Cougars were without Taysom Hill. It has to be disconcerting to see Nebraska's defense constantly be unable to finish a game. Another worrisome issue has to be kicker Drew Brown, who missed both of his field goals on Saturday.
Nebraska welcomes South Alabama to Lincoln next week.
Southern Illinois Salukis at Indiana Hoosiers
Result: Indiana Win 48-47 (Saturday, September 5)
Indiana did everything they could to not win against Southern Illinois, but managed to win 48-47 thanks to stopping a 2 point conversion in the final minute of the game.
The Indiana offense was scoring at will with Nate Sudfeld throwing for 349 yards and a touchdown. UAB transfer Jordan Howard ran for 145 yards and 3 touchdowns and wide receiver Ricky Jones caught 6 passes for 186 yards and a touchdown.
As usual, the worry is all about the defense for Indiana. They allowed a whopping 659 yards off offense including 411 through the air. Mark Iannotti threw for all 411 of those yards as well as 4 touchdowns on 24 of 31 passing. He also led the Salukis in rushing with 106 yards and a touchdown on 17 carries bringing his offensive yardage total up to 517 for the game.
The Hoosiers did have 9 players suspended for the game on Saturday, but defense has been an issue for a while. The defense will need to get better in a hurry as they face Florida International at home next week.
#20 Wisconsin Badgers versus #3 Alabama Crimson Tide
Result: Alabama Win 35-17 (Saturday, September 5)
The main showcase for the Big Ten on Saturday was Wisconsin and Alabama squaring off in Arlington, Texas. It was not a good showing for Wisconsin as they wilted in the second half.
The Badgers were crushed in the trenches on both sides of the ball. They managed just 40 yards rushing on 21 carries for the entire game with Alex Erickson's 25 yard rush making him the leading rusher. Corey Clement had 16 yards on 8 carries, but was hampered by injuries that caused him to miss significant playing time.
Despite the poor rushing performance, the Badgers got to see a pretty good game out of Joel Stave. He went 26 of 39 for 228 yards with 2 touchdowns and an interception (which came late in the fourth quarter with the outcome determined). He still has a good target in Alex Erickson, who also led the team in receiving with 73 yards and a touchdown on 6 grabs.
The defense for Wisconsin gave up 502 yards, but the game was all about Derrick Henry for Alabama. He ran 147 yards and 3 touchdowns on 13 carries and made the Badgers' defenders look silly. The defense will need to get much better, especially on the line. It is also worth noting that safety Michael Caputo left after getting hit in the had making a tackle in the first half.
The Badgers get some serious competition relief with Miami (OH) going to Madison next week. The Badgers will be delighted to have them in town to work on their issues.
Purdue Boilermakers at Marshall Thundering Herd
Result: Marshall Win 41-31 (Sunday, September 6)
Purdue continued the Big Ten's downward slide, but they had a chance to pull the upset as a touchdown underdog. A couple of interceptions thrown by Austin Appleby were returned for a pick six. The first happened on the opening play of the game and the other happened as the Boilermakers were mounting a drive to have a chance to tie the game or take the lead. Both times it was Tiquan Lang who brought the ball back to the house for Marshall.
If you take away the two pick sixes, Appleby played pretty well. He went 29 of 45 for 244 yards with 1 touchdown and he also had another touchdown on the ground on a sneak. He made smart decisions for the most part (again outside of the two pick sixes). He did throw two other interceptions with one coming late in the game after the pick 6 put the game beyond a doubt.
DeAngelo Yancey led the team in receiving with 5 catches for 78 yards while Anthony Mahoungou was second with 4 catches for 59 yards. Nine different receivers caught a pass for Purdue, which is good news for the depth.
The rushing game for Purdue was good with D.J. Knox leading the team with 102 yards and a touchdown while making himself very difficult to tackle. Markell Jones ran for 72 yards and a touchdown on 12 carries as well. Overall, the offense seemed to have a good rhythm going between the two pick sixes, but it fell apart with those turning points.
The defense was okay for Purdue. They gave up 397 yards, but were able to recover two fumbles and got an interception. However, the interception was squandered by the offense with a missed field goal. In crunch time, the defense allowed Marshall to go down the field on an 11 play, 84 yard drive to make it a 34-31 lead for Marshall. It was a decent performance that is better than the 41 points would indicate.
Purdue faces Indiana State at home next weekend.
#1 Ohio State Buckeyes at Virginia Tech Hokies
Result: Ohio State Win 42-24 (Monday, September 7)
Ohio State ended the bad run for the Big Ten, but they were not without some nervous moments. The Buckeyes rushed out to a 14-0 lead thanks to a touchdown pass from Cardale Jones and an 80 yard run by Ezekiel Elliott. After that, the offense stalled for the rest of the first half thanks to adjustments by Virginia Tech and turnovers. Virginia Tech came back to scored 17 unanswered points while the Hokies took a 17-14 lead at halftime.
Elliott finished the game with 122 yards and a touchdown on 11 carries, but the game plan was not conducive to him running a lot. Jones settled down after his interception and finished with 186 yards and 2 touchdowns on 9 of 18 passing. He also ran the ball for 99 yards and a touchdown on 13 carries.
The biggest performance came from former quarterback Braxton Miller who was in the wildcat and catching passes. His first catch was an excellent diving grab for 24 yards before he caught a 54 yard touchdown pass early in the second half. Then there was his incredible spin on a rushing play that went for 53 yards and a touchdown. JT Barrett also saw action in the fourth quarter at quarterback. He had a 26 yard touchdown pass and also had a nice run of 40 yards.
The offense was solid early and in the second half, but Jones will need to cut down on the turnovers and bad decisions (his interception was tipped and intercepted on a bad decision to throw). The Buckeyes finished with 572 yards of total offense and were only 3 of 9 on third down. Nevertheless, the offense is going to be incredible the rest of the year.
The Ohio State defense was solid early on, even with the absence of Joey Bosa. They did let some receivers get free on the touchdown drives, but were pretty good outside of those. One area of concern is that Virginia Tech was 8 of 17 on third down conversions and also lost contain at times. The latter will be helped with the return of Bosa next week.
Ohio State has a quick turnaround with a home game against Hawaii in week two.
Check back next week for thoughts from the Big Ten performances in week two.