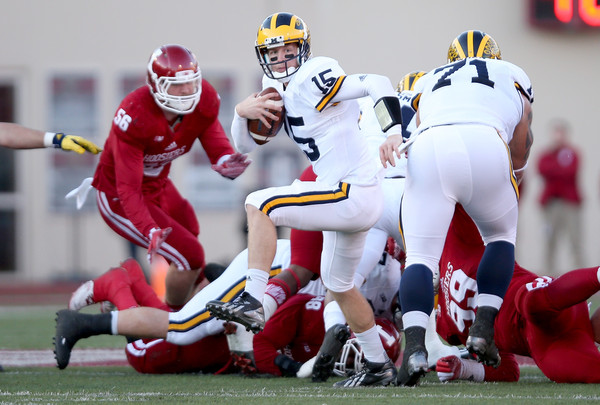 2015 Week 11 Big Ten Roundup
#3 Ohio State Buckeyes at Illinois Fighting Illini
Result: Ohio State Win 28-3
Ohio State did not have any issues dealing with Illinois despite a slow start on offense. JT Barrett returned at quarterback and went a solid 15 of 23 for 150 yards with a touchdown and interception. He was also effective with his legs running for 74 yards and a touchdown on 16 carries.
Ezekiel Elliott continues to have an excellent season, albeit without the fanfare of over players in the nation. He ran for 181 yards and 2 touchdowns on 27 carries. Elliott has now ran for 100 or more rushing yards in 15 straight games dating back to last year.
Michael Thomas was the leading receiver with 6 catches for 76 yards and a touchdown, Jalin Marshall caught 4 passes for 38 yards, and Nick Vannett had 3 grabs for 31 yards. Ohio State struggled on third down with only 4 conversions on 13 attempts, but did convert 2 of 3 fourth down attempts. They put up 460 yards of offense.
Illinois struggled to put together any big drives. Wes Lunt went 23 of 47 for 241 yards, but struggled to find his top playmaker in Geronimo Allison (1 catch for 38 yards). Josh Ferguson was held to 49 yards on 12 carries while also having 5 catches for 26 yards. Desmond Cain had 10 catches for 102 yards for his second consecutive big game for the freshman. Malik Turner finished with 5 catches for 61 yards. Illinois went 5 of 17 on third down and put up 261 yards of offense.
Ohio State (10-0, 6-0) has a big game next week at home against Michigan State while Illinois (5-5, 2-4) faces Minnesota on the road.
Maryland Terrapins at #13 Michigan State Spartans
Result: Michigan State Win 24-7
Michigan State played a large portion of their game against Maryland without quarterback Connor Cook, but that was not much of an issue as the defense stifled the Terrapins on offense.
Connor Cook struggled in his playing time going 6 of 20 for 77 yards with no touchdowns and an interception. Backup Tyler O'Connor went 6 of 11 for 44 yards and a touchdown pass to Macgarrett Kings who finished with 4 catches for 48 yards to lead the team. R.J. Shelton had 3 catches for 35 yards while Aaron Burbridge was held to just 3 catches for 27 yards.
10 different Michigan State players registered a rush, but Gerald Holmes had the most rushes going for 83 yards and a touchdown on 18 carries. The Spartans put up just 262 yards of offense and went 6 of 16 on third down. It was clear they were not the same offense with Cook out.
Maryland was led by Perry Hills again, but he only went 14 of 30 for 140 yards with no touchdowns and an interception. He finished second on the team in rushing as well with 39 yards on 16 carries. Caleb Rowe also had some time at quarterback, but went 3 of 5 for 42 yards with 2 interceptions.
Wes Brown had 52 yards rushing on 12 carries while Brandon Ross had the lone touchdown via the rushing game for Maryland. Amba Etta-Tawo led Maryland with 5 catches for 63 yards and Levern Jacobs had 3 catches for 55 yards. Maryland actually outgained Michigan State by 27 yards (289 to 262), but went 4 of 16 on third down.
Maryland (2-8, 0-6) faces Indiana next weekend at home with a chance to keep Indiana out of a bowl game. Michigan State (9-1, 5-1) has the tough task of going on the road to the Horseshoe and play Ohio State.
Purdue Boilermakers at #18 Northwestern Wildcats
Result: Northwestern Win 21-14
Northwestern used a dominant rushing attack to power their way to 8-2. The Wildcats threw only 24 passes the entire game and needed a late touchdown to get past Purdue 21-14.
Clayton Thorson went 9 of 19 for 82 yards with an interception after an injury scare last week knocked him out against Penn State. Zack Oliver went 2 of 5 for 50 yards and threw an interception as well. Justin Jackson ran for 116 yards and a touchdown on 24 carries. It was his 6th game with over 100 yards rushing and Northwestern is 6-0 when he runs for over 100 yards this year.
Warren Long had 6 rushes for 52 yards and 2 touchdowns while Thorson had 48 yards on 7 carries. Miles Shuler even ran twice for 30 yards. Solomon Vault had 2 catches for 53 yards to lead the team. Northwestern ran for 250 yards as a team and finished with 382 yards of offense. They were solid on third down going 8 of 17.
Purdue did not play poorly, but could not get some of their drives going to threaten the Northwestern defense. David Blough went 26 of 45 for 287 yards with a touchdown and an interception. Markell Jones had 58 yards and a touchdown on 13 carries, but the run game was largely held in check by Northwestern.
Domonique Young led the team in receiving with 5 catches for 107 yards thanks to his 68 yard touchdown grab early in the game. Markell Jones had 68 yards on 5 catches while DeAngelo Yancey caught 4 passes for 39 yards. Purdue's offense had 360 yards and went 8 of 19 on third down.
Purdue (2-8, 1-5) will have a second straight road game next week with a trip to Iowa. Northwestern (8-2, 4-2) has a road game next week as well. They will play Wisconsin in Madison with the Badgers coming off a bye week.
#14 Michigan Wolverines at Indiana Hoosiers
Result: Michigan Win 48-41 in double overtime
Michigan survived yet another late game scare to keep their Big Ten title hopes alive. Indiana lost another close game to keep them winless in conference play.
Jake Rudock had himself a game going 33 of 46 for 440 yards with 6 touchdowns and one pick. He was able to pass at will on the defense while also leading the team in rushing with 64 yards. De'Veon Smith had 58 yards rushing on 12 carries.
Jehu Chesson had a big game as well catching four (!) touchdown passes to finish the game with 10 catches for 207 yards. Amara Darboh had 8 catches for 109 yards and the eventual game winning touchdown while Jake Butt had 7 grabs for 82 yards and a score. Michigan put up 581 yards of offense and went six of 12 on third down.
Nate Sudfeld had a solid game going 20 of 34 for 220 yards and a touchdown. However, the story was running back Jordan Howard rushing for 238 yards and 2 touchdown on 35 carries against what had been a stout Michigan defense. Simmie Cobbs had 4 catches for 86 yards and Ricky Jones had 4 catches for 42 yards. Indiana put up a staggering 527 yards of offense against Michigan and went a combined 9 of 22 on third and fourth downs.
Michigan (8-2, 5-1) faces Penn State next week on the road while still having a chance to win the Big Ten East division and play in the Big Ten Championship. Indiana (4-6, 0-6) has to win their final two games to make a bowl game, but they are both winnable. They face Maryland next week on the road before playing against Purdue in two weeks on the road.
Nebraska Cornhuskers at Rutgers Scarlet Knights
Result: Nebraska Win 31-14
Nebraska followed up their big win last week against Michigan State with a nice victory over Rutgers on the road.
Tommy Armstrong had an up and down day going 14 of 21 for only 188 yards. He had 3 touchdowns through the air, but also threw 3 picks. Imani Cross ran for 90 yards on 20 carries. Cethan Carter had his best game in 2015 going for a not only 32 yard touchdown run, but also catching 4 passes for 57 yards and another score. Jordan Westerkamp was relatively quiet catching 3 passes for 32 yards and a touchdown. Nebraska put up 362 yards of offense and went 5 of 11 on third down.
Rutgers was led by Chris Laviano at quarterback, but he only went 13 of 27 for 165 yards and 2 interceptions. Janarion Grant had the lone passing touchdown for Rutgers throwing to Laviano on a trick play for the 5 yard score.
Josh Hicks had 61 yards rushing on 12 carries while Robert Martin had 12 carries for 40 yards and a touchdown. Leonte Carroo came back from injury to post a team high 62 yards on 4 catches. Janarion Grant had 4 catches for 58 yards as well as his passing touchdown. Rutgers posted 259 yards of offense, but went 3 of 14 on third down and did not convert any of their 4 fourth down attempts.
Nebraska (5-6, 3-4) will need to win the final regular season contest on November 27 against Iowa to make it to a bowl game. That game will be at home so the Huskers will have that in their corner. Rutgers (3-7, 1-6) faces Army on the road next week in their final non-conference game.
Minnesota Golden Gophers at #5 Iowa Hawkeyes
Result: Iowa Win 40-35
A defensive game was expected between Minnesota and Iowa, but the offenses took over the show as Iowa held on for a 40-35 victory to stay undefeated.
Mitch Leidner had another big game through the air again going 19 of 27 for 259 yards and a touchdown. He also had a rushing touchdown along with 32 rushing yards. Shannon Brooks showed off his wheels and arm with a 42 yard touchdown pass to Drew Wolitarsky and rushing for 86 yards and a touchdown on 14 carries.
KJ Maye had 7 catches for 106 yards to keep his hot streak going. In the last 4 games, Maye has caught 34 passes for 374 yards and a touchdown. In the first 6 games, he had 22 catches for 256 yards and three touchdowns. Brandon Lingen had 6 catches for 105 yards and a touchdown for his second 100 yard receiving game in the last 3 contests. Wolitarsky finished with 3 catches for 71 yards and the score from Brooks. Minnesota put up 434 yards per game and went 5 of 10 on third down.
C.J. Beathard went 18 of 26 for 213 yards with no touchdowns or interceptions, but did have success on the ground. He had 50 yards and 2 scores on 10 carries while LeShun Daniels ran all over the field to the tune of 195 yards and 3 touchdowns on 26 carries. Jordan Canzeri ran just 10 times for 31 yards in his return from injury.
Matt VandeBerg recorded 6 catches for 74 yards, Henry Krieger Coble had 3 catches for 61 yards, and George Kittle had 5 grabs for 44 yards. Tevaun Smith had 2 catches for 35 yards. Iowa racked up 506 yards of offense and went an excellent 10 of 15 on third down.
Minnesota (4-6, 1-5) can still make a bowl game by winning out and it begins next week at home against Illinois. Iowa (10-0, 6-0) clinches the Big Ten East title with a win at home against Purdue next week.
Check back next Sunday for a recap of Week 12's Big Ten action.