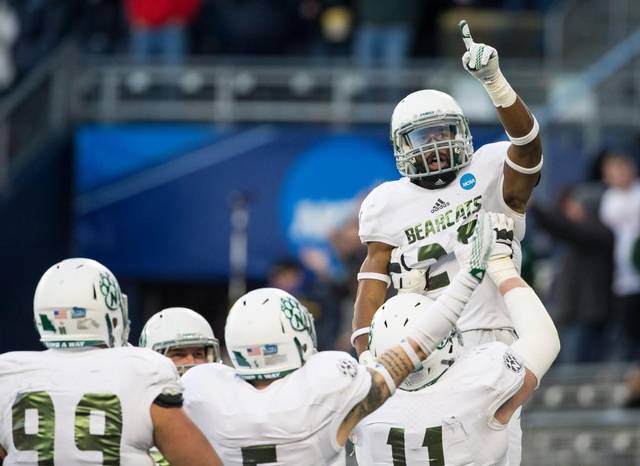 Northwest Missouri State Dominates Shepherd For Title
The Northwest Missouri State Bearcats have won their fifth Division 2 National Championship after crushing the Shepherd Rams 34-7. The defense recorded 10 sacks against Jeff Ziemba and stifled the Rams offensively.
The game could not have started any worse for Shepherd and any better for Northwest Missouri State. The first play from scrimmage for Shepherd resulted in a high snap over Ziemba's head and was recovered by Northwest Missouri State's Cass Weitl. Two plays later, Jordan Grove had an easy 1 yard touchdown run to make it 7-0 just 47 seconds into the game.
The Rams had a nice start to their next drive with Ziemba connecting on a 37 yard pass to Billy Brown, but the drive stalled after that big play. The Bearcats would lose a fumble on the next drive, but Shepherd could not take advantage going three and out. The next drive for Shepherd had promise with the Rams driving to the Northwest Missouri State 35 yard line. However, one of the Bearcats' 10 sacks, this one by Collin Bevins, forced a punt.
The Rams had great field position again on the following drive after forcing the Bearcats to punt from their own four yard line. Once again, Bevins sacked Ziemba for a loss and led to a punt. The Bearcats offense would finally get the big play with Brady Bolles finding Jordan Grove wide open beyond the safety for a 76 yard pass play. Bolles would finish the drive with a play action pass to Shane Williams from a yard out for a 14-0 lead.
The Bearcats got the ball back with over 4 minutes remaining in the first half and were able to drive for a field goal to make it 17-0. The Bearcats would have been content with that lead, but a big return on the ensuing kickoff by Ben Trewyn gave Shepherd a good opportunity for points. That ended quickly as Ziemba's pass was picked off by Bryce Enyard and returned 59 yards for a touchdown. The Bearcats led 24-0 at half and they did not let off the gas in the second half.
Northwest Missouri State marched down the field to start the second half, but missed a 39 yard field goal. That gave some momentum to Shepherd, which turned that miss into a touchdown with Ziemba and Brown connecting on a 21 yard score. That made it 24-7, but the Bearcats put together a 5 minute drive that resulted in a 22 yard field goal by Simon Mathiesen to make it 27-7. The defense came up with another third down sack to prevent any chance of the Shepherd offense scoring on back-to-back possessions.
The Northwest Missouri State offense salted the game away and went up 34-7 thanks to another 1 yard touchdown by Jordan Grove. Grove had 3 rushes on the game for only 2 yards, but two of those carries went for touchdowns. He also had a 45 yard pass completion to Dre Washington to set up the field position that led to the 22 yard field goal. Then there was his receiving stats, which were 5 catches for 104 yards.
The duo of Phil Jackson (21 carries for 109 yards) and Cameron Wilcox (12 carries for 58 yards) led the rushing attack for the Bearcats. Brady Bolles went 20 of 27 for 233 yards and a touchdown while Shawn Bane was the second leading receiver with 6 grabs for 64 yards. Northwest Missouri State had 462 yards of offense and went 7 of 14 on third down.
Shepherd could not get much going on offense as noted by their 97 total yards of offense. They had 136 yards passing from Jeff Ziemba, who was playing through an injured AC joint, but finished with negative 39 yards rushing thanks to all the sacks. Allen Cross was the top rusher for the Rams with 11 carries for 27 yards while Billy Brown was easily the top receiver with 6 catches for 95 yards and the lone Shepherd touchdown. The Rams went 3 of 12 on third down and finished with only 7 first downs for the entire game.
The Bearcats had 10 total sacks in the game with Collin Bevins leading the way with 4 of his own. Brock Sherman and Jacob Vollstedt each had two while Brandon Yost and Nicholas Turner had one apiece.
This was the first appearance in the Division 2 National Championship game for Shepherd while Northwest Missouri State was making their ninth appearance. The Bearcats have won 3 of the last 7 Division 2 National Titles after also winning in 2009 and 2013. They are currently the winningest team in Division 2 in terms of National Championships while North Dakota State also has five but play at the FCS level. Head coach Adam Dorrel was in charge of the 2013 squad and has now won two National Titles.