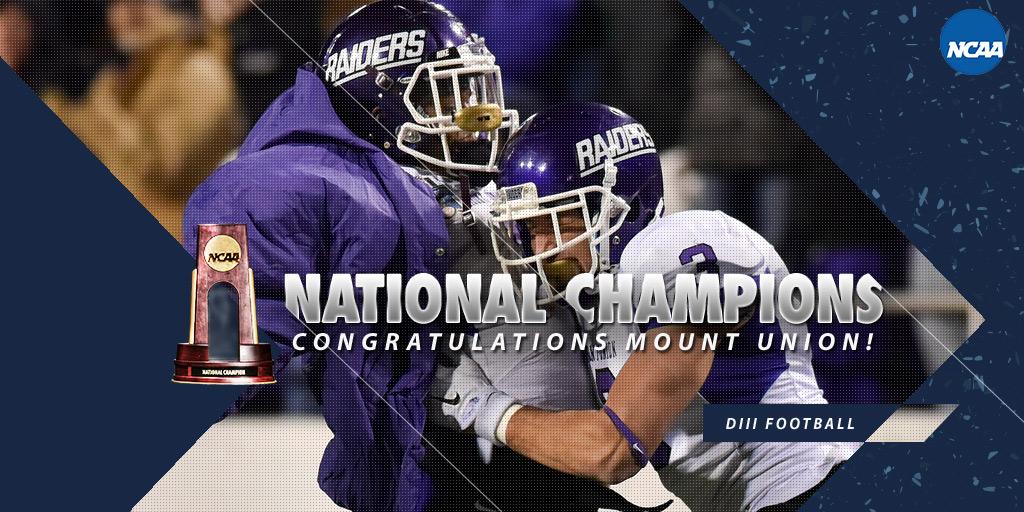 Mount Union Overcomes Slow Start To Win 2015 Stagg Bowl
Mount Union trailed 14-0 with 11 minutes to play in the second quarter, but ripped off 49 points in the final 37 and a half minutes to win 49-35. Logan Nemeth ran for 220 yards and 2 scores as the Mount Union offense put up over 500 yards despite a blustery and chilly night in Salem, Virginia. Mount Union captured their 12th Division 3 National Championship and first since 2012.
St. Thomas struck first with a 24 yard touchdown pass from John Gould to Charlie Dowdle. It was originally called incomplete, but a review overturned that call and made it a touchdown as Dowdle pinned the ball against his helmet and had a foot in bounds. Mount Union could not get much going on offense as they failed to move the ball past their own 45 yard line in the first quarter.
The Tommies made it 14-0 with 11 minutes to play in the second quarter by going for it on fourth and goal from the one. Jordan Roberts was able to power his way in for the score and put the Purple Raiders on the ropes early, but they responded with a scoring drive. Some good passing from Taurice Scott and nice catches by his receivers led to a touchdown pass. Scott hit a wide open Lane Clark for a 7 yard touchdown pass.
After forcing a three and out, the Mount Union offense needed only three plays to tie the game at 14. Scott hit Roman Namdar in the back of the end zone from 29 yards out to make it 14 apiece, a score that would hold through halftime.
 The scoring came fast to start the second half with St. Thomas scoring on a fourth and 2 pass from Gould to Nick Waldvogel who was able to get behind the safety for the 58 yard touchdown. Mount Union need only four plays to respond with Scott connecting with Clark again from 14 yards. This time, Clark bobbled the ball twice before hauling it in for the touchdown. The first play from scrimmage for St. Thomas resulted in a lost fumble by Waldvogel that was recovered by Mount Union at the Tommies' 39 yard line.
A pass by Scott to Braeden Friss for 13 yards was followed by three straight runs from Bradley Mitchell including the 6 yard score to make it a 28-21 game. After another three and out, Mount Union was in business after a 42 yard run by Nemeth. The drive was capped off by a nice 18 yard touchdown run from Scott to make it a two score game in favor of the Purple Raiders.
St. Thomas needed a scoring response and they got it in a strange fashion. After a holding penalty, they were faced with a first and 20 and gave the ball to Waldvogel on a rushing play. Waldvogel fumbled again, but the ball bounced right in front of quarterback John Gould who picked it up and sprinted 56 yards to the end zone and a 35-28 deficit. The Tommies had a chance at the end of the quarter for possibly more points, but opted to fake the 49 field goal attempt despite having the wind at their back and needing 12 yards. Mount Union was all over it as Dowdle gained only three yards.
Mount Union took advantage of the missed field goal by driving 71 yards for a touchdown capped off by Logan Nemeth's first score of the game. The defense forced a three and out and Nemeth scored his second rushing touchdown with a 36 yard run and eight and a half minutes remaining.
St. Thomas did score on their next drive with Roberts running in from four yards out. They also went for an onside kick and recovered it, but Gould threw a pick on the first offensive play of the series. Mount Union would run the clock out with a typical Purple Raiders drive of running and a nice 26 yard catch by Nemeth on third and nine.
Nemeth had 30 carries on the night for 220 yards and 2 touchdowns while Bradley Mitchell was explosive with 9 rushes for 63 yards and a score. Taurice Scott had 13 carries for 54 yards and a touchdown, but also went 12 of 19 for 201 yards and 3 touchdowns through the air. Roman Namdar was the top receiver for Mount Union with 5 catches for 127 yards and a touchdown. Lane Clark had an efficient night with 2 catches for 20 yards and 2 touchdowns.
Mount Union finished with 531 yards of offense, had 23 first downs, and went 5 of 13 on third down. They did not have a turnover in this game.
St. Thomas had momentum early in the game and also early in the second half, but could not overcome the Mount Union offense that was sluggish in the first 19 minutes of the game. Jordan Roberts finished with 30 carries for 135 yards and 2 touchdowns. John Gould went 8 of 22 for 123 yards and 2 touchdowns, but also threw the pick to end any chance of a comeback. Nick Waldvogel had 4 catches for 78 yards and a touchdown, however, he had 2 fumbles. One of those was on the fortunate bounce while the other led to a Mount Union touchdown.
St. Thomas finished with 328 yards of offense, had 17 first downs, and went only 3 of 15 on third down. As expected, the Tommies went for it on fourth down four times and converted three of those.
Mount Union finished 15-0 and has now played in 19 Division 3 National Championship Games winning 12 of those. They won their last one in 2012 against St. Thomas 28-10. They have won 8 national titles since 2000. It was the first National Championship win for Mount Union head coach Vince Kehres after losing the previous two seasons to Wisconsin-Whitewater.