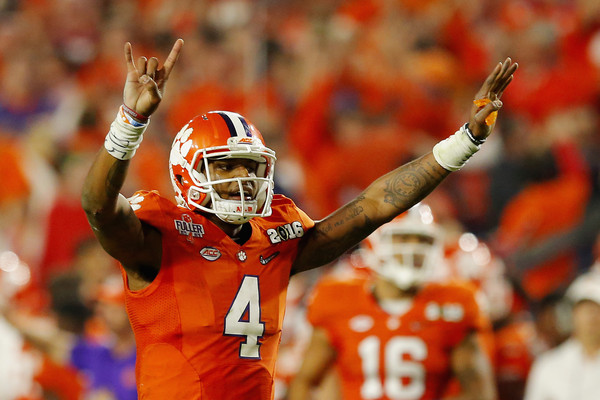 Five Predictions For Atlantic Coast Conference In 2016
The 2016 College Football season is coming fast and that means prediction time. Below are five predictions for Atlantic Coast Conference for the 2016 season. Some predictions will be right, some predictions will be wrong, and some will be spectacularly awful (or correct) by the end of the season.
There are no changes for the Atlantic Coast Conference as the fourteen teams remain the same and are split into Atlantic and Coastal Divisions. The seven teams in the Atlantic Division are Boston College, Clemson, Florida State, Louisville, North Carolina State, Syracuse, and Wake Forest. The seven teams in the Coastal Division are Duke, Georgia Tech, Miami (FL), North Carolina, Pittsburgh, Virginia, and Virginia Tech.
Here are five predictions for the Atlantic Coast Conference in 2016:
1. Georgia Tech will get back to a bowl game – 2015 was not a good year for the Yellow Jackets. They went 3-9 overall and saw their offensive output fall below 30 points per game for the first time since 2010. Georgia Tech did lose five games by seven points or less and if they can flip some of those to wins, they will easily make a bowl game. The offense has six starters back including quarterback Justin Thomas as well as running backs Marcus Marshall (led team with 654 yards in 2015) and Clinton Lynch (457 yards and 5 touchdowns). Top receiver Ricky Jeune is also back after recording 24 catches for 520 yards and 4 touchdowns. The defense has only five starters back from a unit that gave up 25.8 points and 368 yards per game last year.  That group may struggle at times, but the front four has three starters back after allowing 165 rushing yards per game.
The schedule is what favors Georgia Tech to make it back to a bowl. They face Boston College on the opening weekend in Ireland before getting Mercer, Vanderbilt, Clemson, and Miami (FL) all at home the next four weeks. After a road game at Pittsburgh, they will play Georgia Southern and Duke at home. They end the season with three road games in their last four with North Carolina (road), Virginia Tech (road), Virginia (home), and Georgia (road). Even if GT is able to beat the teams that look most likely (BC, Mercer, Vandy, GS, Duke, and Virginia) they will make a bowl game.
2. The ACC Champion will make the National Championship – This prediction is mainly tied to Florida State and Clemson out of the Atlantic. It appears it will come down to that game between them on October 29th at Doak Campbell. Florida State has all their offensive starters returning and will also have six starters back form a defense that allowed 17.5 points and 337 yards per game in 2015.
Clemson made the National Championship last year playing the incredible game against Alabama that they lost 45-40. They have eight starters back on offense led by DeShaun Watson and running back Wayne Gallman. The defense has only four starters back, but that is not necessarily a bad thing. Entering 2015, the Tigers had only three starters returning and still only allowed 21.7 points and 313 yards per game. Assuming it is one of these two teams that plays in the College Football Playoffs, they will be extremely tough to beat in the Semifinals and the National Championship.
3. Pittsburgh will have a double digit win season – There is potential for Pittsburgh to have a great season led by the return of running back James Conner. The Panthers went 8-5 in Pat Narduzzi's first season and there is no reason to think they cannot improve again. The offense has eight starters back from 2015 after putting up 28.2 points and 377 yards per game. Conner's absence was filled by Qadree Ollison who was named 2nd Team ACC and ACC Rookie of the year after rushing for 1,121 yards and 11 touchdowns (5.3 YPC). They provide a one-two punch with quarterback Nathan Peterman back as well. The receiving unit is a bit of a worry as they lose Tyler Boyd and only have Dontez Ford (26 catches for 505 yards and 2 touchdowns) back from 2015's top three.
The defense has eight starters back from a group that allowed 26.1 points and 363 yards per game. They will be in the second year of Narduzzi's schemes with the top three tacklers back. They also add in Tennessee transfer DeWayne Hendrix on the line and highly touted freshman Damar Hamlin in the secondary. This group should improve noticeably in 2016.
The schedule is manageable for Pittsburgh early on. They face Villanova and Penn State at home before back-to-back road games at Oklahoma State and North Carolina. They will then face Marshall and Georgia Tech at home to start October which will go a long way to determining if they hit 10 wins. They finish October at Virginia and home to Virginia Tech before playing Miami and Clemson in back-to-back road games to kick off November. They close the regular season against Duke and Syracuse, two more winnable games for them. The potential is there for Pittsburgh to reach 10 wins and they can certainly do it with this team. As usual, the big question with potential is will they actually show it?
4. Boston College will average at least 25 points per game on offense and give up less than 20 points per game on defense – 2015 was a year to forget for Boston College as they went 3-9 and failed to win a game in conference. The offense was horrendous as they averaged a putrid 17.2 points and 276 yards per game, but they did have only two starters back. The defense, however, was excellent as they allowed only 15.3 points and 254 yards per contest with six starters back.
It was by committee at nearly every position in 2015 for the offense. The top running back had 450 yards rushing while the top quarterback had 464 yards passing. Patrick Towles transferred in from Kentucky and he has the potential to top those 464 yards in just a single game. The top three receivers are back from 2015 and the presence of Towles alone should double the numbers of Thadid Smith (17 catches for 233 yards and 2 touchdowns) and Charlie Callinan (14 catches for 192 yards and 2 touchdowns). The offensive line has three starters back and there is no reason the offense should come close to the terrible numbers they put up in 2015.
The defense was stout last year and this year's group has seven starters returning. The defense allowed just 83 yards rushing per game and 172 through the air. The secondary will have three starters back while middle linebacker Connor Strachan (75 tackles and 10.5 tackles for loss) returns to anchor the middle three. There will be a new defensive coordinator with Jim Reid, but this group is very good.
It will be worth watching to see if the improvement on offense can lead to Boston College flirting with bowl eligibility
5. Duke's bowl streak will end at four – This is a tough prediction to make and quite frankly, one that we hope is wrong because Duke's resurgence is great to see. Each side of the ball has six starters back on each side, which is similar to last year's numbers (six on offense and five on defense in 2015). They put up 31.5 points and 439 yards per game while giving up 25.4 points and 395 yards per game in 2015.
The challenge for Duke is the schedule. The open with FCS North Carolina Central and Wake Forest at home before back-to-back away games against Northwestern and Notre Dame. Next up are two games that are winnable, but will still be a challenge at home against Virginia and Army. The final six games are killer for Duke as they face Louisville (away), Georgia Tech (away), Virginia Tech (home), North Carolina (home), Pittsburgh (away), and Miami (away). It will take a few of those Duke upsets to get back to a bowl game in 2016.
The Prediction Schedule
With the ACC predictions above, there are now predictions for eight conferences in the books. Below are the predictions completed and which conference is next.
July 17 – FBS Independents
July 17 – Sun Belt
July 23 – C-USA
July 24 – MAC
July 30 – American Athletic
July 31 – Mountain West
August 7 – Big 12
August 13 – Atlantic Coast
August 14 – Pac-12
August 20 – Big Ten
August 27 – SEC