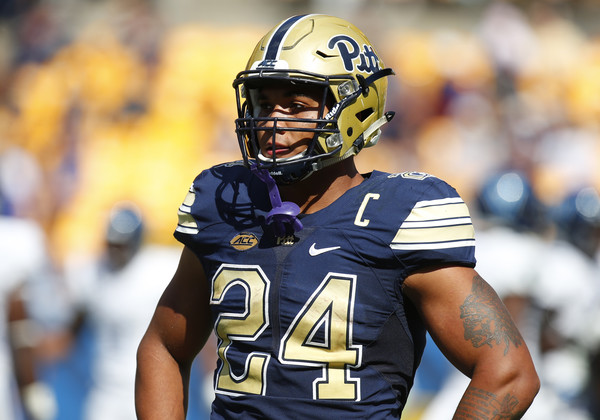 Under The Radar Games For College Football Week 2
The first full weekend of college football is in the books and it was exciting. Two top five teams went down with #15 Houston defeating #3 Oklahoma 33-23 and unranked Wisconsin beating #5 LSU 16-14. While there are not nearly as many marquee games after the opening week feast we were given, there are still some interesting matchups in the second week of games.
Without further ado, let's take a look at some of the under the radar games for week 2. Note, these games are listed in order of when they will be played.
1. Penn State (1-0) at Pittsburgh (1-0) (9/10 at 12 PM EST) – An intrastate battle ensues with Penn State traveling to face Pittsburgh. This will be the first game between the two rivals since 2000 when Pittsburgh won 12-0 at home. These two teams are scheduled to meet each year from 2017 through 2019 as well so there will not be a long hiatus for the time being.
The Nittany Lions won their opening game against Kent State at home, but did not put them away until the second half. They led 16-13 at the break, but won comfortably 33-13 with Saquon Barkley finishing with 105 yards and a touchdown on 22 carries. The Panthers won 28-7 over Villanova in a game that saw James Conner return from his cancer battle to score a touchdown. This game has a feel of run first and gritty defense being played. It might be a low scoring and drab affair, but there is nothing wrong with a game like that if it is close.
2. Cincinnati (1-0) at Purdue (1-0) (9/10 12 PM EST) – Both teams won last week against FCS opponents. Cincinnati trailed Tennessee-Martin 7-6 at halftime before pulling away in the fourth quarter to win 28-7. Purdue defeated Eastern Kentucky 45-24 with over 500 yards of offense and four takeaways on defense. Can the Boilermakers make that same recipe to defeat Cincinnati? Or will the defense struggle like they did in the first half when they allowed 284 yards of offense to Eastern Kentucky? This could be a game for Cincinnati to get the offense going, but also could be a game for Purdue to gain some confidence going towards their Big 10 schedule.
3. Rice (0-1) at Army (1-0) (9/10 12 PM EST) – This game could be important to both team's season. Rice is coming off a walloping at the hands of Western Kentucky 46-14 and their next opponent is Baylor. Army defeated Temple on the road 28-13 with a great effort and they are looking to get back to a bowl game for the first time since 2010. Rice better have their run defense in top form because that is nearly all they are going to see against Army. A loss here and Rice starts 0-3 while an Army win may seem them start 3-1 or even 4-0.
4. Kentucky (0-1) at Florida (1-0) (9/10 3:30 PM EST) – This is probably the last opponent Kentucky wants to see right now because they have not beaten Florida since 1986. In addition, Kentucky has not won in Gainesville since 1979. Oh and they blew 35-10 second quarter lead last week in their 44-35 loss to Southern Miss. That, however, was just a microcosm for Kentucky in the past two seasons when they began 5-1 in 2014 and 4-1 in 2015 only to finish 5-7 both seasons.
Florida looked putrid on offense for much of their game against Massachusetts. They clung to a 10-7 lead until nearly 11 minutes remained in the game. They did win 24-7, but it was hardly convincing. Both teams have a lot of work to do and there is potential for Florida to get something going on offense against this Kentucky defense. The same can be said for that Kentucky defense against Florida's offense. We shall see which side wins that battle.
5. Georgia Southern (1-0) at South Alabama (1-0) (9/10 7 PM EST) – Probably did not expect this, right? Well, this game looks a lot bigger now than it did a week ago. Georgia Southern had no issues with Savannah State as expected, but the big shock was South Alabama. They went to Starkville and upset Mississippi State 21-20 as four touchdown underdogs. How will they ride that wave of confidence against one of the preseason favorites in the Sun Belt? This could have a big impact on the Sun Belt race by season's end.
6. Northern Illinois (0-1) at South Florida (1-0) (9/10 7 PM EST) – This was a game that looked pretty interesting during the preseason. NIU lost their opening game on the road to Wyoming 40-34 in triple overtime after the start was delayed nearly two hours due to storms. South Florida had no trouble with FCS Towson winning easily by a score of 56-20. Both teams are expected to be contenders to make their respective conference championship games in December. It is worth watching to see how Drew Hare and the Northern Illinois offense can fare against the USF defense that forced four turnovers and allowed less than 300 yards last week.
7. FCS Teams versus FBS Teams – As mentioned in last week's edition, this is always worth keeping an eye on and it did not disappoint. There were four upsets from last week's 46 FCS versus FBS games. There are 29 games featuring FCS versus FBS opponents in week two and a few more upsets look possible.
Week 1 ends with 4 #FCS upsets. Below are the numbers from the past 5 opening weeks:

2016: 4
2015: 4
2014: 2
2013: 8
2012: 4#FearTheFCS

— Fear The FCS (@FearTheFCS) September 4, 2016
Check back next week for the week three edition of under the radar games.