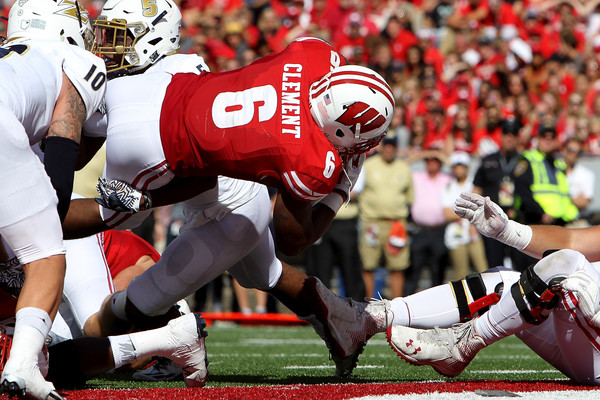 Thoughts On Wisconsin's Win Over The Akron Zips
A week after defeating the LSU Tigers and jumping all the way to number 10 in the AP Top 25, the Wisconsin Badgers returned to face Akron at home. It was a pretty easy and convincing 54-10 win over Akron as expected, but there is some cause for concern. Let's take a look at some of the thoughts:
1. Corey Clement's health – Corey Clement was injured late in the second quarter on what looked like a routine carry and tackle. He held his left leg as the nearby scrum went for the loose ball. Clement had looked great in this game and last week against LSU. His cuts were crisp, he broke tackles, he spun, and looked 100 percent while running with a chip on his shoulder. But Badger fans will remember last year when he missed a majority of the season due to a sports hernia.
Clement is a huge part of this offense, but it is worth noting that Dare Ogunbowale and Taiwan Deal can carry the load if Clement is out for an extended period of time. Clement racked up 111 yards and 2 touchdowns on 21 carries before his injury and the below stat will have Badger fans hoping for a quick return to the lineup.
#Badgers are now 9-0 all-time when Corey Clement rushes for at least 100 yards.

— Evan Flood (@Evan_Flood) September 11, 2016
2. Special Teams unit needs work – There were a lot of mistakes by the Wisconsin special teams unit. The opening kickoff saw a hold, Akron's first kickoff return was a nice return to their own 36, there was a kickoff out of bounds, and finally the punt return for a touchdown by Akron late in the second quarter. All of that happened in the first half as well. The second half was way better for this unit and there was not much to complain about, but troubles from the first half will need to be corrected.
3. Bart Houston still showing some struggles – To be fair, Bart Houston is making just his second start in college and perfection is not expected. However, he is still making mistakes we saw last week against LSU. In the opening two drives, he had two passes that should have been picked off because he forced throws to receivers that were not open. In addition, he has a habit of staring down his receivers like Jazz Peavy in today's game. Houston may have gotten away with those against an overmatched team like Akron, but he saw last week what happens when you play a top defense like LSU (or Michigan, Ohio State, Iowa, and Michigan State). Improvement is still needed in his decision making and progression reads.
There are signs of a really good player in Houston. His touchdown pass to Peavy late in the first half was impressive. He put the ball right between the corner and the underneath safety while hitting Peavy in stride. That is not an easy throw to make so we know why Houston was named the starter.
🎶 Smooth, Jazz. 🎶 #OnWisconsin #Badgershttps://t.co/LfkVAAfFlv

— Wisconsin Football (@BadgerFootball) September 10, 2016
4. The receivers show potential – Ah, the dreaded "p" word: potential. Jazz Peavy was the go to guy in this game with 7 catches for 100 yards and 2 touchdowns. Robert Wheelwright showed flashes of being a productive receiver in 2015 and he finished with 4 grabs for 99 yards while showing good hands. Troy Fumagalli only caught two passes for 16 yards, but he was a huge factor last week (7 catches for 100 yards). A.J. Taylor even got some action in the second half and showed some ability with two catches for 39 yards. There is talent for Houston to throw to if needed.
5. The backups got meaningful snaps – This is the dream scenario early in the year. Play an inferior opponent, build a big lead, and get the younger guys some meaningful snaps. The backups were in with five minutes left in the third quarter which allowed guys like quarterback Alex Hornibrook (5 for 5 with 61 yards and a touchdown) to put the playbook to use in a competitive environment. The star of the backups was running back Bradrick Shaw with 9 carries for 74 yards and an excellent 35 yard scamper for a touchdown. He showed power and speed, which is a great sign for the Badgers going towards the future.
6. The offense looked much better – Again, this is to be expected when a team goes from facing LSU to Akron. There is no denying that the offense just looked and operated much better. Houston had some bad passes, but he also made some good ones (see above). The offensive line made giant holes for Clement, Deal, Ogunbowale, and Shaw. The receivers showed good hands when throws were not perfectly placed. Oh and they were 6 of 7 inside the red zone with one field goal. Their lone failure was when Clement slipped on his way to the end zone and the defense ended up forcing a safety on Akron's ensuing drive.
The Badgers are now 2-0 and will have another easy opponent next week with Georgia State coming to Madison. Game time is scheduled for 12 PM Eastern Time.