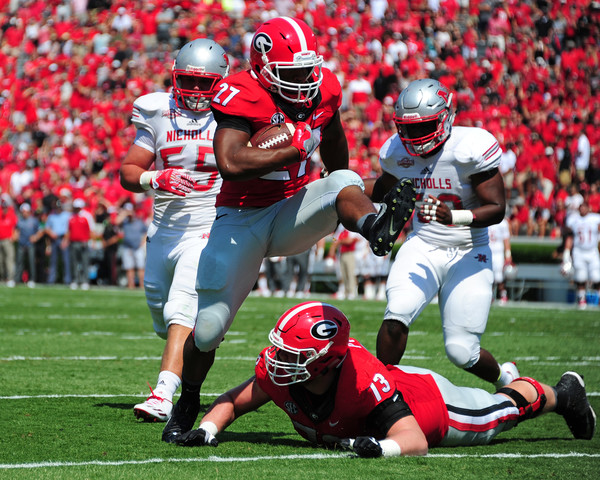 Under The Radar Games For College Football Week 3
After a great opening week there was a lull in the big games during week two, but that gives way to some top games in the third week. #2 Florida State at #10 Louisville, #1 Alabama at #19 Ole Miss, and #3 Ohio State at #14 Oklahoma are the headliners this week. There are also other good contests like #25 Miami (FL) at Appalachian State, #22 Oregon at Nebraska, Pittsburgh at Oklahoma State, and USC at #7 Stanford.
We look for those small headliners that are worth keeping an eye on both this week and possibly down the road with their impact on the season. Let's take a look at some of the under the radar games for week three. Note, these games are listed in order of when they will be played.
1. Vanderbilt at Georgia Tech (9/17 at 12:30 PM EST) – This game is big for both schools in regards to making a bowl game this year. Georgia Tech can improve to 3-0 with a win heading into their ACC schedule and would need just three wins in their final 9 games to reach a bowl game. As for Vanderbilt, they are 1-1 after seeing their opening week game slip away to South Carolina. They rebounded on offense to put up 47 points against Middle Tennessee with Ralph Webb running wild to the tune of 211 yards and 2 touchdowns on 29 carries.
The key for both teams will be third down. For the season, the Vanderbilt offense is 8 of 27 on third down and they are facing a Georgia Tech defense that has allowed 16 of 32 on third down. It could also be a low scoring affair given the amount of carries both offenses will feature.
2. South Florida at Syracuse (9/17 at 3:30 PM EST) – South Florida made an appearance on this last week with their game against Northern Illinois. They crushed the Huskies 48-17 just as they did Towson in week one, 56-20. Syracuse opened with a 33-7 win over Colgate before getting dominated 62-28 by Lamar Jackson and Louisville at home.
The Orange will not have to worry about facing a guy like Jackson this week, but they do have to contend with Quinton Flowers. Flowers threw for 350 yards with 4 touchdowns and ran for another 53 yards on the ground against NIU. South Florida also held that NIU offense to 318 total yards as well as 5 of 18 on third down. The Orange did move the ball well against Louisville, but will need to have the defense step up if they are to keep this game close and have a chance at winning.
3. Western Michigan at Illinois (9/17 at 4 PM EST) – Welcome back, Western Michigan. They were featured in this season's opening column and did not disappoint with a 22-21 win over Northwestern. They decimated North Carolina Central in week two 70-21 to move to 2-0. Illinois started with a 52-3 win over Murray State in week one and then lost 48-23 to North Carolina in week two. They hung close with the Tar Heels for most of the game, but gave up the final 17 points in the fourth quarter.
The Broncos are actually favored in this game (by 3 points as of this writing). They will not have to worry about facing a tough defense like Northwestern in week one. However, they are facing a better offense this time around than they did in the opening week. Wes Lunt can sling the ball, but he did not look too solid against North Carolina throwing for only 127 yards and 2 touchdown on 17 of 35 passing. Like opening week, this should be a good game to watch and Western Michigan could make it 2-0 against the Big 10 this year.
4. Georgia at Missouri (9/17 at 7:30 PM EST) – Georgia has looked underwhelming this year with a 33-24 win over North Carolina in week one and then squeaking past FCS Nicholls State 26-24 last week. Missouri struggled against West Virginia in their 26-11 loss on the road, but bounced back to trounce Eastern Michigan 61-21 at home last week.
This will be the fifth meeting of these two teams since Missouri joined the SEC in 2012. Georgia is 3-1 in those games and they have beaten Missouri handily in both games at Missouri. They won 41-20 in 2012 and 34-0 in 2014. It is difficult to call any game in the SEC a trap game, but this could be it. Georgia faces Ole Miss on the road next week while Missouri faces Delaware State.
Will Georgia get the running attack going like they did against North Carolina when Nick Chubb ran for 222 yards and 2 touchdowns? How will the defense handle Missouri's Drew Lock who happens to be the SEC's leading passer after two weeks? This game could be pivotal in what appears to be another wide open SEC East race.
5. Duke at Northwestern (9/17 at 8 PM EST) – This is a game of what could have been. Duke lost quarterback Thomas Sirk before the season and then lost by 10 points to Wake Forest in week two as they sit at 1-1. Northwestern has been even worse. They lost to both Western Michigan and Illinois State with the offense looking particularly bad against ISU. They lost running back Justin Jackson to a "lower-body injury" in the ISU game, but he is expected to play in this game. The Northwestern offense looked bad against Illinois State and are just 9 of 28 on third down this year.
This game could be ugly especially on the offensive side of the ball. If Jackson is not able to make an impact and the Duke running game cannot get going, it could be even worse. This is a big game at this point in the season for both teams given their schedules the rest of the season.
6. FCS Teams versus FBS Teams – Getting sick of seeing this one yet? Well, it will stick around for at least this week. After four wins in the opening week, there were three more FCS victories over FBS opponents in week two. This week features a total of 12 FCS versus FBS teams and there are some games that look like possible victories for the FCS. The most likely upsets are Eastern Kentucky at Ball State, Monmouth at Kent State, and Delaware at Wake Forest. In addition, North Dakota State (winners of five straight games versus FBS opponents) face Iowa on the road. Will a team have their name added to the list below?
The 7 #FCS over #FBS wins in 2016:

Albany
E. Washington
Northern Iowa
Richmond
Illinois St
E. Illinois
N. Carolina A&T#FearTheFCS

— Fear The FCS (@FearTheFCS) September 11, 2016
Check back next week for the week four edition of Under The Radar Games. In addition, you can find the previous columns below.