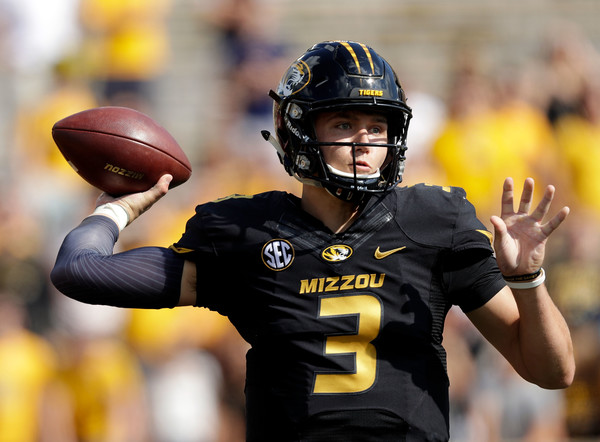 Under The Radar Games For College Football Week 5
Week five will encompass both the end of September and the start of October. September will end with a bang as #7 Stanford travels to play #10 Washington Friday evening while October will be ushered in with National Title and conference implications as well. #11 Tennessee is at #25 Georgia, #8 Wisconsin is at #4 Michigan, Oklahoma is at #21 TCU, and of course the biggest game: #3 Louisville at #5 Clemson.
Those games are definitely worth the coverage they garner, but we like to focus on the smaller games that may have an impact on the season for the teams playing. Let's take a look at some of the under the radar games for week five. Note, these games are listed in order of when they will be played.
1. Virginia at Duke (10/1 at 12:30 PM EST) – This game looks a lot better than it did a week ago at this time. Virginia got their first win last week against Central Michigan 49-35 at home with Kurt Benkert throwing for 421 yards and 5 touchdowns. Duke had a massive win on the road at Notre Dame 38-35 in which the managed to get nearly 500 total yards of offense.
While Duke is the favorite to win, the confidence gained by the Cavaliers could go a long way especially against a Duke passing defense that gave up 381 yards to DeShone Kizer (albeit against much better competition). If both offenses are in form, this could be a high scoring affair. Last week's win against Notre Dame will help Duke's chances of making a bowl game, but if they want to keep that hope they need to win against Virginia this week.
2. Eastern Michigan at Bowling Green (10/1 at 3 PM EST) – It is always nice to have some MACtion on this list, but this one is probably not the one most people would expect to see. Eastern Michigan has been a putrid program in recent years with four straight years of double digit losses. That will not happen this year as the Eagles already have 3 wins (most since 2011 when they went 6-6).
Bowling Green has been a constant MAC Title contender with two MAC Championships in the last three years. However, they have been terrible this year with a 1-3 record and are the only team in the FBS to have allowed 70 points or more TWICE this year and no other team has even allowed 60 or more points twice this season.
That gives some recent historical perspective as to why this contest is on the list. This game is a chance for Eastern Michigan to beat one of the MAC big boys even if they are down. Bowling Green could use this game to restart their season and the conference slate is the time to get back on track.
3. Navy at Air Force (10/1 at 3:30 PM EST) – This game usually is the deciding factor in which team ends up winning the Commander-in-Chief's trophy. The last time Army won the CIC Trophy was in 1996, but there is a chance that could change this year with a much improved Black Knights squad.
Both teams come into this game 3-0 and both have been tested. Navy needed touchdown in the last four minutes against both Connecticut and Tulane to get the win while Utah State hung around against Air Force last week. Even if you are not a fan of the triple option, it is always a great spectacle to see the Service Academies square off on the football field.
4.  Western Michigan at Central Michigan (10/1 at 7 PM EST) – More MACtion! Western Michigan is a perfect 4-0 coming into this game with victories over Northwestern and Illinois on the road and against Georgia Southern at home last week 49-35. Central Michigan has opened 3-1 and lost for the first time last week to Virginia on the road 49-35.
Western Michigan's Jamauri Bogan has run for at least 100 yards in all four games while Central Michigan has been led by Cooper Rush's arm (1,359 yards, 62.6% completions with 13 touchdowns and 4 interceptions). The Chippewas will be boosted by being at home, but Western Michigan will not be bothered given their two road wins over Big Ten opponents this year.
The bottom line to this game is the winner will be in the driver's seat to the MAC West Title and an appearance in the MAC Championship Game. This is especially true since 0-4 Northern Illinois looks nothing like the team that was expected to be in the hunt to be the MAC West Champion.
5.  Missouri at LSU (10/1 at 7:30 PM EST) – This may not be a truly under the radar game after Les Miles' firing on Sunday. All eyes will be on Ed Orgeron to see if he can truly deliver a different looking offense (read: much improved). Results may not happen in a week, but there should be some things that are different under Orgeron.
This will also be Missouri's first trip to Death Valley as well as the first SEC meeting between the two schools (they played in 1978 with Missouri winning 20-15). Missouri is led by quarterback Drew Lock and the offense has been impressive this year. Their averages per game are 44.5 points, 569.5 total yards, 391 yards passing, and 178 yards rushing. LSU allows 16.8 points, 341.2 total yards, 225.2 passing yards, and 116 rushing yards per game. This is the type of offense versus defense showdown we want to see.
Check back next week for the week six edition of Under The Radar Games. In addition, you can find the previous columns below.