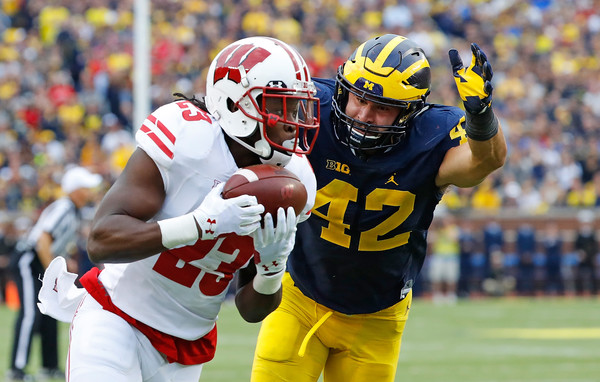 Thoughts On Wisconsin's Loss Against The Michigan Wolverines
The eighth ranked Wisconsin Badgers went on the road and lost 14-7 to the #4 ranked Michigan Wolverines. It was a very physical and defensive game with both teams struggling mightily on third down (7 of 30 combined). The Badgers had a lot of issues on offense and we will look at the good and bad from this game.
1. The defense played a superb game – The strength of this Wisconsin team is the defense and they played incredible for the entire contest. Nearly every time the defense needed to make a play, they stepped up and stopped Michigan's offense. And all this happened without Vince Biegel, who will be out for a few weeks. The defense even got the offense going on the great defense play by Jack Cichy and the ensuing interception on Cichy's tip by Derrick Tindal.
The Badgers yielded 349 yards to Michigan's offense, but forced three field goal attempts from the Wolverines that ended up resulting in zero points. That is the same bend, but do not break defense we have seen in all of their big contests this year (LSU, Michigan State, and Michigan). Guys like Cichy (12 tackles against Michigan), T.J. Watt (11 tackles and 1 sack), and T.J. Edwards (11 tackles), are going to be important for the final seven games.
The one complaint is that the defense missed possible turnovers. The most obvious one was Lubern Figaro having a sure pick six go right through his hands. A play like that can turn a game around especially when the offense is struggling, but that does not take much away from their play against Michigan.
2. Alex Hornibrook struggles – Hornibrook looked solid last week against Michigan State, but against Michigan he was completely ineffective. He was inaccurate for most of the game with both under and overthrown passes, look unsettled in the pocket late in the game (probably as a result of the numerous hits he took earlier in the contest), and threw three interceptions. He finished 9 of 25 for 88 yards with a touchdown to go along with those picks. It was a bad performance, which leads to point number three…
3. The offense was stagnant – While Hornibrook looked bad it is not fair to lay it all on him. The Michigan defense was excellent in this game, but the offensive line and running game really were not. The Badgers averaged just 71 yards on 28 carries as a team and the offensive line struggled to make any holes. This has been an issue all season with their average yards per carry in the first five games: 3.2, 5.3, 3.8, 3.0, and 2.5. For a team adamant on using their rushing attack, those numbers are subpar.
The Badgers finished with just 159 yards on offense with Corey Clement as the top rusher with 68 yards on 17 carries. Robert Wheelright had 3 catches for 46 yards while Dare Ogunbowale had 3 catches for 23 yards and a nice touchdown grab a wheel route (one of the few good offensive plays for the Badgers).
Touchdown Badgers!! Wisconsin and Michigan now tied at 7-7 in the 3rd! https://t.co/Jwmv5IPj6S

— Grant Kelly (@GrantKelly07) October 1, 2016
The receivers, admittedly not one of the best groups around, had trouble getting open against the likes of Jourdan Lewis. That made it difficult for Hornibrook to be comfortable with this throws, which is part of the reason why he only completed 9 of 25 passes for 88 yards. A lot needs to be improved on offense especially with Ohio State coming to town in two weeks.
4. Special Teams – The Badgers were dealt a massive blow to the special teams unit earlier in the week with the news that Rafael Gaglianone would miss the rest of the season due to back surgery. Andrew Endicott hit his lone extra point, though it was just inside the upright. The punting game was more of a concern as Anthony Lotti struggled, which led to P.J. Rosowski seeing time as the punter in addition to his kickoff duties. Jabrill Peppers was able to get his chance to return on two punts, which is two more than he should be having.
The Badgers are 4-1 overall and 1-1 in Big Ten play after the loss to Michigan. They have a bye next week before a game at home against Ohio State (ranked #2 coming into week five). Below are the previous columns for the Wisconsin games in 2016.
Wisconsin versus Georgia State
Wisconsin versus Michigan State