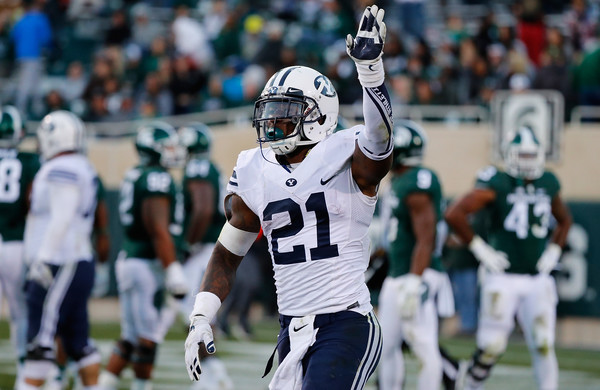 Under The Radar Games For College Football Week 7
Week six has come and gone (along with nuisance of Hurricane Matthew we hope). Week seven has some big games including NC State at #3 Clemson, Kansas State at #19 Oklahoma, #20 West Virginia at Texas Tech, North Carolina at #16 Miami (FL), #12 Ole Miss at #22 Arkansas, and #2 Ohio State at #8 Wisconsin.
We will take a look at some of the games not listed above for week seven. Note, these games are listed in order of when they will be played and all times listed are Eastern.
1. Mississippi State at BYU (10/14 at 10:15 PM) – The Bulldogs enter this game off a horrendous performance against Auburn at home. They were run off the field in the first half after giving up 35 points. They played better in the second half, but that is not a consolation after the first 30 minutes they played.
BYU comes in at the opposite end of the spectrum. The went into East Lansing and won 31-14. They were close with the Spartans through three quarters, but really wore them down in the final frame scoring 21 points to Michigan State's 7. It was a familiar scene with Jamaal Williams toting the rock quite a bit in the final quarter.
In the Bulldogs' last two losses to LSU and Auburn, they allowed 177 yards rushing and 228 yards rushing, respectively. Williams has put up four games of at least 160 yards rushing this year and BYU is 3-1 in those games. Mississippi State will need to stop Williams if they want to have a chance of winning. Even then, though, they will have to deal with Taysom Hill.
The Bulldogs will need their A+ game in this one, but will also need Nick Fitzgerald to play better. In their two wins, he has put up at least 110 yards (305 total) and 5 touchdowns against 1 interception. In their three losses, he has managed just 85 yards total on 32 carries and just 2 touchdowns against 1 interception. If the Bulldogs get Fitzgerald going, they can stay in striking distance.
BYU sits and 3-3 while Mississippi State is 2-3 so far in 2016. A win for either team will help their bowl chances, but more so for the Bulldogs.
2. Illinois at Rutgers (10/15 at 12 PM) – This game is way under the radar and has no impact on the rest of the season. So why is it on this list? Because both teams are trending in a bad direction under first year head coaches and this is the kind of game that give a team something to build on if they win. Plus, one of these teams can say they did not go winless in conference play at the end of the year.
Illinois (1-4) is on a four game losing streak and last week's game against Purdue was there for the taking. They had a chance to defeat Purdue, but Chase McLaughlin's 41 yard kick at the end of the game hit the right upright and Purdue won 34-31 in overtime.
Rutgers (2-4) is well known for their past two performances. They were crushed 58-0 on the road at Ohio State, but last week's game put them on the map. They were drubbed 78-0 at home to Michigan, who basically ran the ball the final 20 minutes and still ended up with 481 yards on the ground and 9 rushing touchdowns. The duo of Chris Laviano and Zach Allen combined to go 2 for 18 for 5 yards passing for the Scarlet Knights in the passing game. Rutgers managed 34 yards rushing on 36 carries.
One of these teams has to win this game and while it may not get either one to a bowl game, at least they can build off of this game. Hopefully.
3. Georgia Southern at Georgia Tech (10/15 at 12:30 PM) – This is the battle of which Georgia Triple Option offense is better. Both teams have about 67% of their offense from the ground game while both enter on losing streaks with Georgia Southern at two and Georgia Tech at three.
Georgia Southern will have the benefit of an extra three days of preparation due to playing Arkansas State on Wednesday. The Eagles will spread the ball around to their backs. Five players have at least 200 yards and another one has over 100 yards: Matt Breida (279 yards and 1 touchdown), Wesley Fields (279 and 3 TDs), Favian Upshaw (254 and 2 TDs), Kevin Ellison (252 yards and 3 TDs), L.A. Ramsby (208 and 3 TDs), and Demarcus Godfrey (124 yards).
Georgia Tech has lost three in a row, but they have faced some tough opponents in Clemson, Miami (FL), and Pittsburgh with only Pittsburgh on the road. The ball will usually go into the hands of Dedrick Mills (82 carries for 357 yards and 7 TDs) or quarterback Justin Thomas (64 carries for 206 yards and 1 TD). Another one to watch out for is Clinton Lynch. He only has 19 carries, but has gone for 254 yards and a touchdown on the ground. He also has 6 catches for 134 yards and another touchdown. If he breaks one, it might be the difference.
This game will be old school triple option offense with a lot of running and sporadic amounts passing. Georgia Southern sits at 3-2 and while a loss here does not crush their bowl hopes, a win would give them a confidence boost going back into Sun Belt play. A win here would be bigger for Georgia Tech because their run in consists of Duke, North Carolina, Virginia Tech, Virginia, and Georgia. There is no margin for error with a loss here.
4. New Mexico at Air Force (10/15 at 3:30 PM) – A Mountain West battle ensues as the Lobos will travel to face Air Force. New Mexico comes off a big loss to Boise State at home where the offense racked up a ton of yards on the ground, but not much on the scoreboard. They got crushed 49-21 with two late scores flattering the scoreline.
Air Force lost their first game of the season last week to Wyoming on the road 35-26. The Falcons were forced to rely on the passing attack, which ended badly as Nate Romine went 6 of 19 for 188 yards with 2 touchdowns and 3 interceptions. They may be facing a poor pass defense in New Mexico, but Air Force football is a triple option first with some passing sprinkled in.
This game should feature a lot of running. Air Force only managed 149 yards on 39 carries against Wyoming, but they like to pass the ball closer to 15 times a game instead of 20. New Mexico averages 354 rushing yards per game from their version of the triple option between Teriyon Gipson (399 yards and 5 TDs on 31 carries in only 3 games), Tyrone Owens (390 yards and 2 TDs on 63 carries), Lamar Jordan (287 yards and 1 TD on 50 carries in basically 3 games), and Richard McQuarley (242 yards and 7 TDs on 47 carries). Gipson missed the game versus Boise State due to hamstring. He is expected to be back for this game and it will be worth watching to see how effective he is against Air Force.
Both teams have a loss in conference play, but Air Force has not played Boise State yet this season. New Mexico could use a win going into the back half of their schedule while Air Force could use this game to get the run game back on track (last two games have seen the offense finish with more passing yards than rushing yards).
5. Northwestern at Michigan St (10/15 at 3:30 PM) – This game will feature both teams at 2-3, which was not expected before the season. Northwestern got a big win before their bye week with a 38-31 win on the road over Iowa. The offense easily looked the best they have all year against Iowa with Justin Jackson getting 171 yards on 26 carries and Austin Carr catching 3 touchdown passes (6 catches for 73 yards total) from Clayton Thorson (164 yards and 3 touchdowns with no interceptions).
Michigan State has not looked anything like the Spartans of the past 5 years during their three game losing streak. Against Wisconsin and BYU they were physically dominated. BYU ran wild on the Spartans in the fourth quarter while Indiana put up 437 yards of offense on them.
The loser of this game drops to 2-4, which will be very difficult to navigate the final half of the year. Northwestern will face Indiana, Ohio State, Wisconsin, Purdue, Minnesota, and Illinois. Michigan State plays Maryland, Michigan, Illinois, Rutgers, Ohio State, and Penn State. This is a big game for both teams.
6. Missouri at Florida (10/15 at 4 PM) – Missouri is 2-3 on the season alternating between losses and wins to start the campaign. They most recently lost to LSU 42-7 on the road and they were dominated in that game. Florida comes in off a win against Vanderbilt, but it was an ugly win. They also had to deal with the postponement of their contest against LSU due to Hurricane Matthew.
Florida's defense has been very good against every team except Tennessee. They have given up a total of 20 points in their four wins and only 163.5 total yards per game in those four as well. Meanwhile, Missouri's offense put up a lot yards prior to the LSU game and that will be an interesting matchup for them against the Florida defense. Drew Lock has thrown for 1,675 yards with 14 touchdowns and 4 interceptions. He will find this group to be a big step up compared to some of his other opponents.
This game could help shape the SEC East. Florida has just one loss and can still win the division with some help. Missouri already has two losses in conference play and is now looking to make a bowl game. A win here would help and really put a dent in Florida's SEC East hopes.
Check back next week for the week eight edition of Under The Radar Games. In addition, you can find the previous columns below.