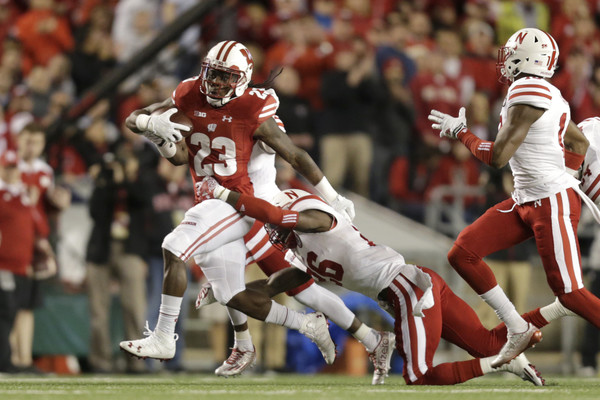 Thoughts On Wisconsin's Win Over The Nebraska Cornhuskers
The #11 Wisconsin Badgers and #7 Nebraska Cornhuskers played a great game on Saturday night. In the end, the Badgers won 23-17 in overtime to hand the Huskers their first lost of the season. The Badgers still have a chance to win the Big Ten West Division with this victory.
The Badgers had some good moments (the defense) and some bad moments (special teams, offense) in this win. Let's take a look at some thoughts below.
1. The defense came up huge again – How resilient is this defense? The injuries are piling up, yet everyone is stepping up and the defense is not missing many beats. This game was also opposite of what is normal for the Badgers. The rushing defense allowed 152 yards (they had allowed only 103 yards rushing per game coming into this contest), but the pass defense was superb for the most part allowing only 153 yards on 12 of 31 throwing for Nebraska. There were some missed tackles and coverages, but those can be corrected with practice and game action.
The Badgers also heeded the advice of last week: they forced turnovers. They intercepted two of Tommy Armstrong's passes in what was a very strong performance for the secondary. The defense finished with 12 passes defended, which was a season high according to Evan Flood of 247Sports.
The fourth quarter and overtime was bad for the Badgers offense. Wisconsin committed two turnovers, a missed field goal, and a missed extra point. However, the Badgers allowed only three points in the fourth quarter that was dominated by Nebraska. D'Cota Dixon's pass breakup in overtime saved kicker Andrew Endicott from a terrible week…
2. Andrew Endicott continues to struggle – Endicott has been shaky since his first action against Michigan State. He missed an extra point in that game and he missed another one against Nebraska. This time it was in overtime where the Badgers still had to play defense to win the game.
Endicott also missed a potential game winning field goal from 45 yards in the final two minutes. In the last two games, Endicott is 2 for 5 on field goal attempts. Perhaps last week's game against Iowa was just the tip of the iceberg. The kicking game needs to be fixed or the Badgers may end up losing because of it.
3. Two quarterback system appears here to stay – Both Alex Hornibrook and Bart Houston saw playing time, just as they did against Iowa last week. Both led scoring drives in the first half with Hornibrook's ending in a touchdown and Houston's in a field goal. Neither player has outshined the other this season, which is probably why Paul Chryst will continue to use both players. Chryst even said as much about the use of both quarterbacks for the rest of the season in his halftime interview.
Both quarterbacks threw horrendous picks in the fourth quarter. Hornibrook was first when he stared down Troy Fumgalli, but Houston's interception was just as egregious. He threw across his body and into double coverage two plays after a big run by Dare Ogunbowale. Both passes were inexcusable and only make it more difficult to separate them.
#Badgers final quarterback stats against #Nebraska: pic.twitter.com/3vmFtQ3TvL

— Matthew Dixon (@BirdstoneWINS) October 30, 2016
For what it is worth, Houston ended up leading the offense in overtime. Keep an eye on these two next week against Northwestern on the road to see if one player stands out.
Chryst on why he went with Bart Houston in OT: "Felt he gave us the best chance." Said he could have went with either QB though. #Badgers

— Evan Flood (@Evan_Flood) October 30, 2016

4. What happened to Bradrick Shaw? – Bradrick Shaw had one rushing attempt for 21 yards and a touchdown, but was seen just once after that (a two yard rush that resulted in a first down). Why? Corey Clement was ineffective for most of the game while Dare Ogunbowale did most of his damage during the second half. Shaw could have gotten more touches in the first 30 minutes to give the Huskers another attacking option to defend against.
First Half Highlights:@bradricks7 gets the #Badgers on the board first with his second career touchdown. https://t.co/sZUEzA4JjJ

— Wisconsin Football (@BadgerFootball) October 30, 2016

5. Dare Ogunbowale is underrated – Let's be honest about this game for the Badgers rushing attack: Corey Clement did very little for most of the game. Outside of his 41 yard rush, Clement ran for 41 yards on 18 carries. That is a credit to the Huskers defense for shutting him down, but they had trouble with Ogunbowale for the second straight year. In 2015, he finished with 117 yards on 18 carries.
He finished with 120 yards and the game winning touchdown on 11 carries this time around. He was decisive with his cuts, explosive, and most importantly he was the best offensive weapon for the Badgers. We have seen his pass catching prowess out of the backfield, but his running game is underrated. He has shown to be a big weapon for the Badgers when Clement cannot get going.
Wisconsin improved to 6-2 on the season with the victory and are now one game behind Nebraska in Big 10 play at 3-2. The Badgers have to travel to face Northwestern next week, who also sit at 3-2 in the Big Ten. Below are previous columns providing thoughts on each Wisconsin game this season.
Wisconsin versus Georgia State
Wisconsin versus Michigan State