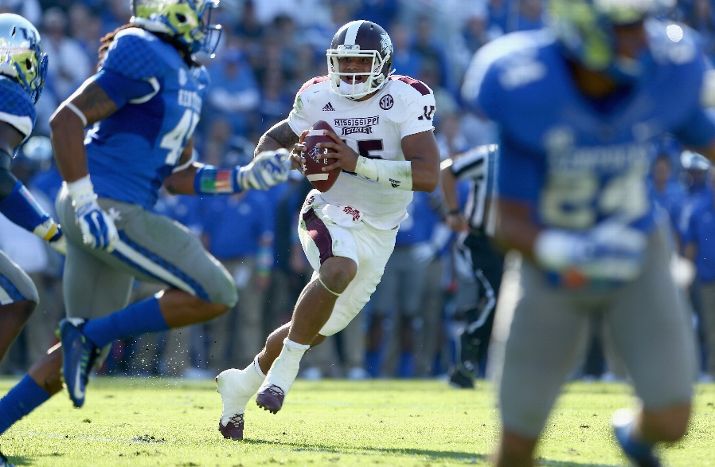 Despite winning 45-31, Mississippi State was never comfortable in their victory over Kentucky. Dak Prescott threw for 216 yards and a touchdown and ran for another 88 yards and 2 touchdowns to lead the Bulldogs.
The Bulldogs started strong with a 12 yard touchdown run from Josh Robinson, but the lead would not last long. Five plays into their drive, the Wildcats responded with Patrick Towles hitting Demarco Robinson for a 67 yard touchdown that featured a few nice moves along the sideline and blazing speed from Robinson to tie the game at 7.
Later in the first quarter, Braylon Heard was stripped and Benardrick McKinney recovered the ball, which turned into a field goal for the Bulldogs. The lead was extended to 17-7 on the next drive with Prescott's two yard run. Kentucky responded with a 34 yard field goal from Austin MacGinnis from 34 yards to make it a 17-10 game.
The final four minutes of the second quarter showcased two missed field goals, one from each team, as well as a Prescott interception. However, that would not turn into points and the Bulldogs held a 17-10 lead after 30 minutes.
The third quarter was action packed with a total of 28 points. Prescott's athletic 11 yard run was the first score and that made it 24-10. Not to be outdone, Towles ran in from 10 yards to bring the game back to 24-17. After each team punted, the Bulldogs go the ball back and Prescott's 8 yard touchdown pass to Brandon Hill made it 31-17. Hill was injured on the play with a thigh injury. Towles responded with a 58 yard touchdown to Javess Blue and it was 31-24 at the end of the third quarter.
The Bulldogs extended their lead back to 14 points when Josh Robinson outran the Kentucky defense for a 73 yard score and the Wildcats did not have a response until late in the fourth quarter. Towles ran the ball in from 4 yards out to make it 38-31, but that small hope of a comeback was erased when Christian Holmes rumbled for a 61 yard kickoff return for a touchdown and a final score of 45-31.
Dak Prescott went 18 of 33 for 216 yards with a touchdown and an interception. He also ran 18 times for 88 yards and 2 scores. Prescott could be seen limping at various times in the game, which may have come from his 11 yard touchdown run in the third quarter.
Josh Robinson had another big game with 23 carries for 198 yards and two scores. The Bulldogs ran for 324 yards and 4 touchdowns on 53 carries as a team. Fred Ross was the leading receiver with 5 catches for 51 yards and Robert Johnson caught 2 passes for 44 yards.
Patrick Towles looked good during the game by completing 24 of 43 for 390 yards and 2 touchdowns. He also ran 23 times for 76 yards and two more scores to account for all 4 touchdowns.
Ryan Timmons was the leading receiver for Kentucky with 5 catches for 114 yards. Demarco Robinson had 4 catches for 86 yards and a touchdown while Javess Blue caught 2 passes for 81 yards and a touchdown.
Mississippi State (7-0, 4-0) continues their impressive run next week with a home game against Arkansas (4-4, 0-4). Should they beat Arkansas next week, they will surely be 9-0 heading into the November 15 showdown at Alabama. However, they must take of business the next week.
Kentucky (5-3, 2-3) has dropped two in a row after starting 5-1. They face Missouri (6-2, 3-1) next week on the road with a chance to become bowl-eligible.