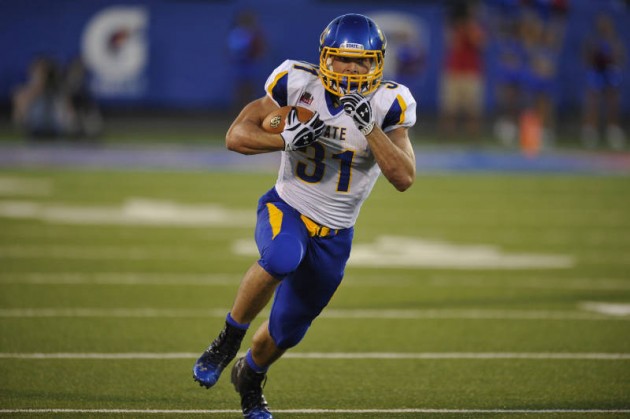 The 2014 FCS Playoffs begin this weekend with 8 games. The winner of these 8 games will face one of the top 8 seeds as ranked by the NCAA. Below is a look at each game for this weekend with a prediction for each contest. All first round games will be played on Saturday and all games can be seen on ESPN3.
Sacred Heart (9-2) at Fordham (10-2) – 12 PM ET
This is a tough draw for Sacred Heart. Fordham's two losses were to Villanova, the #6 seed in the playoffs, and FBS Army. Sacred Heart's two losses were to Bucknell and St. Francis (PA), two teams that Fordham beat. Sacred Heart has a solid defense, but Fordham's offense will be too much in the end. Fordham wins 43-24 and will face the top seeded New Hampshire Wildcats next weekend.
Indiana State (7-5) at Eastern Kentucky (9-3) – 1 PM ET
Some were probably surprised by Indiana State's inclusion in the field after their loss to Western Illinois in the regular season finale. However, the other 4 losses for the Sycamores were to Indiana (FBS), Illinois State (#5 Seed), North Dakota State (#2 Seed), and South Dakota State (Playoff team). Eastern Kentucky has a potent offense, however, in several of their games including two losses, they were held to less than 30 points. That bodes well for Indiana State if they can limit the amount of points for Eastern Kentucky. Let's go with Indiana State in a 27-24 win to face #8 Chattanooga in the second round.
Stephen F. Austin (8-4) at Northern Iowa (8-4) – 8 PM ET
This game appears to favor Northern Iowa, but only by a slight margin. Their two losses to FCS opponents (Indiana State and South Dakota State) were by a combined four points and their two losses to FBS opponents (Iowa and Hawaii) were by a combined 11 points. Stephen F. Austin can score or win a more modest scoring game so this game should be close. The Panthers win 24-20 to advance to the second round and take on #5 Illinois State.
San Diego (9-2) at Montana (8-4) – 4 PM ET
San Diego is in the tournament as a result of an investigation into Jacksonville's financial aid rules. Their reward is a trip to Missoula to face the always dangerous Montana Grizzlies. This game has the feel of a defensive battle, which would favor the Grizzlies. San Diego had a great season, but it ends on Saturday in a 20-13 loss to Montana. Montana will have a rematch against Eastern Washington in the second round.
Southeastern Louisiana (9-3) at Sam Houston State (8-4) – 2 PM ET
This is a matchup of two teams from the Southland Conference, however, these teams did not face each other during the season, which makes this the de facto Southland Championship – in the First Round of the playoffs. Sam Houston State did not start the season well opening 1-3, including a loss to a good Division 2 Colorado State-Pueblo team, before winning 7 of their last 8. In their 8 wins they have scored at least 38 points. Southeastern Louisiana can score as well so expect some fireworks. In a close battle, Southeastern Louisiana comes out on top 45-41 and will face Jacksonville State in the second round.
Liberty (8-4) at James Madison (9-3) – 4 PM ET
This is a tough game to call. On one hand, James Madison plays in arguably the toughest conference in FCS, but the Big South managed to get two teams into the FCS playoffs with Liberty and Coastal Carolina. In addition, the fourth place team was Charleston Southern at 8-4. Liberty's losses were to North Carolina (FBS), Indiana State (Playoff team), Richmond (Playoff team), and Charleston Southern. James Madison lost to Maryland (FBS), Villanova (#6 Seed), and Delaware. This will be a close game with James Madison scratching out a 27-24 win on a late field goal and taking on #6 Villanova in the second round.
Morgan State (7-5) at Richmond (8-4) – 1 PM ET
Morgan State came out of a 5-way tie in the MEAC to claim the automatic bid. They seem to be up against it here facing Richmond. Morgan State will keep it close for a while, but Richmond's offense will be too much in the end. The Spiders take this game 42-17 and will face #7 Coastal Carolina next Saturday.
South Dakota State (8-4) at Montana State (8-4) – 4 PM ET
South Dakota State will feature a heavy dose of running back Zach Zenner, who should be good for at least 100 yards in this game. However, he will need help if the Jackrabbits are to come out of this game with the win. Montana State has shown the ability to win both high scoring and low scoring games, which will serve them well in the playoffs if they make a deep run. The Jackrabbits keep it close and shorten the game, but Montana State pulls out the 27-17 win. In that case, Montana State will face three-time defending FCS Champions North Dakota State in the second round.
Be sure to check back on Saturday night for the 2014 FCS Playoffs Round 1 recap for all 8 games.