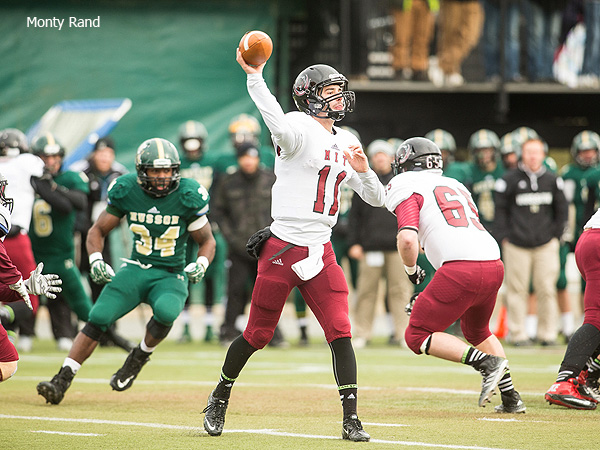 After an exciting opening round of the NCAA Division 3 Football playoffs that featured 16 games, there are eight more coming up this Saturday, November 29. Yours truly went 16-0 in the first round!! That is largely thanks to some late scores from Widener and Christopher Newport, and Hobart as well as an overtime victory from MIT. There recap of each game can be found here.
The pressure is on to go 8-0, but there is a feeling that the law of averages will kick in this week. Without further ado, here are the 2014 NCAA Division 3 Football Playoff Predictions for the second round.
Wisconsin-Whitewater Bracket
Wabash (10-1) at Wisconsin-Whitewater (11-0) – 1 PM ET
Wabash enters this game off a 33-14 win while Whitewater as the defending National Champion (plus they have won 5 of the last 7 D3 National Championships). Whitewater's defense will be suffocating to the point that Wabash will effectively be out of the playoffs by the time they get going. Whitewater wins 41-13 and moves on to the quarterfinals.
St. John's (MN) (10-1) at Wartburg (11-0) – 1 PM ET
Both teams share several common opponents in St. Thomas (MN), Augsburg, and Bethel. Both St. John's and Wartburg have 3-0 records against those teams, which shows the strength these teams have. The Johnnies have the better defense with Wartburg sporting the better offense. This game is screaming for a late score to be the difference. The Johnnies come out on top 20-17.
Based on the two games in the Whitewater bracket, it would be Wisconsin-Whitewater and St. John's (MN) in the quarterfinals.
Mary Hardin-Baylor Bracket
Christopher Newport (8-3) at Widener (11-0) – 12 PM ET
Many thought Christopher Newport would not make it past Delaware Valley in the first round, yet here they are. Now they must beat Widener in round two. Widener needed a field goal with 11 seconds left to get past Muhlenberg, a team they were expected to crush. This game could be a high scoring affair with both offense showing quite a bit of potency. Widener takes this game 51-38 to advance to the quarterfinals.
Linfield (9-1) at Mary Hardin-Baylor (11-0) – 1 PM ET
This will be a purple affair between Linfield and Mary Hardin-Baylor. Linfield came out on a mission last week and put up 28 points in the first quarter on their way to a 55-24 win over Chapman. On the other hand, the Crusaders needed a late interception to seal their win against Texas Lutheran in a game that was delayed multiple times on Saturday due to lightning strikes and needed to be completed on Sunday. The Crusaders may have only scored 27 points against TLU, but they showed the ability to strike quickly. Both offenses have the ability to score a lot of points with UMHB having the better defense. Expect another close game with the Crusaders prevailing 31-27 over Linfield.
This bracket would feature Widener and Mary Hardin-Baylor in the quarterfinals.
Wesley Bracket
MIT (10-0) at Wesley (10-1) – 12 PM ET
MIT's dream season just will not stop after their overtime win over Husson last week. Wesley put up 42 points in the first quarter to waltz into the second round with a 52-7 win over Hampden-Sydney. As great as a story MIT has been this year, it is difficult to see their defense holding the high-powered Wesley offense in check long enough to win. Wesley ends MIT hopes with a 49-21 victory.
Johns Hopkins (11-0) at Hobart (11-0) – 12 PM ET
This game is an intriguing matchup of two undefeated teams. Hobart overcame a slow start to win in the fourth quarter over Ithaca while Johns Hopkins defense was solid throughout the game in a 24-16 win over Rowan. This game will most likely be a defensive battle with turnovers making a difference. In a close game, Johns Hopkins survives 20-17 to move on.
In the Wesley bracket, Wesley will take on Johns Hopkins next week in the quarterfinals.
Mount Union Bracket
John Carroll (10-1) at Wheaton (IL) (11-0) – 1 PM ET
This appears to be the game of the second round from a neutral point of view. John Carroll's 49 point first half left Centre stunned in a 63-28 domination while Wheaton had little trouble with Benedictine in a 43-14 win. There is little doubt that John Carroll has the better offense, but Wheaton's defense probably holds the edge. Wheaton keeps it close, but John Carroll takes the game 35-24.
Washington & Jefferson (10-1) at Mount Union (11-0) – 12 PM ET
Washington & Jefferson's 41-25 win over Wittenberg last week was aided by 8 interceptions Zach Jenkins. The Presidents would be lucky if they could get two turnovers from Mount Union's Kevin Burke this weekend. The Purple Raiders roll into yet another quarterfinals appearance with a 52-10 win.
This bracket will feature a rematch of the controversial November 15 game between Ohio Athletic Conference members John Carroll and Mount Union.
Check back on Saturday afternoon for a recap of each game from the second round of the 2014 Division 3 playoffs.