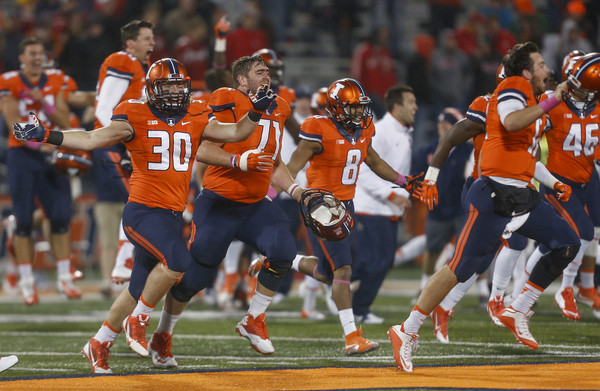 2015 Week 5 Big Ten Roundup
The Big Ten started conference play in Week 5 with six conference games. Only Penn State (at home versus Army) and Rutgers (idle) did not play a conference game. A look at each game is below.
Purdue Boilermakers at #2 Michigan State Spartans
Result: Michigan State Win 24-21 (Saturday, October 3)
In a theme across the Big Ten, it was a day of concern for some teams and that includes the second ranked Michigan State Spartans.
The Spartans looked well on their way to an easy win with their rushing game leading them to a 21-0 lead early in the second quarter. That was the score at halftime, but the offense sputtered to just 3 points the final 40 minutes of the game. The offense lost one fumble and missed a field goal on back-to-back possessions that led to 14 points for Purdue.
Connor Cook had a pedestrian game going 13 of 19 for 139 yards and a touchdown while also rushing for 48 yards on just 5 carries. LJ Scott had a big game, particularly in the first half with 146 yards and 2 touchdowns on 18 carries. Madre London got his share of playing time with 17 carries for 97 yards.
The Michigan State defense forced three turnovers in the first half, but did not force any in the second half. One drive did begin right outside the red zone, which was not the fault of the defense. They were susceptible to the big play at times as well.
Purdue could not get anything going on offense in the first half due largely to their turnovers. The second half saw the narrative completely flip and the offense looked much more comfortable. Two of their touchdown drives went for 79 and 80 yards while Markell Jones had a big day including a long touchdown on one of those. He rushed for 157 yards and 2 touchdowns on 22 carries while David Blough looked okay going 15 of 31 for 136 yards with 1 touchdown and 1 pick.
If Purdue's defense can play each game like they did in the second half, they will be a tough opponent for the rest of the season.
Purdue faces Minnesota next week at home while Michigan State takes their perfect record on the road to face Rutgers.
Minnesota Golden Gophers at #16 Northwestern Wildcats
Result: Northwestern Win 27-0 (Saturday, October 3)
This game was all about defense, specifically Northwestern's defense.
The Northwestern defense stymied Minnesota at every turn. The Gophers could only managed 173 yards of offense the entire game with 99 through the air and 74 on the ground. Minnesota converted only 4 of 16 third downs and were 0 of 4 on fourth down. It was a dominating performance from Northwestern on defense.
Mitch Leidner was ineffective going 10 of 21 for 72 yards with an interception. Shannon Brooks mustered just 33 yards rushing on 10 carries while Rodney Smith had just 32 yards on 11 carries.
Northwestern's offense was not out of this world, but they were effective. Clayton Thorson looked better this week going 14 of 19 for 128 yards. He also had 2 rushing touchdowns and was once again aided by Justin Jackson's running attack. Jackson had 120 yards on 20 carries.
Anthony Walker was responsible for a 13 yard fumble recovery that he returned for a touchdown to put the exclamation point on the defense dominance Northwestern showed.
Minnesota will face Purdue next week on the road in a game that will need to see the offense have some sort of spark. Northwestern will go to Ann Arbor to face Michigan in what is setting up to be a classic Big Ten defensive struggle.
Iowa Hawkeyes at #19 Wisconsin Badgers
Result: Iowa Win 10-6 (Saturday, October 3)
If you are a fan of defense, this was the game for you. That is in large part due to the inept offenses that both Iowa and Wisconsin provided in this contest.
Wisconsin never seemed comfortable at any point in this game on offense. They were able to get a field goal on their opening drive, but only were able to get 3 points the rest of the way. Joel Stave had 234 yards passing on 21 of 38 attempts, but had two interceptions and lost two fumbles including one at the Iowa one yard line.
The rushing attack was virtually non-existent for Wisconsin. They had 86 yards on 34 carries as a team and Taiwan Deal was the top back with only 59 yards on 15 carries.
The one positive for Wisconsin was their defense and Joe Schobert shined. He made tackles, constantly was in the backfield, had two forced fumbles, and also recovered one of those forced fumbles. He was in full beast mode, but unfortunately his performance was wasted in the loss.
As bad as Wisconsin was on offense, Iowa was worse and still managed to win this game. C.J. Beathard had only 77 yards passing on 9 of 21 passing. He had a touchdown pass late in the second quarter, but also threw a pick that was intercepted by Michael Caputo. Jordan Canzeri was a workhorse with 125 yards rushing on 26 carries.
The Iowa defense gave up 320 yards of offense, but they stood tall when put up against their backs. They forced four turnovers including several that kept points off the board. They also held the Badgers to 3 field goal attempts with them going 2 of 3 on those kicks. Desmond King had the two interceptions and he was impressive in coverage.
Iowa improved to 5-0 with this win and they will continue their Big Ten schedule with Illinois at home next week. Wisconsin has a tough road trip to Nebraska in another crucial Big Ten West matchup.
#22 Michigan Wolverines at Maryland Terrapins
Result: Michigan Win 28-0 (Saturday, October 3)
Michigan's defense continues to look impressive this year with another shutout performance.
The Michigan offense was okay, but they did not have to do much with their defense continuing to shut down the opponents. Jake Rudock went 16 of 32 for 180 yards with a touchdown and an interception. Drake Johnson was the main running back with 13 carries for 68 yards and a score, but a plethora of others got a chance to run the ball. Jehu Chesson had a wonderful 66 yard touchdown run for his only rushing attempt of the game.
The story, though, is about the defense and the Maryland offense. Maryland put up a total of 105 yards of offense for the entire game! They were an awful 1 of 18 on third down. The quarterbacks combined to go 10 of 36 passing for 76 yards with 3 interceptions. Brandon Ross had 44 yards on 14 rushes, but the rest of the team was so bad they finished with 29 yards rushing on 26 attempts as a team. All of those stats are a combination of Michigan's defense and Maryland's offense.
Michigan has a big defensive battle next week at home against Northwestern. Maryland has to face Ohio State at home with the hope that they can get something, anything positive going.
Army Black Knights at Penn State Nittany Lions
Result: Penn State Win 20-14 (Saturday, October 3)
Penn State was the only Big Ten team in action to not play another conference member. They took on Army in an offensive struggle for them again. To be fair, the Nittany Lions were without their top two running backs.
Christian Hackenberg went 10 of 19 for 156 yards and a touchdown through the air. Nick Scott led the rushing attack with 12 carries for 54 yards and a touchdown. Chris Godwin was the top received easily with 4 catches for 66 yards. The offense only converted on 5 of 15 third downs, but did not turn the ball over.
The defense had some issues against the triple-option, but played well in the first half. They recovered three fumbles that the offense was able to convert into 10 points. The second half is when they struggled against the option giving up two touchdown drives of 75 yards or longer. Perhaps they were beginning to wear down against the run, as Army had 55 rushing attempts and only 1 passing attempt for the entire game.
Penn State faces Indiana at home next week in their second Big Ten game. They beat Rutgers two weeks ago 28-3 in their conference opener.
#1 Ohio State Buckeyes at Indiana Hoosiers
Result: Ohio State Win 34-27 (Saturday, October 3)
The Big Ten opener for both Ohio State and Indiana showed both teams quite a bit on both sides of the ball.
For Ohio State, the offense continued to look disheveled at times, but they did get back to one tenant that made them so good in 2014: pound the rock with Ezekiel Elliott. Elliott was explosive against Indiana with 274 yards and 3 touchdowns on 3 touchdowns. Elliott's touchdown runs were from 55, 65, and 75 yards and helped to repel the upset bid of Indiana.
Cardale Jones went 18 of 27 for 245 yards with 1 touchdown and a pick, but also looked bad at times. He will have to play way better for Ohio State to repeat this year. Jalin Marshall had 6 catches for 110 yards, but also lost 2 fumbles.
The defense was not great against Indiana, but they got the job done. They held the Hoosiers to 17 of 36 passing (226 yards) and also allowed only 176 yards on 55 carries (3.2 average). They did not force a turnover, but held Indiana to only 7 of 22 on third downs. This is another part of the team that will need to improve from this game.
For Indiana, this was actually a solid game. They were ultimately hurt by injuries that may have prevented them from the upset, but that is part of the game.
Nate Sudfeld left the game with an ankle injury, but went 10 of 21 for 134 yards and did not have a turnover. Star running back Jordan Howard ran for only 34 yards on 14 carries before he too suffered an ankle injury.
Zander Diamont had a solid game in place of Sudfeld going 6 of 14 for 76 yards. He was also elusive when running the ball with 7 carries for 98 yards and a score. That touchdown run was a 79 yarder that made the game 34-27 with 10 minutes left to play. Devine Redding carried a bulk of the load with Howard gone. He had 30 carries for only 45 yards, but two went for touchdowns.
Ultimately, it was the defense that struggled for Indiana and cost them the game with those long runs by Elliott. It is a common theme for the Hoosiers, but if they can improve slightly over the course of the final 7 games, they could win 7 or 8 games and improve their bowl slot.
Ohio State will have a chance to remedy some of their issues next week against Maryland at home. Indiana will face Penn State on the road next week.
Nebraska Cornhuskers at Illinois Fighting Illini
Result: Illinois Win 14-13 (Saturday, October 3)
Nebraska suffered another heartbreaking loss in a theme that has been all too common for the Husker faithful this year.
Let's start with Illinois on offense, which had opportunity after opportunity to score early in the game. A muffed punt gave them a chance to get points, but they missed a field goal. They were stopped on fourth and one at the Nebraska 10 and missed another field goal on the next two drives.
The Illini finally broke through early in the fourth quarter with a 22 yard touchdown pass from Wes Lunt to Marchie Murdock. Lunt also threw a touchdown pass on fourth down to Geronimo Allison with seconds left to tie the game before the extra point gave them the win. Lunt finished the game going 23 of 45 for 251 yards with those two touchdown passes.
The Illini were hurt on offense when Josh Ferguson left in the first quarter due to injury. He had 4 carries for 50 yards prior to that. Ke'Shawn Vaughn ended up getting most of the carries the rest of the way finishing with 98 yards on 24 rushes.
Nebraska will rue the loss, but there is plenty of blame to go around. Tommy Armstrong went a putrid 10 of 31 for 105 yards with an interception. He also had 8 rushes for 38 yards while Devine Ozigbo had 7 rushes for 70 yards and a score. The offense went 4 of 17 on third down and also had 2 turnovers with neither coming back to haunt them.
Nebraska falls to 2-3 and has a good game next week against Wisconsin at home. Illinois moved to 4-1 and has to go to Iowa in another Big Ten West clash that could determine the winner by season's end.
The Week 6 edition will be up next Sunday so be sure to check back for thoughts on the game's from next weekend.