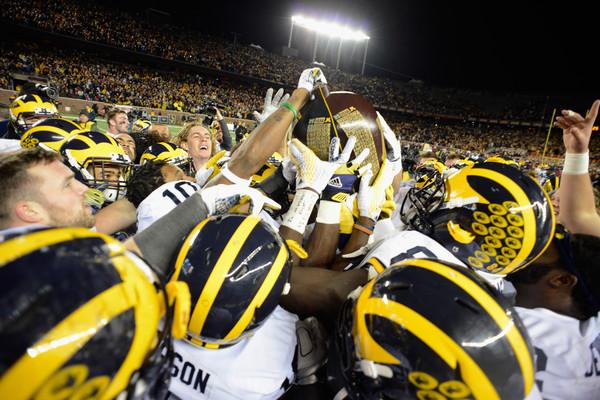 2015 Week 9 Big Ten Roundup
The ninth week of college football provided five Big Ten games. The game of the week turned out to be Michigan at Minnesota, but the other four games also provided story lines.
Illinois Fighting Illini at Penn State Nittany Lions
Result: Penn State Win 39-0 (Saturday, October 31)
Penn State had the largest margin of victory in Week 9 by one point, but they completely shut down the Illinois offense.
Christian Hackenberg had a good game going 21 of 29 for 266 yards with 2 touchdowns through the air. He also caught a 14 yard touchdown pass on a half back pass for his third touchdown. Saquon Barkley ran for 84 yards and a touchdown on 20 carries while Mark Allen had a touchdown and 23 yards on just 2 carries.
Eight different Penn State players caught a pass with Chris Godwin leading the way with 7 catches for 76 yards and a score. Saquon Barkley added another 58 yards on 3 catches through the air while DaeSean Hamilton had 4 grabs for 54 yards. The offense put up exactly 400 yards while going 5 of 13 on third down.
Illinois could not get anything going on offense thanks in large part to the Penn State defense. Wes Lunt struggled during this game throwing for just 129 yards with an interception on 16 of 37 passing. Ke'Shawn Vaughn had 15 carries for 38 yards and Chayce Crouch ran for 22 yards on 5 carries. Dionte Taylor caught 4 passes for 45 yards, Geronimo Allison had 4 grabs for 34 yards, and Vaughn had 6 catches for 33 yards.
Illinois only mustered 167 yards of offense and went 6 of 21 on third downs. As a team, they had just 37 yards rushing on 27 carries for a putrid average of 1.4 yards per carry.
Illinois (4-4, 1-3) has dropped three games in a row and will face Purdue next week on the road. Penn State (7-2, 4-1) will have a tough road contest at Northwestern next week.
Nebraska Cornhuskers at Purdue Boilermakers
Result: Purdue Win 55-45 (Saturday, October 31)
While not game of the week, the Nebraska-Purdue contest was incredibly wild in the fourth quarter with 42 points put on the board in the final frame alone.
Nebraska opted to go with Ryker Fyfe at quarterback with Tommy Armstrong out with an injury. Fyfe was a bit of a conundrum looking really good at times and also making poor throws at time. He finished 29 of 48 for 407 yards with 4 touchdowns and 4 interceptions. He was forced to throw due to an ineffective rushing game and being in a deficit late in the game.
Terrell Newby ran for 56 yards on 10 carries while Imani Cross had 8 carries for 39 yards and a touchdown. The Huskers finished the game with 29 carries for 77 yards. Jordan Westerkamp led Nebraska in receiving with 9 catches for 123 yards and a touchdown. Brandon Reilly had 5 grabs for 88 yards and a score while 10 different players recorded at least one reception. The offense finished with 484 yards and went 7 of 12 on third down.
Purdue had a big game from quarterback David Blough with 28 of 43 passing for 274 yards and 4 touchdowns. He also added 82 yards and a touchdown on 10 carries to help his cause as Markell Jones had a nice game with 23 carries for 92 yards and 2 touchdowns. DeAngelo Yancey had 5 catches for 111 yards and 2 touchdowns, Jones had 5 catches for 51 yards, and Danny Anthrop had 10 catches for 40 yards and a touchdown.
Purdue was far more balanced on offense than Nebraska, but totaled less yards with 457. They went 8 of 17 on third down and also converted on 2 of 3 fourth down attempts. The time of possession was just about 50-50 in this game.
Nebraska (3-6, 1-4) is on the verge of missing a bowl game for the first time since 2007 when the Huskers were in the forgettable Bill Callahan era. Nebraska faces Michigan State at home next week in a must win situation to stay alive for a possible bowl game.
Purdue (2-6, 1-3) will also need to win out to make a bowl game, which is even more unlikely than Nebraska. Purdue has Illinois next week at home.
Rutgers Scarlet Knights at Wisconsin Badgers
Result: Wisconsin Win 48-10 (Saturday, October 31)
Wisconsin had Joel Stave and Corey Clement back for this game and it was clear the offense was much better with the duo in the lineup.
Joel Stave was not crisp going 13 of 25, but had 217 yards and a touchdown. He also threw two picks one of which was returned for a touchdown by Blessuan Austin. Corey Clement had 115 yards and 3 touchdowns on just 11 carries and could have had even more scores, but could not finish one long run of 58 yards as he was tackled at the four yard line.
Dare Ogunbowale had 14 carries for 41 yards and a score while Tanner McEvoy also had 2 carries for 29 yards and a touchdown. Alex Erickson led the offense with 6 catches for 103 yards and a touchdown and Troy Fumagalli caught 3 passes for 55 yards. The Badgers were very balanced with 217 yards passing and 209 yards rushing for a total of 426. Wisconsin went 8 of 16 on third down and one of one on fourth down.
Rutgers struggled all game on both phases of the offense. Chris Laviano went 4 of 14 for 31 yards and an interception. Hayden Rettig came in late to go 2 of 6 for 51 yards, but all indications are Laviano will hold on to the starting job. The rushing game was not much better with Josh Hicks running for 72 yards on 15 carries. Carlton Agudosi led the team with one catch for 49 yards. Rutgers finished with 165 yards of offense and converted only 2 of 15 on third down.
Rutgers (3-5, 1-4) will have a second straight road game against Michigan next week. Wisconsin (7-2, 4-1) will travel to face Maryland next week.
Maryland Terrapins at #10 Iowa Hawkeyes
Result: Iowa Win 31-15 (Saturday, October 31)
Iowa did not always look great against Maryland, but they never looked in danger of losing the game.
Perry Hills went 11 of 24 for 74 yards with a touchdown and three interceptions. Hills also led the offense with 104 yards rushing on 19 carries while Wes Brown had 8 carries for 33 yards and Brandon Ross had 5 carries for 31 yards. 8 different receivers caught a pass for Maryland, but the leader was Taivon Jacobs with 3 catches for 18 yards and a touchdown. Maryland had 241 yards of offense and converted only 1 of 10 third downs. Maryland also got a 100 yard kickoff return from William Likely in the fourth quarter.
C.J. Beathard went 12 of 23 for 183 yards with no touchdowns and no picks. Akrum Wadley had 19 carries for 67 yards and a touchdown while LeShun Daniels ran for 60 yards and a touchdown on 13 carries. Matt VandeBerg caught 3 passes for 54 yards while Tevaun Smith had 2 grabs for 35 yards. Iowa totaled 293 yards on offense and converted 6 of 16 third downs. Desmond King continues to be a ball-hawk for the Iowa defense with another interception. He returned his pick for a touchdown to give him 7 interceptions for the season.
Maryland (2-6, 0-4) takes on Wisconsin at home next weekend. Iowa (8-0, 4-0) travels to face Indiana next week looking to continue their incredible run in 2015.
#15 Michigan Wolverines at Minnesota Golden Gophers
Result: Michigan Win 29-26 (Saturday, October 31)
Michigan needed a touchdown with a backup quarterback and goal line stop to beat Minnesota, but they got both of those to win 29-26 in a great game for the Little Brown Jug.
Jake Rudock went 13 of 21 for 140 yards with a touchdown and an interception, but was knocked out in the third quarter and replaced by Wilton Speight. Speight led the Wolverines to the eventual game winning touchdown with less than five minutes to play. He finished 3 of 6 for 29 yards and the touchdown.
Drake Johnson ran the ball 10 times for 55 yards, Jehu Chesson had one carry for 22 yards, and Jabrill Peppers got in on offense to rush for 16 yards and a touchdown on 4 carries. Amara Darboh led the team with 6 catches for 73 yards and Jake Butt had 4 grabs for 38 yards. Chesson had 3 catches for 33 yards and 2 touchdowns. Michigan put up 296 yards of total offense and went 5 of 12 on third down.
One of the surprising stories of this game was the Minnesota offense and the way they were able to move the ball against Michigan's defense. Mitch Leidner went 16 of 33 for 317 yards and a touchdown and carried the ball 11 times for 37 yards and a touchdown.
Rodney Smith had 12 carries for 74 yards and Shannon Brooks had 12 rushes for 33 yards. Brandon Lingen had a big game with 5 catches for 111 yards, Rashad Still had 2 catches for 69 yards and a touchdown, and KJ Maye had a team high 6 catches for 58 yards. Minnesota had 461 yards of offense and went 5 of 14 on third down. Minnesota also had a 4 for 4 game kicking field goals with a long of 47 yards.
Michigan (6-2, 3-1) faces Rutgers at home next week with a chance to fix some issues on defense. Minnesota (4-4, 1-3) faces Ohio State on the road next weekend in prime time.
Check back next Sunday for a look at the week 10 edition of the Big Ten Roundup.