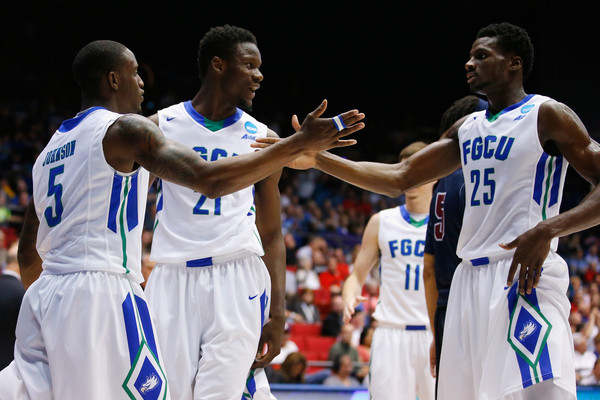 Florida Gulf Coast Crushes Fairleigh Dickinson
Florida Gulf Coast raced out to an early 11-0 in their First Four game against Fairleigh Dickinson and never looked back in a 96-65 win. The Eagles were led by Marc Eddy Norelia's double-double of 20 points and 10 rebounds. Norelia only missed one field goal.
Florida Gulf Coast started with that 11-0 run and parlayed that into an insurmountable 40-19 halftime lead. The Eagles dominated on the glass in the first half with a 27-17 margin and shot 16 of 27 (59.3%) from the field. They held FDU to 6 of 28 shooting (21.4%) and Norelia went 7 of 7 from the field for 14 points. FDU's top scorers were Earl Potts Jr. and Darian Anderson with six points apiece.
The second half started well for FDU as they opened with six straight points, but they could not find any defense as they were unable to cut any further into the deficit. The Knights shot much better in the second half at 40.5% (17 of 42), but the lack of defense allowed Florida Gulf Coast to continue to pile on the points. Potts led FDU in the second half with 10 points while FGCU was led by Julian Debose (11 points) and Christian Terrell (1o points).
Fairleigh Dickinson finishes the season 18-15 after winning the Northeast Conference Tournament. Potts led the team with 16 points and 8 rebounds while Marques Townes had 13 points and Anderson finished with 11 points and 8 rebounds. The Knights shot 23 of 70 for the game (32.9%) including 8 of 23 from beyond the arc (34.8%). They struggled from the free throw line going 11 of 18.
Florida Gulf Coast is now 21-13 and will face the top seeded North Carolina Tar Heels on Thursday at 7:20 PM Eastern Time in the East Regional. Norelia's 20 points was best on the team, but Terrell (14), Debose (14), and Demetris Morant (10 points) also finished in double figures. Antravious Simmons nearly had a double-double with 9 points and 11 rebounds. The Eagles finished 34 of 57 from the floor (59.6%) and 8 of 23 from three point range (34.8%). They shot horrendously from the free throw line in the first half (6 of 17 for 35.3%), but went 14 of 17 in the second half (82.4%).