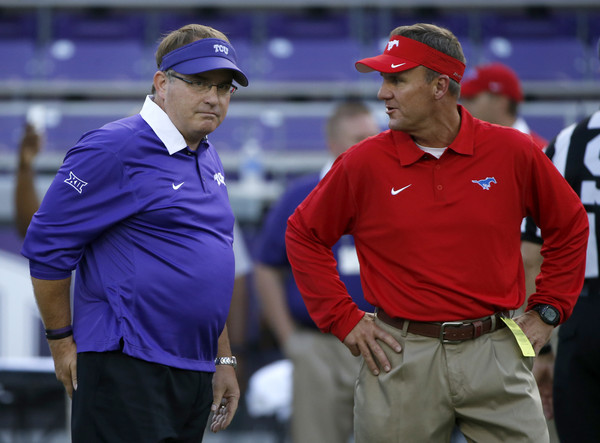 Five Predictions For The American Athletic Conference In 2016
The 2016 College Football season is right around the corner and that means prediction time. Below are five predictions for American Athletic Conference for the 2016 season. Some predictions will be right, some predictions will be wrong, and some will be spectacularly awful (or correct) by the end of the season.
There are no changes to the American Athletic Conference as the twelve teams remain the same. The East division is composed of Central Florida, Cincinnati, Connecticut, East Carolina, South Florida, and Temple. The West division is made up of Houston, Memphis, Navy, SMU, Tulane, and Tulsa.
Here are five predictions for the American Athletic Conference in 2016:
1. SMU will win at least four games in 2016 – The Mustangs were hit hard in 2014 when they tumbled to 1-11 while losing June Jones early in the season as he left the program. Chad Morris came in for 2015 and he worked wonders with an offense that put up only 11.1 points and 269 yards per game in 2014. Last year, the offense went up to 27.8 points and 383 yards per contest. There are nine starters back from that side of the ball and there is no reason that the offense cannot continue the upward trend.
The defense needs a lot of work as they gave up 45.7 points and 502 yards per game last year. They have seven starters back, but the second year of schemes should improve those numbers. SMU will face the duo of North Texas and Liberty in the first three weeks. They also have toss-up games (but still winnable) against Tulane, Tulsa, and East Carolina with all three of those on the road. Any type of improvement on defense in 2016 should result in more than two wins for the Mustangs.
2. South Florida will win the East Division – This will not be an easy task for USF, but they can certainly do it. They have seven starters back on both offense and defense that saw solid gains from 2014 to 2015. The offense went from 17.2 points and 305 yards per game to 33.6 and 442 in 2015. The defense went from 27 points and 403 yards per game in 2014 to 22.9 and 380 yards in 2015. Both sides of the ball will be tested early in the season as the Bulls face Northern Illinois at home, Syracuse on the road, and Florida State at home in weeks two through four.
In conference, they also have a tough schedule as they will play Cincinnati, Temple, and Memphis all on the road. The return of their dual quarterback Quinton Flowers (2,296 yards passing and 991 yards rushing), running back Marlon Mack (1,381 yards and 8 touchdowns), the top receiver Rodney Adams (45 catches for 822 yards and 9 touchdowns), and five of their top 6 tacklers from 2015 will help navigate the team through their tough schedule.
3. Houston will win the West Division and Conference title – This is not going out on much of a limb. The Cougars exploded last year under the first year of Tom Herman's offensive schemes to the tune of 40.4 points and 484 yards per game. The defense was just as impressive giving up 20.7 points and 384 yards per game. In 2016, the offense returns six starters including Greg Ward at quarterback, which is good news because he led the team in rushing with 1,108 yards and 21 touchdowns.
The defense will have five starters back and the biggest concern has to be the back five in this nickel scheme. There is only one starter returning from the secondary that allowed 275 yards passing per game and 55.6% completions. Luckily, the front six allowed just 109 yards per game and four starters are back.
Houston will have to contend with games on the road against Cincinnati, Navy, and Memphis a year after being the duo of Cincinnati and Memphis by a total of four points at home. It will not be easy to repeat, but this Houston team looks very capable of having another excellent season.
4. Connecticut will have winning season – The Huskies have quite a bit going for them in 2016. They will be in year three of Bob Diaco's tenure, have ten starters returning on offense, six starters back on defense, and a very manageable schedule. The defense improved dramatically from 2014 to 2015. They allowed 29.8 points and 379 yards in 2014 and then 19.5 points and 355 yards in 2015. The six starters returning this year are joined by the talented Florida State transfer EJ Levenberry at linebacker.
The offense made a tiny improvement from 15.5 points and 276 yards per game in 2014 to 17.2 points and 310 yards in 2015. The team managed to improve to the record from 2-10 to 6-7 (including a bowl loss to Marshall). The offense will have to continue to improve in 2016, but having 10 starters back and the third year of recruits leaves no room for excuses.
The schedule is ripe for the Huskies to have their first winning season since 2010. They open with Maine, but also face ACC opponents Virginia, Syracuse, and Boston College through the season all of whom finished 4-8 or worse. In conference, they have games against Central Florida, East Carolina, and Tulane that are winnable. They face Navy, Houston, Cincinnati, South Florida, and Temple, but the defense should be solid enough to keep them in most games and an upset or two is definitely plausible (see their 20-17 win over Houston last year).
5. The Three "T" teams (Tulsa, Tulane, and Temple) will win at least 20 games combined – The idea that each team has to win at least 7 games (including bowls) seems pretty straight forward, but Tulsa and Tulane both play in the very strong West division. Tulsa will be in their second year under Philip Montgomery with seven starters back on offense and defense. Tulane went 3-9 in 2015, but now have a new head coach in Willie Fritz and he is changing offensive schemes (check out his Sam Houston State teams from 2010 through 2013). The defense for Tulane will be solid with eight starters back, but the offensive change is worrisome in regards to the win column.
Temple is the best of these three teams and went 10-4 last year, but had 19 starters back. There will be six starters back on both offense and defense including quarterback PJ Walker an running back Jahad Thomas. The defense will be very solid again under Matt Rhule and they have an easy schedule to open the season outside of Penn State on the road (they did win against the Nittany Lions at home in 2015) with Army, Stony Brook, and Charlotte all at home. 9 wins are probably needed by Temple to be correct. They have the defense to do it. This one will be close especially if Tulsa (or Temple) under-performs.
The Prediction Schedule
With the AAC predictions above, there are now predictions for five conferences in the books. Below are the predictions completed and which conference is next.
July 17 – FBS Independents
July 17 – Sun Belt
July 23 – C-USA
July 24 – MAC
July 30 – American Athletic
July 31 – Mountain West
August 7 – Big 12
August 13 – Atlantic Coast
August 14 – Pac-12
August 20 – Big Ten
August 27 – SEC