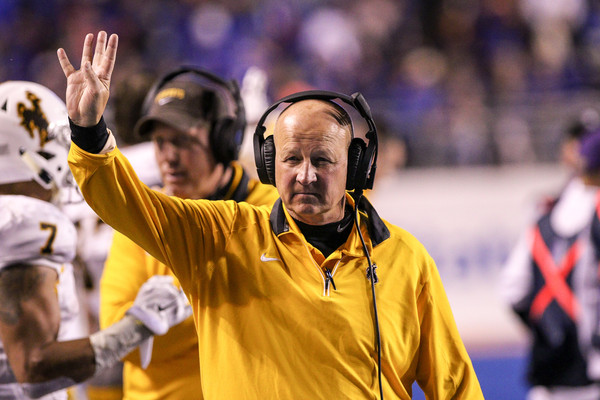 Under The Radar Games For College Football Week 13
The final full week of the regular season is here in week 13. There are some massive College Football Playoff implications this week with #6 Washington at #23 Washington State, Minnesota at #5 Wisconsin, #3 Michigan at #2 Ohio State, and #16 Auburn at #1 Alabama among them. There are also other big games like Toledo at #14 Western Michigan, #21 Utah at #9 Colorado, #25 LSU at #21 Texas A&M, and rivalries such as #13 Florida at #15 Florida State.
We will focus on games that may not appear to offer much at first glance. These games might not have a national impact, but they could affect a team's bowl chances or a conference title race. Note that these games are listed in order of when they will be played and all times listed are Eastern.
1. All 3 MACtion games on Tuesday (11/22 at 7 PM) – This trifecta consists of Akron at Ohio, Ball State at Miami (OH), and Central Michigan at Eastern Michigan.
There are a lot of story lines on Tuesday for the three MAC games. Akron sits at 5-6 and a win would put them in a bowl game. They face Ohio, which would win the MAC East with a victory. However, a loss by them opens the door for Miami (OH) to win the MAC East. They too play on Tuesday at home to Ball State. A win for Miami (OH) puts them in a bowl and combined with a loss from Ohio puts them in the MAC Championship. Do not take anything for granted with if you are watching these MAC East games.
The third game has no MAC or bowl implications, but involves a pretty good story: Eastern Michigan. The Eagles are 6-5 and will be headed to their first bowl game since 1987. A win against Central Michigan will guarantee the Eagles their first winning season since 1995.
2. Boise State at Air Force (11/25 at 3:30 PM) – Boise State is still in the running for the Group of 5 New Year's Six spot, but they need a lot of help. First up, they need to defeat Air Force, but the Falcons have won the last two games versus the Broncos.
If Boise State defeats Air Force, they will then need a loss by Wyoming against New Mexico while they will have to defeat San Diego State in the MWC Championship Game. If all that happens, it will be up to the CFB Playoff Committee and their rankings to determine if it is Boise State or Western Michigan (assuming they win the MAC) that ends up with the Group of 5 spot.
There is something at stake for Air Force and that is a 10 win season. If Air Force wins they would be 9-3 and then would need to win their bowl game. That would give them two 10 win season in the last three seasons.
3. TCU at Texas (11/25 at 3:30 PM) – A battle of two underachieving teams will ensue here and both teams are a win away from being in a bowl game. TCU is 5-5 and face Kansas State on December 3 so a loss here is not the end of the road.
The end of the road is near for Texas' Charlie Strong after the 24-21 overtime loss at Kansas last week. The Longhorns are 5-6 and a win here will at least get them to a bowl game, but Strong will not be there if it happens.
Will Texas' players send Strong off with a win? Or will TCU reach 6 wins and a poor season for the Horned Frogs?
4. Kentucky at Louisville (11/26 at 12 PM) – Kentucky, for all their issues this season against good teams, still has a chance to pull of the big upset. They have already reach 6 wins and will be in a bowl game, but they get Louisville at the perfect time. Louisville was completely outplayed at Houston last week in their 36-10 loss. They lost their chance at the College Football Playoff and then lost their slim chance of the ACC Atlantic title on Saturday when Clemson beat Wake Forest.
How will Louisville respond? Will they play sluggish? There is no doubt that Louisville is the better and more talented team. They should dominate this game, but they do not have the same motivations they did after their win against Wake Forest. Then again, maybe this is a chance for them to let go of their frustrations. This game is worth keeping an eye on to see how they respond after their title aspirations evaporated.
5. Wyoming at New Mexico (11/26 at 10:15 PM) – Not much at stake here, just the MWC Mountain Division title. A Wyoming win puts them in the Championship Game as does a loss by Boise State versus Air Force.
This will not be an easy game though because New Mexico has a unique shotgun formation triple option attack that can put up points. Wyoming can put up points too and this game could come down which defense plays better. The advantage there goes to Wyoming, but will the idea of a division title creep into their minds and cause them to play cautious?
6. All smaller bowl game/5 win teams – There are currently 64 teams that have reached 6 wins and will be in a bowl game. There are still 19 teams that have a shot at reaching six wins (or 7 wins in the case of Army). In week 13, there are 7 games were 5 wins teams are facing an opponent with a winning record. There is a strong chance we will see 5 win teams in a bowl game in 2016. Let's hope for some upsets (or some reduction in the number of bowl games).
This will be last edition of Under The Radar Games for 2016. The previous columns for this season can be found below.