This article originally appeared on VAVEL USA.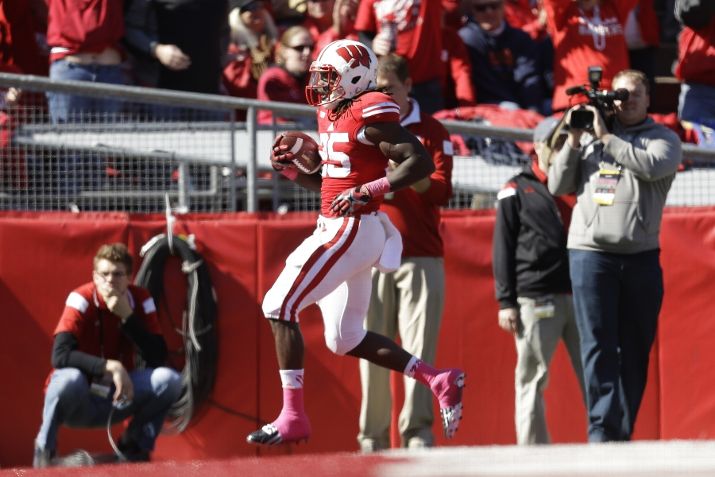 (Photo credit to Mike McGinnis / Getty Images)
Another game for the Wisconsin Badgers, another similar story. The passing game was ineffective, but Melvin Gordon and Corey Clement had big totals running the ball to lead the Badgers to a 38-28 win over Illinois. However, the Illini were stubborn and never let Badgers feel comfortable even as Wisconsin led 38-14 at one point.
The game started with Wisconsin running six straight times and Gordon's 15 yard touchdown made it 7-0. Wisconsin's second possession started at their own 1 thanks to a great punt from Justin DuVernois. A three and out led to great field position for the Illini, as they started at Wisconsin's 31 yard line. Four plays later, Reilly O'Toole found Matt LaCosse wide open in the end zone to tie the game at 7.
Another punt by Wisconsin led to more good field position for Illinois. Darius Mosely returned the kick 11 yards to the Badgers' 42. Five plays later, O'Toole connected with Geronimo Allison on a 5 yard touchdown and the Badgers suddenly found themselves trailing at 14-7.
A sustained drive by the Badgers led to a tie game. The 10 play, 75 yard drive in 5:11 was topped off by Gordon's second touchdown of the game, this one from 6 yards out. The Badgers had a chance to take a 17-14 lead, but Rafael Gaglianone's 47 yard field goal was just barely left of the goal post.
Illinois subsequent drive was stopped on fourth and two at the Wisconsin 36 yard line. It took all of two plays for the Badgers to score. First, Kenzel Doe ran 34 yards on an end around followed up by Gordon doing the rest from 30 yards out. The Badgers took a 24-14 lead into half time after Gaglianone made a 44 yard field goal with seconds remaining.
The second half got off to a slow start with both defense playing well. Wisconsin's second drive started at their own 10 yard line, but that changed when Corey Clement ran 51 yards on the first play of the series. A steady dose of Gordon and Clement led to Gordon's fourth rushing touchdown of the game. This one was from a yard out to make it 31-14.
The first play of the fourth quarter extended Wisconsin's lead even further. Clement took the hand off and burst through the opening and no one was going to catch him. He ran 72 yards for the score and it was 38-14 just 10 seconds into the fourth quarter.
At this point, it appeared to be over, but Aaron Bailey made an appearance at quarterback and he performed well. On his second drive of the fourth quarter, he ran 29 yards for a touchdown to make it 38-21. The field position was set up by V'Angelo Bentley's 30 yard punt return.
After stopping the Badgers on the ensuing drive, the Illini would cut the deficit to 10 points. Bailey's legs and arm led Illinois 83 yards in 3:02. Donovonn Young pounded the ball in from a yard out to make the score 38-28.
The Illini tried and converted an onside kick to give them the ball back to produce some nervy moments for Badger fans. After getting down to the Wisconsin 37 yard line, Bailey's pass was overthrown and Peniel Jean picked it off, which allowed the Badgers to run out the clock.
The Illini struggled at times on offense and finished with only 288 total yards. Reilly O'Toole went 12 of 19 for 96 yards and 2 touchdowns. Aaron Bailey went 2 of 5 for 39 yards and a pick. Bailey was the leading rusher for the Illini with 75 yards and a touchdown on 12 rushes. Josh Ferguson only had 33 yards on 11 carries in another subpar game for him.
Mike Dudek led the team with 4 catches for 59 yards. Ferguson had 3 catches for 30 yards out of the backfield.
The Badgers struggled passing again. Joel Stave went 7 of 14 for 73 yards and missed some wide open receiver. Tanner McEvoy played one series in the second quarter. He finished 3 of 4 with 24 yards and also ran for 12 yards.
Melvin Gordon finished with 175 yards and 4 touchdowns on 27 carries. Corey Clement played most of the fourth quarter and finished with 164 yards and a touchdown on 13 carries. As a team, the Badgers rushed for 401 yards with an average of 8.5 yards a carry.
Sam Arneson was the top target for the Badgers. He had 4 catches for 48 yards. Alex Erickson caught 2 passes for 18 yards.
Illinois (3-4, 0-3) is on a 3 game losing streak and has lost 4 of their last 5 games. They have a bye next week and will face Minnesota (5-1, 2-0) at home on Saturday, October 25.
Wisconsin (4-2, 1-1) will also be on a bye next week. They will welcome Maryland to Madison on October 25.