This article originally appeared on VAVEL USA.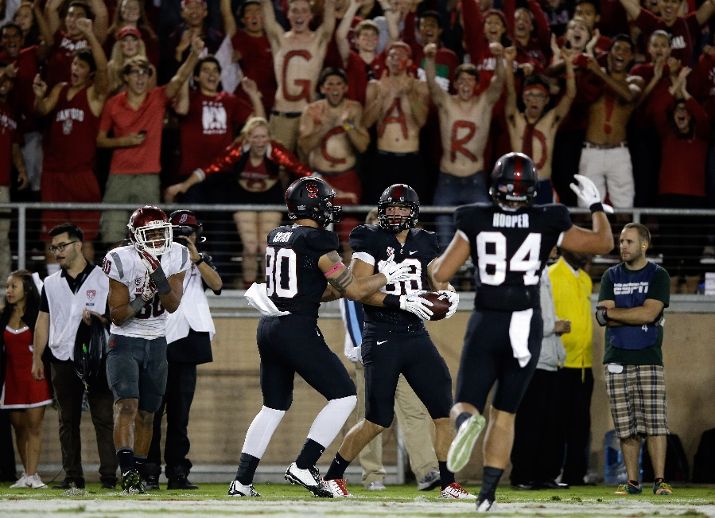 (Photo credit: Ezra Shaw / Getty Images)
Stanford's offense continues to be far from threatening, but they got the job done on Friday night in a 34-17 win over Washington State. The defense held Connor Halliday to only 303 yards passing six days after he threw for an FBS record 734 yards against California.
Stanford's offense started out with several big plays on their first drive. Barry Sanders Jr. ran for gains of 21 and 29 while Kevin Hogan had a 22 yard pass to Ty Montgomery. However, they only mustered a field goal to make it 3-0.
After forcing a punt, Stanford made quick work of their next drive. Hogan hit Eric Cotton up the middle for an easy 39 yard touchdown pass and it was 10-0. Washington State answered back right away with an 11 play drive that went 75 yards. Halliday found Vince Mayle in the back of the end zone for the 9 yard touchdown and it was back down to a 3 point deficit at 10-7.
Stanford started the second quarter strong as well. Montgomery's 46 yard punt return set up the Cardinal at the Cougars' 16 yard line. Four plays later, Hogan hit Greg Taboada for a 3 yard touchdown and the lead was at 17-7.
However, the Stanford red zone inefficiencies would pop up again later in the quarter. On first and goal from the 3, Patrick Skov ran for two yards and extended the ball for the goal line. As he extended the ball, it was knocked out and recovered by Washington State. At the end of the half, Jordan Williamson missed from 37 yards out with the kick going wide right. Stanford still held a 17-7 advantage at the break.
Stanford picked Halliday off on the second play of the third quarter when Blake Martinez was there for the pick. Stanford would not get points out of the turnover, however. The Cougars would get a 46 yard field goal from Quentin Breshears to make the score 17-10 on the ensuing drive.
Stanford would have the answer yet again. Hogan's four yard pass to Taboada made it 24-10 near the end of the third quarter.
The Cougars would not go away, as they ended the third quarter and began the fourth quarter with a drive into Stanford territory. Halliday's 3 yard touchdown pass to River Cracraft made it 24-17.
Williamson made it a 27-17 game on the next Stanford drive. A six yard touchdown run from Remound Wright with under two minutes remaining made it 34-17.
Connor Halliday went 44 of 71 for 303 yards with 2 touchdowns and an interception. He was also sacked 4 times for a loss 56 yards. He was under constant siege from the Cardinal defense all game long. Jamal Morrow ran for 10 yards on 3 carries in the Air Raid offense that rarely features the run game.
River Cracraft had 15 catches for 99 yards and a touchdown while Vince Mayle caught 6 passes for 78 yards and a touchdown. Isiah Myers had 8 receptions for 53 yards and Jamal Morrow also caught 8 passes, but for 42 yards.
Kevin Hogan had a solid game by going 23 of 35 for 284 yards and 3 touchdowns. He did not commit a turnover in the game.
Remound Wright had 14 carries for 98 yards and a touchdown. Barry Sanders Jr looked very explosive early on with 7 rushes for 68 yards. His touches were limited in the second half. Christian McCaffrey was dangerous throughout the game when he got the ball. He had 3 carries for 28 yards and also caught 2 passes for 25 yards.
Ty Montgomery led the way in receiving with 7 catches for 72 yards. Michael Rector added 2 receptions for 65 yards including a 43 yard that ultimately led to the fumble by Skov. Eric Cotton had one catch for 39 yards and a touchdown. Meanwhile, the most efficient stat line of the night was Greg Taboada having 2 catches for 7 yards for 2 touchdowns.
Washington State (2-5, 1-3) does not have another game until October 25 when they face Arizona at home. Stanford (4-2, 2-1) goes on the road next Saturday to face Arizona State.