This article originally appeared on VAVEL USA.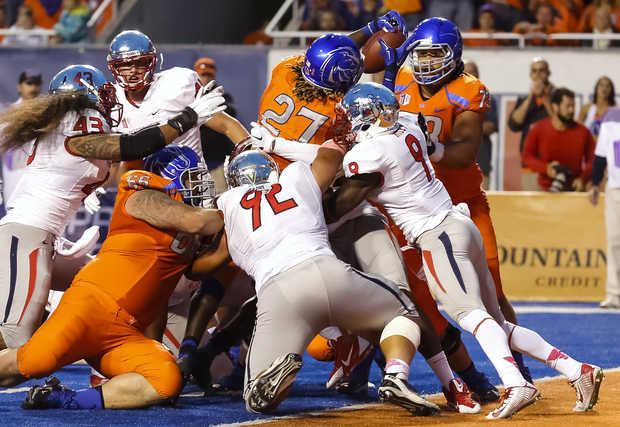 Jay Ajayi (#27) had 158 yards and 2 touchdowns (AP Photo)
Jay Ajayi's 30 carries for 158 yards and 2 touchdowns was enough Boise State to fend off the stubborn Fresno State Bulldogs on Friday night by a score of 37-27.
Ajayi got the scoring started on the Broncos' second possession with a 9 yard touchdown run. His run was setup a play earlier when Shane Williams-Rhodes sprinted for 49 yards to gash the Bulldogs defense. Fresno State came back with a 34 yard field goal from Kody Kroening to cut the lead to only 7-3. However, the Broncos responded with their own field goal from 34 yards out to restore the lead at 7 points.
It did not take long for Fresno State to tie the game when Marteze Waller broke a tackle and outran the Broncos to the end zone. Another field goal from the Broncos would cap a high scoring first quarter with the Broncos leading 13-10 over Fresno State.
Outside of Jay Ajayi's 3 yard touchdown run midway through the second quarter, there was not much action. Both teams saw their defenses tighten up and force punts. Outside of the Ajayi touchdown drive, the Broncos managed to only reach the Fresno State 47 yard line while the Bulldogs did not run a single play beyond their own 35 yard line in the second quarter. At halftime, Boise State led 20-10.
Fresno State's sluggish second quarter offense did not return in the third quarter. The second play of the quarter was Waller's 38 yard run down to the Boise State 32 yard line. On the next play, Brian Burrell hit Josh Harper for the 32 yard touchdown to make it 20-17 in favor of the Broncos.
Boise State's offense had the perfect response by going 62 yards in 12 plays. Grant Hedrick's 21 yard pass to Williams-Rhodes re-established the lead at 10 points for the Broncos.
Fresno State came back with a long, methodical drive of their own. They went 56 yards in 16 plays while taking 6:32 off the clock. They settled for a 44 yard field goal from Kroening and trailed only 27-20. That deficit would be erased in matter of three plays.
On the ensuing kickoff, Dallas Burroughs took the return from his own goal line and got to the 17 yard line where he was hit by T.J. Thomas. Burroughs lost the ball on a hit that was not very jarring and Stratton Brown recovered for the Bulldogs. Two plays later, Waller pounded his way into the end zone to make it a 20-20 game at the end of the third quarter.
Another draining series by Boise State would prove to be the difference. The Broncos embarked on a 17 play drive that covered 75 yards and wiped 7:46 off the clock. The Broncos converted two fourth downs and the scoring play was Thomas Sperbeck finding a wide open Grant Hedrick on the trick play to make it 34-27.
Fresno State failed to move the ball in the final 9 minutes as the Broncos added a third field goal from Dan Goodale to reach the final score of 37-27. Donte Deayon intercepted Burrell's pass in the final 90 seconds to end the little hope the Bulldogs had of making a spectacular comeback.
Brian Burrell went 13 of 25 for 127 yards with a touchdown and an interception. He was helped out immensely by the play of Marteze Waller who had 164 yards and 2 touchdowns on 18 carries. Josh Harper caught 4 passes for 57 yards and a touchdown while Delvon Hardaway had 2 receptions for 44 yards.
Grant Hedrick went 21 of 30 for 190 yards and a touchdown. Hedrick also ran for 45 yards on 15 carries. Jay Ajay's workhorse performance went for 158 yards and 2 touchdowns on 30 carries. He was clearly laboring by the end of the game, but he had an excellent performance. The Broncos ran for 264 yards on 51 carries as a team.
The leading receiver for Boise State was Troy Ware with 3 catches for 43 yards. Shane Williams-Rhodes had 4 catches for 41 yards and a touchdown. He also ran for 49 yards on just one carry. Ajayi contributed with 37 yards on 4 receptions.
Fresno State (3-5, 2-2) are on a two game losing streak, but they will have two weeks to prepare for Wyoming. They face the Cowboys on November 1 at home.
Boise State (5-2, 3-1) have bounced back nicely from their upset loss to Air Force three weeks ago with two wins. They have a big game next Saturday against BYU, but they will be back on their patented blue turf.