This article originally appeared on VAVEL USA.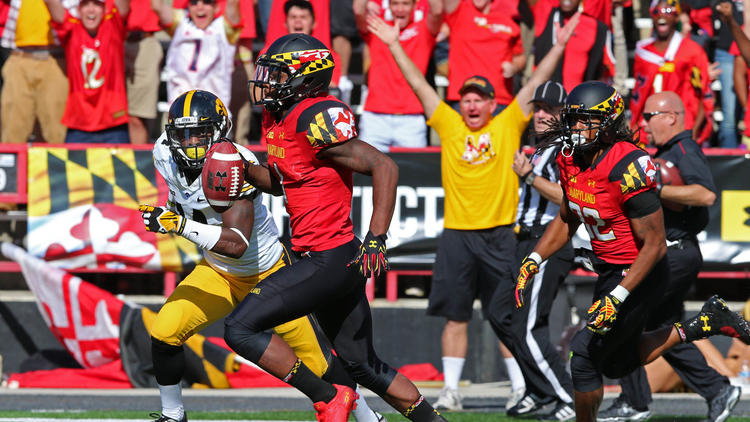 Iowa started the game strong, but Maryland finished stronger in the 38-31 win over the Hawkeyes. Iowa's late rally to tie the game fell short and the Terrapins are just one win away from being bowl eligible in their first Big Ten season.
Maryland started off poorly with C.J. Brown being picked off by Drew Ott on the first play of the game. Five plays later, Mark Weisman ran in from 4 yards out to take a 7-0 lead.
The Hawkeyes doubled their lead when Jake Rudock completed a two yard touchdown pass to Henry Krieger Coble to make it 14-0. That field position was set up by Rudock's 52 yard pass to Damon Bullock down to the Maryland 28 yard line. Maryland settled down on offense and took their next drive to the end zone. Jacquille Veii's 23 yard run made it 14-7, which was the score after 15 minutes.
A fumble by Jake Duzey early in the second quarter led to a 41 yard field goal from Brad Craddock to make it 14-10 in favor of Iowa. The next drive for Maryland would see them take the lead when Wes Brown pounded the ball in from a yard out to make it 17-14.
In the third quarter, both teams put up 7 points with Maryland striking first when Perry Hills hit Stefon Diggs for a 53 yard strike. Hills came in for C.J. Brown who suffered an injury earlier in the third quarter. Weisman's second touchdown run of the game made it a 24-21 game at the end of the third quarter.
Maryland started to put separation between the teams with William Likely taking Rudock's pass back to the house from 45 yards out. Wes Brown's second one yard touchdown run of the game made it 38-21 with less than 5 minutes remaining.
Iowa would produce some unsettling moments in those final five minutes. First, Rudock connected with Jacob Hillyer for a 4 yard touchdown to make it 38-28. Iowa would recover the ensuing onside kick and make hit a field goal to make it 38-31.
Iowa forced a three-and-out with a minute remaining to give them one last hope. The Hawkeyes got to their own 44 yard line, but Rudock's pass on fourth and four fell incomplete with two receivers in the area.
Jake Rudock went 32 of 56 for 317 yards with 2 touchdowns and one interception. Mark Weisman ran for 78 yards and 2 touchdowns on 10 carries while Jordan Canzeri had 35 yards on 8 carries.
Damon Bullock had 8 catches for 100 yards to lead the Hawkeyes. Jake Duzey contributed with 80 yards on 8 receptions.
C.J. Brown went 12 of 23 for 120 yards with no touchdowns and two picks. However, he did lead the Terps in rushing with 21 carries for 99 yards. He was injured in the third quarter, but came back later in the game. His replacement when he was injured, Perry Hills, went 5 of 10 for 86 yards and a touchdown.
Brandon Ross had 35 yards on 9 carries while Jacquille Veii added 33 yards and a touchdown on 2 carries and Wes Brown had 19 yards and 2 touchdowns on 8 carries.
Stefon Diggs had a 9 catches for 130 yards, both of which were game highs. He also had a touchdown reception.
Iowa (5-2, 2-1) has a bye next week before taking on Northwestern at home. Maryland (5-2, 2-1) has the unenviable task of going to Camp Randall Stadium next week to take on the Wisconsin Badgers (4-2, 1-1). Even worse for the Terps is that the Badgers have a bye this week to give them more time to prepare.