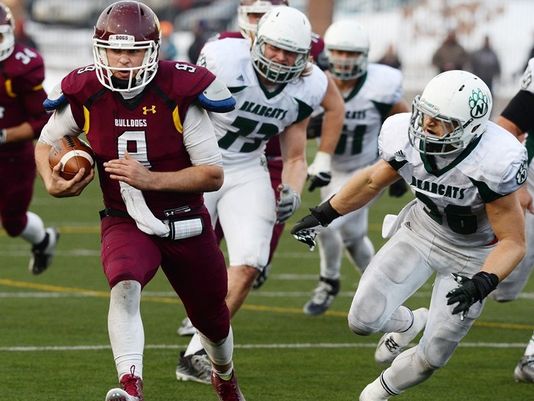 Last Saturday showcased 8 first round matchups for the 2014 NCAA Division 2 football playoffs. This week it is the second round with 8 more games to be played on Saturday, November 29. Let's look at each regional's schedule for this weekend.
Super Regional 1
In the first round, #4 West Chester was led by 405 yards and 5 touchdowns passing from Sean McCartney to beat #5 Slippery Rock. Tim Brown caught 7 passes for 164 yards and 3 scores with Mike Doty had 5 catches for 108 yards and a touchdown.
The other game in the regional saw Virginia State beat LIU-Post 28-17 in Virginia State's NCAA Playoff debut. Kavon Bellamy ran for 145 yards and 2 touchdowns on 29 carries.
The schedule for Saturday is below.
#4 West Chester (11-1) at #1 Concord (11-0) – 12 PM ET
#3 Virginia State (10-2) at #2 Bloomsburg (10-1) – 12 PM ET
Super Regional 2
The first round games in this regional were both exciting to the end. #5 Valdosta State ran for a school record 395 yards and got a late field goal from Anthony Pistelli to win 33-31 over #4 North Alabama. North Alabama's Luke Wingo threw for 511 yards, 3 touchdowns, and an interception on 30 of 37 passing, but it was not enough to get the win.
#6 West Georgia won their first Division II game over #3 Tuskegee in a defensive battle. Seth Hinsley ran for 116 yards and a touchdown on 22 carries to lead the Wolves past Tuskegee. A late touchdown from Tuskegee was as close as they got in the 20-17 loss.
The second round schedule is below.
#5 Valdosta State (9-2) at #1 Lenoir-Rhyne (11-0) – 12 PM ET
#6 West Georgia (10-2) at #2 Delta State (9-1) – 1 PM ET
Super Regional 3
The most anticipated first round matchup saw #4 Minnesota-Duluth rally from a 15 point deficit in the fourth quarter to win 25-21 over defending Champions #5 Northwest Missouri State. Minnesota-Duluth quarterback Drew Bauer accounted for all 4 touchdowns including three in the final 10:15 of the game to pull of the stunning comeback. The Bearcats held a 21-6 lead into the fourth quarter, but it evaporated in stunning fashion.
The regional's other game was a high-scoring affair between #3 Pittsburg State and #6 Harding. Pittsburg State trailed 21-0 midway through the second quarter, but a 59 point outburst over the next two and a half quarters put them into the second round. Quarterback Anthony Abenoja went 25 of 45 for 279 yards and 4 touchdowns. Harding's Keenan Kellett went 9 of 17 for 307 yards and 3 touchdowns while Romo Westbrook had 156 yards rushing and 2 touchdowns on 11 carries in the loss.
The games for Saturday in super regional 3 are below.
#4 Minnesota-Duluth (12-0) at #1 Ouachita Baptist (10-0) – 1 PM ET
#3 Pittsburg State (11-1) at #2 Minnesota State-Mankato (11-0) – 2 PM ET
Super Regional 4
#5 Ohio Dominican built a solid lead against #4 Colorado Mines to win their first playoff game 34-23. Mark Miller threw for 313 yards and 1 touchdown with Brandon Schoen running 22 times for 112 yards and 2 scores. Colorado Mines quarterback Justin Dvorak threw an astonishing 71 times completing 42 passes for 409 yards and 2 touchdowns.
The other game featured another comeback on Saturday. #6 Angelo State came from 13 points down with 8:40 remaining to win 42-41 over #3 Michigan Tech. Michigan Tech took a 41-28 lead on Brandon Cowie's 35 yard touchdown catch from Tyler Scarlett, but missed the extra point. That opened the door for Angelo State, who scored two touchdowns in a span of two minutes and 11 seconds to win 42-41. Angelo State was led by Kyle Washington's 20 of 30 passing for 339 yards and 4 touchdowns. Michigan Tech got 236 yards and 3 touchdowns from Charlie Leffingwell on the ground and 225 yards and 3 touchdowns passing from Tyler Scarlett, but it was not enough to move on to the second round.
Super Regional four's schedule for the second round is below.
#5 Ohio Dominican (10-1) at #1 Ferris State (11-0) – 12 PM ET
#6 Angelo State (9-2) at #2 Colorado State Pueblo (10-1) – 2 PM ET