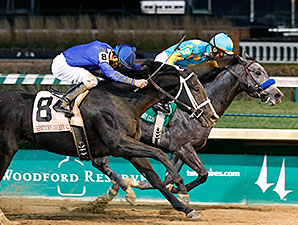 2015 Jerome Stakes Preview
The first Kentucky Derby Prep race in 2015 is the Jerome Stakes and the race will be run on Saturday, January 3. The forecast for Jamaica, New York is a mix of rain and snow so the analysis below will factor in a wet track. The 2015 Jerome Stakes preview will look at each horse's chances with a prediction at the bottom.
The Grade 3 Jerome Stakes will be run at 1 Mile and 70 yards on the inner track. The purse is $200,000.
#1 Mini Cosmo (8-1 Morning Line) – He is 2 for 3 lifetime with all three starts coming at Parx. The last was his first route and first race around 2 turns. He handled it quite well stalking the leaders before taking the lead at the second call and holding off any challengers to score by a length and a quarter. He has not raced on an off track, but the pedigree suggests it should not be too much of an issue. Do not count this guy out especially since he has the rail position and should be in a great spot going into the first turn.
#2 Royal Burgh (8-1 ML) – One of two Todd Pletcher entrants and he is a bit of an enigma. He won going two turns in his debut and then threw in a clunker in the Grade 2 Remsen 5 weeks later. He clearly has ability and there is no doubt this is a softer spot. He deserves some attention, but this is a wait-and-see race from this point of view. Of note, he does not have a race on a wet track.
#3 Tencendur (30-1 ML) – The only horse still without a win, this guy has only raced once. He ran a very good third in his debut at 1 mile and 70 yards on the inner dirt. He made a bid on the turn only to flatten out a bit and finish 6 1/4 lengths behind the winner in third. That race was on a surface rated good so he does not seem to mind an off track. This guy is in a tough spot in his second career start, but is worth following once he drops back into a maiden race.
#4 Ostrolenka (7-2 ML) – The other Todd Pletcher entrant is more logical in this spot though he had a similar narrative in the Grade 2 Remsen. He finished 13th and last in the Remsen after a wide start on the first turn. What we do know about him is that he is stakes quality, albeit at the New York State Bred level. He won back-to-back races in September and October in a maiden and the aforementioned New York Stakes Race. He is 0 for 1 in the slop, however, that was his debut race at Saratoga on August 31. His front running style should suit him well early in the race to get a good position. Toss him at your own risk.
#5 Now We Are Free (20-1 ML) – After a 6th place finish in his debut at Saratoga, he has won back-to-back races at Laurel Park. The first was a $25,000 Maiden Claimer followed by an Optional Allowance. He has not raced in nearly two months, but that should not be too much of an issue with Michelle Nevin hitting at 26% off such a layoff. His last win was on a good track so the slop is not too much of a concern. He is clearly light on class and appears to be up against it in this spot.
#6 General Bellamy (12-1 ML) – This is an interesting spot for him. He needed three races to break his maiden, which he did on the main track here at Aqueduct. Now he moves to the inner dirt off that maiden score. Trainer Bill Mott thinks highly enough of him to enter him straight into a graded stakes race off that performance. The maiden victory was nice, but not enough to challenge some of the contenders in here. He has not race on a main track is best suited for a minor award.
#7 Ackeret (4-1 ML) – He has run at three different tracks (Belmont, Parx, and Laurel) and won at two of them (Belmont and Parx). The latter was impressive as he drew off in the slop to win by 5 3/4 lengths in an allowance race. He ran wide in his only stakes start and finished 6th. He did win his debut race by 3 lengths at Belmont in a $65,000 Maiden Claimer. This will be his first start around two turns and a route, but he should have great position turning for home.
#8 Nasa (8-1 ML) – Here is another horse who has been a state bred winner, this time in Pennsylvania. He finished second by 5 3/4 lengths before coming back in the next race to win easily by 9 1/4 lengths. His third race was a restricted Stakes race, which he finished 3rd by 1 1/4 showing a late kick. The latest race was the Pennsylvania Nursery in which he won in gate-to-wire fashion by 2 1/4 lengths. That occurred in the slop at 7 furlongs. This guy is out of the 2004 Kentucky Derby winner Smarty Jones and this will be his first start at a route distance and around two turns. At 8-1, he offers excellent value.
#9 El Kabeir (2-1 ML) – We arrive at the 2-1 morning line favorite. He has run in three graded stakes races with a win, a second, and a fourth place finish in those races. Two back he tried to take the Grade 2 Nashua gate-to-wire only to tire and finish second by 5 lengths. Last time out, he employed the same tactics in the Grade 2 Kentucky Jockey Club Stakes and he managed to hold on for the win by a head. His two races on off tracks came in the Nashua and the Grade 1 Champange where he finished fourth by 17 lengths. He is the best horse in the race, but the outside post is a concern, as it puts him at a disadvantage going into the first turn. He is clearly the horse, but if he does not get the lead easily he could be tiring in the lane.
Picks
1. Mini Cosmo
2. El Kabier
3. Nasa
4. Ackeret
Check back on Saturday night for the recap of the 2015 Jerome Stakes.