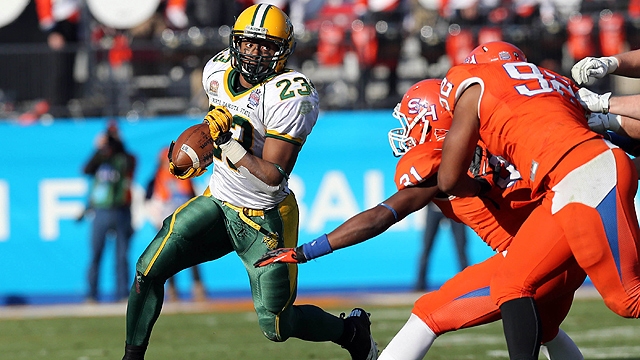 AUTHOR'S NOTE: This is for the FCS National Championship Game following the 2014 FCS Season. If you are looking for the 2015-16 FCS Championship Preview, it can be found here.
2015 FCS National Championship Preview And Prediction
 Saturday, January 10 will see the crowning of the FCS National Champion for the 2014 season. The #5 Illinois State Redbirds (13-1) will face the #2 North Dakota State Bison (14-1) in Frisco, Texas. Game time is set for 1 PM Eastern Time. Let's start by taking a look at each team's road to the Championship.
Illinois State Redbirds (13-1) Road To The FCS National Championship
First Round – Bye
Second Round – 41-21 over Northern Iowa at home
Quarterfinals – 59-46 win over Eastern Washington on the road
Semifinals – 21-18 win over New Hampshire on the road
The Redbirds had an average score of 40 to 28 in their three playoff games.
North Dakota State Bison (13-1) Road To The FCS National Championship
First Round – Bye
Second Round – 27-24 win over South Dakota State at home
Quarterfinals – 39-32 win over Coastal Carolina at home
Semifinals – 35-3 win over Sam Houston State at home
The Bison had an average score of 34 to 20 in their three playoff games.
Below is the 2015 FCS National Championship Preview And Prediction.
FCS National Championship Preview
North Dakota State is favored by 6 points with the Over/Under at 53 points.
For those who have not followed the FCS season, North Dakota State is the three-time defending FCS Champions. They won in 2011, 2012, and 2013 by an average score of 30 to 9 and have not yielded higher than 13 points in any game (2012). Plus, in the 2014 they have done all of this with a new coach in Chris Klieman. Klieman was on the staff since 2011 first as the defensive backs coach before being elevated to defensive coordinator in 2012 and 2013. He was tabbed to replace former head coach Craig Bohl last year.
The Bison will be led on offense by their running back John Crockett. He has run for 1,920 yards and 20 touchdowns (128 yards a game). In the three playoff games he has rushed for 495 yards and 5 touchdowns. In addition, he has caught 4 passes for 82 yards.
Handing the ball of to Crockett will be Carson Wentz. Wentz has not put up gaudy numbers, but he is clearly excellent at leading the offense. He has 2,874 yards passing with 24 touchdowns and 10 interceptions. During the playoffs he has gone 38 of 61 for 587 yards with 5 touchdowns passes and only 1 interception.
Wentz's top target for 2014 has been Zach Vraa but he was injured against South Dakota State in the second round and has not played since. His status is questionable for Saturday's tilt. In his absence, RJ Urzendowski has filled in well with 7 catches for 171 yards and 3 touchdowns.
2014's playoff run has not been easy for the Bison. They needed a last minute comeback against South Dakota State to move on while also needing a fourth quarter score to get past Coastal Carolina in the quarterfinals. Against Sam Houston State, the score was 7-3 before routing the Bearkats 28-0 in the final 30 minutes. With all that said, a win is a win no matter how small the margin.
The other team playing the National Championship game has a great story behind them as well. They are led by former Indiana Hoosiers quarterback Tre Roberson. Roberson played at Indiana from 2011 through 2013 compiling 2,433 yards passing and 20 touchdowns compared to 11 interceptions. He also ran for 982 yards and 10 touchdowns. In June of 2014 Roberson decided to leave Indiana and headed to Illinois State.
That turned out to be great for both Roberson and the Redbirds. This year, Roberson has thrown for 3,064 yards with 27 touchdowns and 9 interceptions. On the ground Roberson has 868 yards and 10 touchdowns, which makes him dangerous regardless of the play call. In the three playoff games Roberson has gone 59 of 88 for 866 yards with 6 touchdowns and no interceptions through the air. Roberson has also rushed for 194 yards and 2 touchdowns.
As excellent as Roberson has been this season, he had a great boost from Marshaun Coprich. For the season, Coprich has 2,168 yards and 27 touchdowns on the ground. During the playoffs Coprich has run for 485 yards and 6 touchdowns. His 258 yards and 4 touchdowns performance against Eastern Washington on the road in the quarterfinals is the game that stood out the most.
At wide receiver will be the duo of Cameron Meredith and Lechein Neblett. Meredith has 65 catches for 1,047 yards and 9 touchdowns while Neblett has 52 catches for 995 yards and 8 touchdowns. James O'Shaughnessy has been an excellent third option overall, but is deadly near the red zone. He has 27 catches for 500 yards and 7 touchdowns. Those three have accounted for 81.5% of all the passing yards for the Redbirds.
Meredith has 21 catches for 255 yards and 3 touchdowns in the playoffs. Neblett has caught 15 passes for 241 yards and 1 touchdown. O'Shaughnessy has 8 catches for 158 yards and 2 touchdowns.
Prediction
Now we reach the prediction part of the article. These two teams did not meet during the regular season despite both playing in the Missouri Valley Football Conference. Still, there is plenty of familiarity with North Dakota State playing the Redbirds in 2011, 2012, and 2013. The Bison won in 2012 and 2013, but fell in 2011. Those teams, however, are not the 2014 versions for both schools.
What we do know is that both teams can win a close ball game or a shootout. However, this game does not seem like it will be a shootout given how strong of a defense the Bison boast. The Bison have given up an average of 13 points per game and have given up 20 points or more only three times. The first game was their 23-3 loss at Northern Iowa. The other two games were in the playoffs against South Dakota State (27-24) and Coastal Carolina (39-32). Of course, the Bison won those games so they can hang with anyone.
Illinois State showed excellent resolve coming back in the semifinals at New Hampshire in the fourth quarter. They trailed 18-6 before scoring the last 15 points and getting the birth to this game. However, another deficit like that would be extremely difficult to overcome.
North Dakota State wins 20-17 to capture their fourth straight FCS Championship.