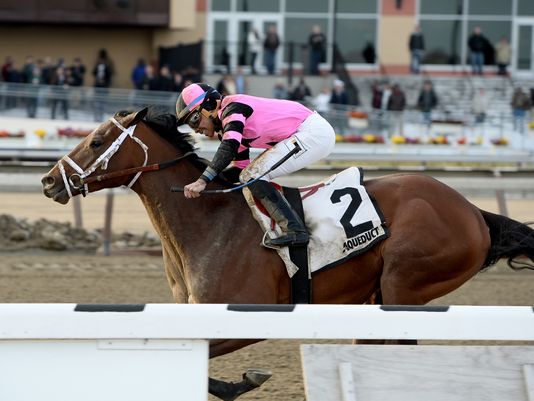 Far From Over Upsets Withers Stakes
An eventful start did not compromise Far From Over as he rallied strongly in the stretch to capture the grade 3 Withers Stakes. He rallied past El Kabeir and Classy Class in the final strides to win by nearly two lengths.
The race began evenly for all horses except the eventual winner as he spotted the field at least 5 lengths in the first few strides. Classy Class took control early from the rail with March and El Kabeir a length and a half behind in second and third respectively. Tencendur was another length behind with General Bellamy three lengths behind and Far From Over in last by 7 1/2 lengths after a quarter of a mile.
On the backstretch Classy Class was tested for the lead by El Kabeir with March back in third by two lengths. Tencendur, General Bellamy, and Far From Over rounded out the field with the winner still nearly 10 lengths behind the leading duo.
On the turn and into the stretch both El Kabeir and Classy Class were still battling for the lead while Far From Over made a big move on the turn to close within a length and a half. The top two continued to battle deep into the stretch until a surging run by Far From Over ended that battle with him winning by a length three-quarters. El Kabeir was second by another length over Classy Class. Tencendur grabbed fourth, March was fifth, and General Bellamy was last of 6. Unrivaled was scratched before to the race.
Far From Over covered the mile and and one sixteenth in 1:43.93 at odds of 6.20 to 1. He paid $14.40 to win, $4.20 to place, and $2.60 to show. He was ridden by Manuel Franco and is trained by Todd Pletcher. Far From Over is a ridgling by Blame out of the A.P. Indy mare Alchemist.
The win by Far From Over makes him a perfect two for two after his maiden victory in mid December. For his win Far From Over received 10 points towards the Kentucky Derby Leaderboard. El Kabeir earned four points for finishing second, which pushes him back on top of the leaderboard with 25 points. Classy Class earned two points to give him a total of three and Tencendur earned his first point of the prep season.
The next race at Aqueduct on the Road to the Kentucky Derby is the Gotham Stakes on March 7.