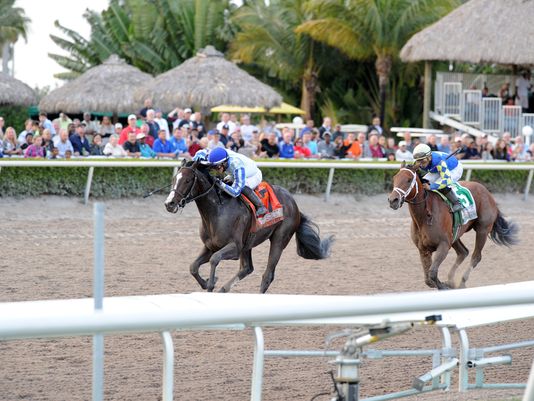 Itsaknockout Wins Controversial Fountain Of Youth
The 2015 Fountain Of Youth was expected to be a good race and it certainly was. However, there was some controversy during the stretch run and the subsequent review by the stewards. In the end, the stewards determined Upstart, who finished first, impeded the finishing position of Itsaknockout, who finished second. Itsaknockout was placed first with Upstart being placed second by the stewards.
The race began with Bluegrass Singer going straight to the lead with Frosted right off his flank by a half length. Itsaknockout was third, Juan and Bina was fourth, and Upstart was sixth. The trio at the back of the field were Gorgeous Bird, Frammento, and Danny Boy, who were both more than 5 lengths off the lead after a quarter of a mile.
There was little change in the running order on the backstretch, but the race complexion changed on the far turn and in the stretch. On the far turn Frosted took the lead by a length over Bluegrass Singer with Upstart another a length and a half back. Itsaknockout was still 5 lengths back in fourth with Juan and Bina in fifth. Gorgeous Bird, Frammento, and Danny Boy were still the trailing trio.
In the stretch, Frosted was still clinging to a half length lead, but Upstart and Itsaknockout were closing in. Upstart came out in the stretch and ran past Frosted with Itsaknockout right behind him. In deep stretch, Upstart drifted out to his right and took Itsaknockout with him. Frammento came from dead last, more than 15 lengths off the lead to grab third over Frosted.
There was an objection and an inquiry into the stretch run and after several minutes, the stewards disqualified Upstart from first and placed him second behind Itsaknockout. The rest of the field was unaffected.
The final order of finish was Itsaknockout, Upstart, Frammento, Frosted, Gorgeous Bird, Bluegrass Singer, Juan and Bina, and Danny Boy. The running time for the race was 1:46.28.
Itsaknockout paid $12.80 to win, $5.00 to place, and $4.00 to show. He was ridden by Luis Saez and trained by Todd Pletcher. Itsaknockout is by Lemon Drop Kid out of the Cherokee Run mare Stormy B.
For the win, Itsaknockout earned 50 points towards the Kentucky Derby Leaderboard, which puts him in second overall. Upstart earned 20 points for second place and now has 36 points total, good enough for third overall. Frammento earned 10 points, his first points in the Kentucky Derby prep races, and Frosted earned 5 points for a total of 13.
The road to the Kentucky Derby continues on Sunday with the Southwest Stakes at Oaklawn Park.