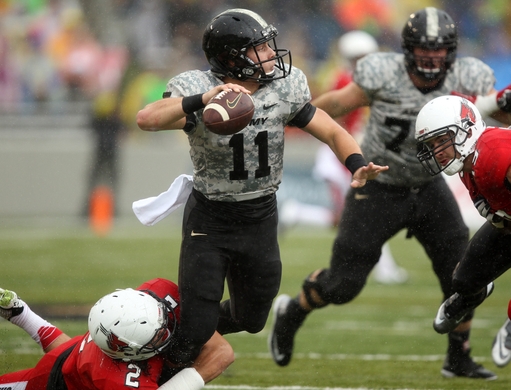 Army's A.J. Schurr Will Miss Spring Practice
Army Black Knights' quarterback A.J. Schurr will miss all of spring practice after having shoulder surgery. He originally injured his shoulder after the end of the 2014 season.
Army head coach Jeff Monken confirmed the news on Thursday that Schurr would not participate in spring practice. Schurr is expected to be back in August before the season starts.
Schurr went 12 of 28 for 242 yards with 1 touchdown and 1 interception through the air. He ran for 320 yards and 3 touchdowns on the season as well. He started 2 games and played in all 12. His two starts came against Yale and Ball State.
The loss of Schurr for spring practice is both good and bad. The good news is that a trio of quarterbacks will battle to get first team reps in Schurr's absence. The bad news is that none of the players have played a snap in college.
The three other quarterbacks on the roster are Ahmad Bradshaw, Seth Gonzales, and Matthew Kaufman. Bradshaw is a sophomore while the latter two are both freshmen.
As stated before, this will be a great chance for these three players to get rare first team snaps. Army starts spring practice on March 12.