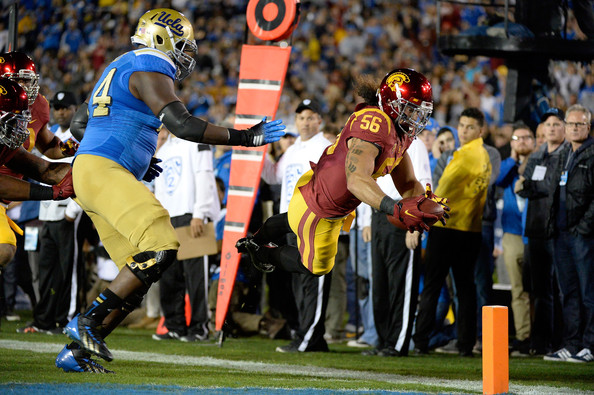 USC Will Be Without Anthony Sarao For Spring
Starting USC linebacker Anthony Sarao will be out for spring practice due to an injury to his foot. USC head coach Steve Sarkisian confirmed the news on Thursday.
USC's Twitter account confirmed the news and said it was due to a "small crack in his foot." The timeframe for recovery is six to eight weeks. He is expected to be ready for the start of the 2015 season.
Sarao has been a starter at linebacker for the past season and a half. As a redshirt freshman in 2012, Sarao posted 40 tackles and 4 tackles-for-loss while appearing in all 13 games. In 2013, Sarao was made a permanent starter midway through the season while starting the final 7 games. He recorded 44 tackles, 2.5 tackles-for-loss, and recovered a fumble.
In 2014, he had 74 tackles as a starter in all 13 games. He deflected 3 passes, recorded a sack, and intercepted 2 passes including one for a touchdown against arch-rival UCLA (pictured above).
Sarao will be a redshirt senior in 2015. Taking his reps this spring will be senior Lamar Dawson, junior Michael Hutchings, and sophomore Olajuwan Tucker.