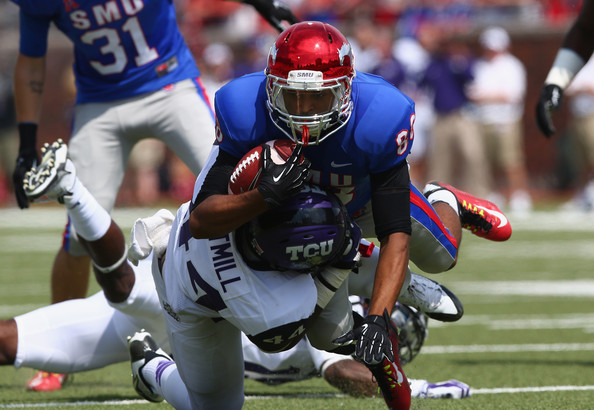 SMU WR Daijuan Stewart Suspended
According to Southern Methodist University, sophomore wide receiver Daijuan Stewart has been suspended for a violation of team rules.
Stewart had a small role as receiver for the Mustangs in 2014 with only 5 catches for 32 yards while playing in 10 games. Stewart was a bigger part of the return game for SMU though. He was the leading punt return for SMU with 9 returns for 75 yards. He had 3 kickoff returns for 45 yards.
Stewart redshirted in 2012 and in 2013 he did not play in any game. SMU returns three of their top five receivers in Darius Joseph (54 catches for 379 yards and 2 touchdowns), Deion Sanders Jr. (23 catches for 188 yards), and Nate Halverson (17 catches for 165 yards and a touchdown)
SMU endured a terrible 1-11 season in 2014 while going 1-7 in the American Athletic Conference. That win came in the season finale at Connecticut with a 27-20 road victory. Former SMU head coach June Jones resigned on September 8 citing personal issues with Tom Mason serving as the interim head coach of the final 10 games.
SMU hired former Clemson offensive coordinator Chad Morris in the offseason. He guided the Tigers to some potent offenses and the same will be expected of him at SMU.