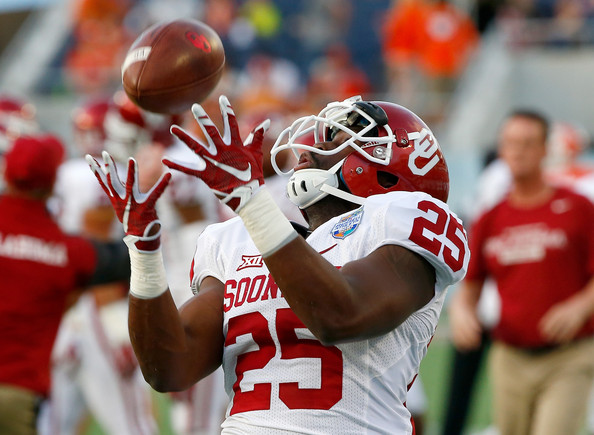 David Smith Transferring To Jacksonville State
Oklahoma Sooners running back David Smith has decided to transfer to the FCS and the Jacksonville State Gamecocks. Smith announced his decision via Instagram.
"So much contemplation regarding the continuation of playing this sport. With much prayer and guidance I've decided to play out my last two years of eligibility at Jacksonville state university located in Jacksonville, Alabama. I've truly enjoyed the people of Norman Oklahoma, I love you all," is what Smith wrote on his Instagram account.
Smith was a redshirt Sophomore in 2014 with the Sooners and played in one game. That game was against the Iowa State Cyclones in which he ran for 76 yards and a touchdown on 10 carries. Smith's touchdown came on an 8 yard run in fourth quarter. The Sooners went on to win 59-14.
Smith will be eligible to play immediately at Jacksonville State, which is good news for the Gamecocks. They have made the FCS playoffs in back-to-back seasons.
Ahead of Smith on the depth chart was the extremely talented Samaje Perine along with Alex Ross and Keith Ford. Perine was a freshman in 2014 while Ross and Ford were both sophomores. It makes sense why Smith would transfer out of Oklahoma with such a young and deep backfield.