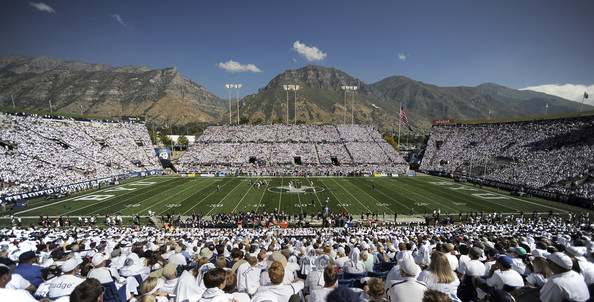 BYU And Mississippi State To Play In 2016 And 2017
The BYU Cougars and Mississippi State Bulldogs have agreed to play a home-and-home series in 2016 and 2017.
The first game will be Mississippi State at BYU on October 15, 2017 at LaVell Edwards Stadium in Provo, Utah. The second game of the series will be BYU at Mississippi State on October 14, 2017 at Davis Wade Stadium in Starkville, Mississippi.
"It's a great opportunity for our football team to play a very good SEC program," said BYU Director of Athletics Tom Holmoe. "It's been more than a decade since we played Mississippi State, and we are excited to have them back on our schedule. Visiting Starkville will be a great experience for our football program and our fans, and we look forward to hosting the Bulldogs in Provo."
BYU and Mississippi State have played twice before in 2000 and 2001. Mississippi State won 44-28 in 2000 on the road while BYU returned the favor a year later with a 41-38 win on the road.
The SEC announced on Thursday that Notre Dame, BYU, and Army will all count towards the "power conference scheduling" requirement. The requirement is that all SEC teams must schedule one power conference team per year beginning with the 2016 season. It is hard to comprehend that Army is considered a "power team" given their struggles in football over the last few decades.
It looks like Army will probably getting quite a few phone calls to have them around SEC country beginning in 2016.