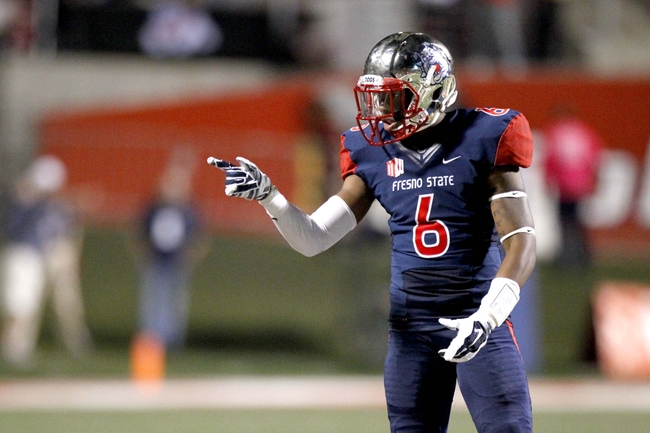 Delvon Hardaway Suffers Partially Torn ACL
Fresno State wide receiver Delvon Hardaway has suffered a partially torn ACL and will need surgery to resolve the issue. He will miss the rest of spring practice and is expected to miss at least 6 months.
A mid-September return for Hardaway would mean missing at least two games against Abilene Christian and the Ole Miss Rebels.
Head coach Tim DeRuyter had this to say, "Hopefully, he'll be back to full speed by [mid-September], but we fully anticipate he'll be playing … this season and hopefully it will be early."
After redshirting in 2013, Hardaway had an impact on offense in 2014. He played in all 14 games with 23 catches for 279 yards and 2 touchdowns. His 23 catches ranked sixth on the team while his 279 yards was fourth best. Hardaway was expected to be a starter at wide receiver in 2015.
That was not the only injury news for Fresno State. It was also announced that defensive end Todd Hunt will miss the rest of spring practice due to surgery as well. Hunt will undergo surgery for a torn ligament in his left hand, which will sideline him from football for 3 to 4 months. The following quote is from the Fresno Bee:
"Todd got some ligament damage in a finger last week in a scrimmage," DeRuyter said. "He competed the entire scrimmage — didn't even realize it was an issue until afterward. But he'll get that thing repaired, which will put him out a couple of months. He'll still be able to run and lift and do some things, so he should be fine and ready to go within three or four months."
Hunt, a starter at defensive end, played in 21 games and recorded 34 tackles, 7 tackles-for-loss, and 2 sacks in 2012 and 2013. 2014 was even better with 54 tackles, 5 tackles-for-loss, and 2.5 sacks in 14 games.
Fresno State is about midway through their spring practices with their spring game set to take place on Saturday, March 28.